Le 11 mars 1969: Le contrat des J5 avec la Motown prend effet. Le groupe avait signé avec Motown en juillet 1968 mais les frères étaient encore sous contrat avec Steeltown Records.
Le 11 mars 1974: Un show télévisé special intitulé 'Free To Be...You And Me' est diffusé sur ABC-TV. Michael y interprète When We Grow Up avec Roberta Flack (voir l'album photos)
Le 11 mars 1976: Le contrat des frères Jacksons avec Epic/CBS devient effectif. Le groupe s'appelle désormais The Jacksons
Le 11 mars 1993: Michael Jackson assiste, en béquilles, au diner de The American Film Institute au Beverly Hilton Hotel à Hollywood où Elizabeth Taylor reçoit le AFI's 21st Life Achievement Award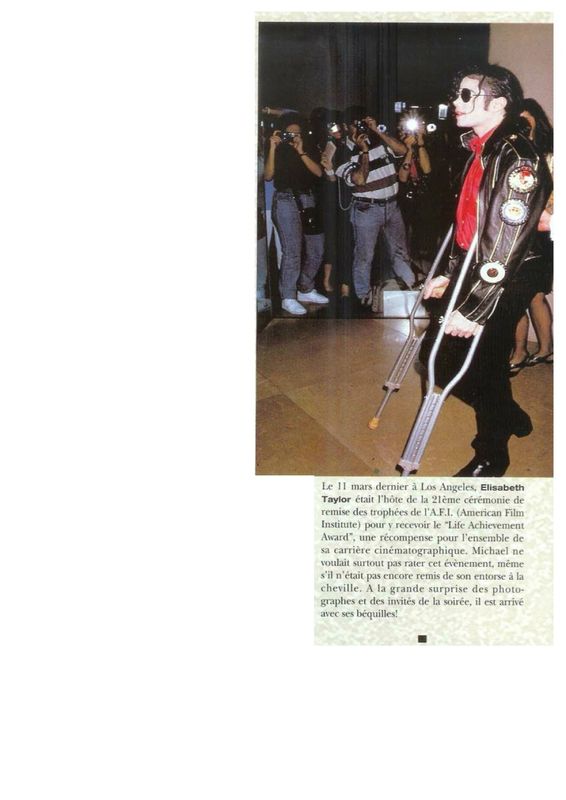 On aperçoit Michael lors du discours d'Elizabeth, à 3:32 dans la vidéo
Le 11 mars 2000: Une citation célèbre de Michael est ajoutée à l'édition de 'The Oxford Dictionary of 20th Century Quotations': "Before you judge me, try hard to love me, look within your heart then ask - have you seen my childhood?" tirée des paroles de la chanson 'Childhood.'
Le 11 mars 2001: The Recording Industry Association of America (RIAA) and The National Endowment for the Arts (NEA) dévoilent le nom des 365 titres qui composent 'The Songs of the Century'. Michael apparait 3 fois avec des chansons dans 2 époques : The Rock Era (1970-1980): 'I Want You Back', The Eighties (1980-1990): 'Beat It' et 'We Are The World' (co-écrit par Michael et Lionel Richie).

Le 11 mars 2009: Les pré-ventes pour les concerts de This Is It de Michael à Londres commencent: plus d'un million et demis de fans se connectent pour tenter d'avoir des billets et 360 000 tickets sont prévendus. Devant cet engouement, AEG Live ajoute 17 dates supplémentaires (11 dates venaient déjà d'être ajoutées!!)