Le 23 mars 1980: Molly Meldrum réalise une interview par téléphone de Michael pour son émission sur la télévision australienne, Countodown. Michael parle du succès de son album Off The Wall et évoque également l'album Destiny des Jacksons.
Le 23 mars 1984: 'I Love Quincy', un reportage de 3h sur Quincy Jones, réalisé par le Français Eric Lipmann, est diffusé sur Channel Four TV en Grande Bretagne. Il inclut des passages de Michael Jackson répétant pour la vidéo 'Thriller' , une interview de Michael avec Quincy ainsi que la prestation de Michael chantant 'Ease On Down The Road' avec Diana Ross lors de son show spécial.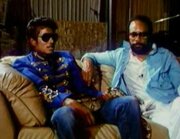 Le 23 mars 1988: Le Bad tour est à Denver (Colorado), 20125 spectateurs au McNichols Arena
Le 23 mars 1999: Dans la maison du Président sud-africain, Nelson Mandela, à Cape Town, Michael annonce une nouvelle fois ses projets de concerts MJ&Friends (voir l'article).
Il déclare: "C'est un immense honneur pour moi d'annoncer aujourd'hui ce projet aux côtés d'un homme dont le courage extraordinaire et la dignité ont illuminé le 20ème siècle et inspiré le monde. J'organiserai deux concerts au mois de juin, l'un à Seoul, en République Coréenne, l'autre à Munich. J'inviterai certains de mes amis à faire le spectacle en chantant avec moi pendant l'un des concerts ou même pendant les deux. Au cours d'une conversation que j'ai eue au début de cette année avec le Président Mandela, nous avons discuté du concept de donner, et les mots "What More Can I give" ont résonné dans mon esprit. Ce sera le titre de l'un de mes morceaux et la chanson thème de ces concerts. Nous devons tous donner, et nous devons tous faire notre possible pour aider les nécessiteux qui souffrent dans le monde. L'argent généré par ces concerts ira à trois organismes: le Fond Nelson Mandela pour l'Enfance, la Croix Rouge et l'UNESCO. Je suis fier d'associer mon nom à ces organismes qui, au fil des ans, ont tant fait pour tellement de gens. Ceux qui travaillent pour ces organismes, souvent dans des conditions précaires et dangereuses, ont tout mon respect et mon admiration. What More Can I Give? En notre nom à tous, j'encourage chancun de nous à donner selon ses moyens pendant ces concerts pour aider ces oeuvres de bienfaisance à continuer leur travail. Mes remerciements vont une nouvelle fois au Président Mandela qui nous a permis d'utiliser sa résidence pour tenir cette conférence de presse. I Love You."