Randy Taraborrelli évoque cette interview dans sa biographie de Michael, Michael Jackson, La magie et la folie, Toute l'histoire.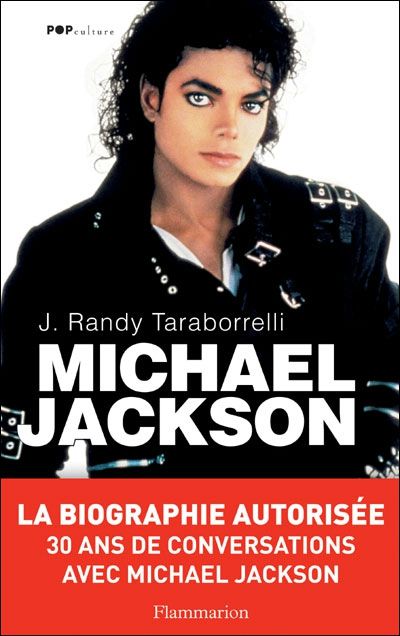 Intitulé à l'origine "The magic and the madness et paru pour la première fois en 1991, cet ouvrage de plus de 700 pages a bénéficié de plusieurs mises à jour (en 2003, 2004 et 2009) avant d'être traduit en français en 2010: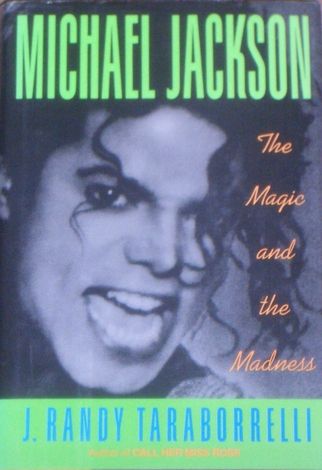 "Je faisais partie des journalistes qui interviewaient les Jackson lors de la promotion de Destiny. Les ayant rencontrés plusieurs fois par le passé, je savais qu'il valait mieux éviter toute considération musicale un peu poussée. Pourtant, je me souviens très bien de ce jour d'août 1978 passé avec eux, moins en raison de ce qu'ils avaient à me dire qu'à cause de leur attitude les uns envers les autres" (page 148)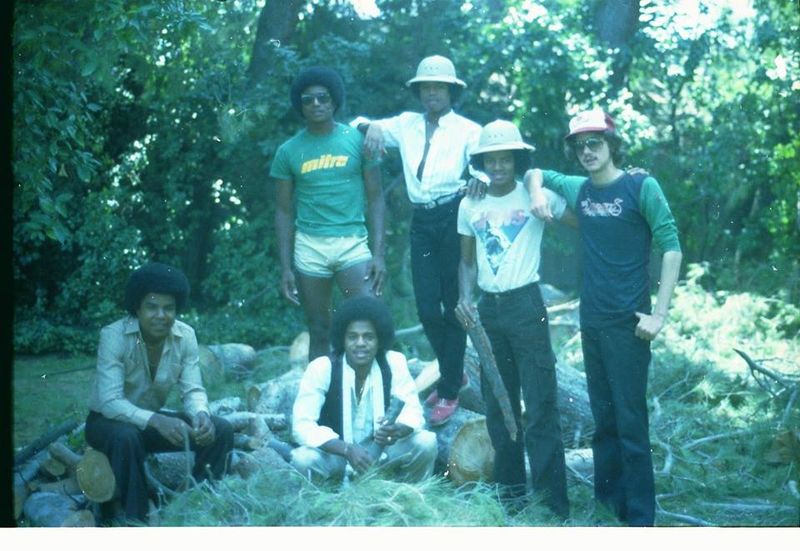 Lorsque John Whyman, le photographe, et moi-même [Taraborrelli] sommes arrivés devant l'inquiétante grille en fer forgé noir au 4641 Hayvenhurst, le domaine des Jackson, c'était ouvert, mais Whyman a quand même appuyé sur le buzzer de l'interphone. Nous avions entendu parler des vicieux chiens de garde alors on ne voulait pas prendre de risques. Une caméra électronique, installée en évidence sur un poteau de 50 mètres de haut, a semblé faire un zoom afin de nous voir de plus près. Nos visages - on l'a appris plus tard - étaient diffusées sur un écran de télévision dans la cuisine des Jackson. "Vous pouvez entrer", a dit une voix d'homme mécanique.

Nous avons continué jusqu'au parking, un abri de Cadillacs, Rolls Royces, Mercedes-Benzes, Datsun 240Zs, et une Pantara. Trois chiens grincheux qui montaient la garde, qui étaient confinés au fond du parking, se sont rués sur la barrière. Leurs aboiements féroces faisaient contraste avec les cris rauques de trois grands paons -dont l'un était complètement blanc - mis en cage près de là. Le son des paons ressemblait au gémissement d'un bébé ou au hurlement d'un chat. On a décidé d'attendre dans la voiture.

En regardant autour de moi, j'ai remarqué une plaque de nom de rue, Jackson 5 Boulevard, cloué à un tronc d'arbre près de là. A gauche il y avait un terrain de basket. J'ai jeté un coup d'oil à la maison à deux étages et j'ai vu quatre visages inexpressifs qui nous dévisageaient de l'une des nombreuses fenêtres. Michael, LaToya, Randy, et leur mère, Katherine, avaient leurs visages collés aux carreaux comme s'ils étaient emprisonnés dans un camp.

Personne ne semblait être prêt à nous porter secours, alors on a foncé, on est sorti de la voiture, et on s'est dirigé vers la porte d'entrée. J'ai sonné. La Toya, 22 ans, dans une tenue de tennis blanche, a ouvert. Quand Michael est arrivé quelques secondes plus tard, elle s'est excusée, elle est allée au parking, est entrée dans une Mercedes décapotable, et elle est partie.

"Content que vous ayez pu venir !," A dit Michael en nous serrant la main.

Il portait un T-Shirt des « Dents de la mer », un jean noir, et un chapeau de safari, autour duquel sa coupe afro faisait des vagues. Il était pieds nus et, pour moi, il avait l'air douloureusement maigre. Il parlait dans un chuchotement de fausset bizarre, qui semblait encore plus doux que la dernière fois que nous nous étions parlé. Dans une semaine exactement, il aurait vingt ans.

Michael nous a conduits jusqu'au salon. Un énorme perroquet jaune et vert était assis perché sur une corniche dehors, à côté de la fenêtre, et picorait des cacahuètes. Un cacatoès rouge, bleu et vert nous regardait à travers une autre fenêtre. Il a poussé un cri strident quand nous nous sommes assis. J'ai soudainement eu l'impression d'être au zoo.

"Comment se fait-il que tu n'ailles pas chercher de la limonade pour tes invités?" a demandé Katherine à son fils quand elle est entrée dans la pièce. Je n'ai pas pu m'empêcher de remarquer que la mère de Michael marchait avec un léger boitement, résultat d'une attaque de polio qu'elle a eu étant enfant. Parfois le handicap était plus prononcé que d'autres.

"Oh, désolé," a murmuré Michael. Il s'est élancé vers la cuisine, me donnant l'occasion de parler avec sa mère de 49 ans pendant que le photographe installait son matériel.

La maison, dans laquelle ils avaient vécu depuis 1971, était un mélange de jaune pale, vert clair, et blanc, une réflexion de la personnalité amicale de Katherine. Elle était sociable, sympathique, et elle avait un air serviable. Elle m'a dit qu'elle avait décoré la maison elle-même en tant que devoir pour son cours de décoration de maison. Elle m'a dit que les plats préférés de Michael étaient les chaussons aux pommes et les gratin de patates douces.

"Sauf que maintenant je n'arrive plus à lui faire manger quoi que ce soit. J'essaie et j'essaie," a-t-elle dit en haussant les épaules. "Je continue de me dire qu'il mangera quand il aura faim, mais ce gamin n'a jamais faim. Vous avez vu à quel point il est maigrichon? Ca m'inquiète."

J'ai regardé l'ameublement opulent. "Ces dernières années ont certainement été bonnes," ai-je dit à Katherine. "Peut-être les meilleures de votre vie?"

"Pas vraiment," a-t-elle répondu en réfléchissant. "Les meilleures années étaient quand Michael avait 3 ans et que je chantais des chansons folk avec lui. Vous voyez, j'avais toujours voulu être une star de la country, mais qui avait déjà entendu parler d'une star de la country noire à l'époque? Ces restrictions, encore. Enfin, on avait une chambre pour les garçons et ils dormaient tous ensemble dans des lits superposés à trois étages. Avant d'aller dormir, on chantait. Nous étions tous si heureux en ce temps-là. J'échangerais ma vie d'aujourd'hui et je donnerais tout ce que j'ai aujourd'hui pour vivre ne serait-ce qu'une journée quand nous étions à Gary et quand tout était tellement plus simple. Quand nous sommes venus en Californie, je ne sais pas combien de fois j'ai dit, "J'aimerais tant que les choses soient comme elles étaient à Gary." Mais les choses n'ont jamais été pareilles," a-t-elle tristement ajouté. "Tout a changé maintenant."

Michael est revenu dans la pièce avec deux verres de limonade à la main. Il m'en a donné un et l'autre au photographe et puis il s'est assis dans une chaise, dans la position du lotus. Katherine s'est excusée.

Pendant notre interview de deux heures, Michael nous a fait part de ses idées sur un grand nombre de sujets. "Je ne connais pas grand chose en politique," a admis Michael. "Rien, je suppose. Quelqu'un m'a dit récemment que Gérald Ford était président."

Il eut un éclat de rire argentin, comme il le faisait souvent; il était de bonne humeur et spirituel cet après-midi, rien de la superstar timide et recluse qu'il allait devenir dans quelque années. J'ai ri avec lui car je pensait que c'était une blague, mais ce n'en était pas une. Il était sérieux.

"Je me rappelle de quand il était vice-président," a continué Michael en réfléchissant. "Ca je m'en souviens. Mais président?" Il a haussé les épaules. "J'ai loupé ça."

Dans quelques années, Michael deviendrait un homme avide de lecture et échangerait ses idées en politique avec Jane Fonda. Mais à cette époque, Michael était plutôt naïf en ce qui concernait les événements du moment. Très étonné de voir l'isolement extrême de ce garçon de 20 ans, je me suis mis à chercher plus loin. "Comment vous tenez-vous informé des événements actuels? Vous lisez les journaux? Vous regardez la télévision?"

"Je regarde des dessins animés," m'a-t-il dit. "J'adore les dessins animés." Ses yeux se sont illuminés. "J'adore tellement Disney. Le royaume magique. Disneyland. C'est un endroit tellement magique. Walt Disney était un rêveur, tout comme moi. Et il a réalisé ses rêves, comme moi, j'espère."

"Mais les événements actuels?"

Michael m'a regardé d'un air déconcerté, "Les événements actuels?"

"Vous lisez le journal?" ai-je répété.

Il a secoué la tête comme pour dire non. "Vous voyez, j'aime le show-business. J'écoute tout le temps de la musique. Je regarde des vieux films. Des films de Fred Astaire. J'adore Gene Kelly. Et Sammy [Davis]. Je pourrait regarder ces mecs toute la journée, 24h sur 24. C'est ce que j'aime le plus. Le show business, vous savez?"

On a parlé de vieux films pendant un moment, et de sa participation dans "The Wiz", le film qu'il venait tout juste de finir de filmer dans lequel il joue l'Epouvantail. Je lui ai demandé ce qu'il considérait comme sont plus grand défi professionnel.
"D'arriver à faire ce que Joseph attend de moi."
"Joseph? Qui est Joseph?" me suis-je demandé.
"Mon père, Joseph."
"Vous appelez votre père par son prénom?" ai-je demandé.
"Uh-huh."
"Et le fait d'arriver à faire ce qu'il attend de vous est un défi professionnel?"
Michael a réfléchi à ma question. "Oui. Un défi professionnel."
"Et les défis personnels?"
"Mes défis professionnels et mes défis personnels sont la même chose," a-t-il dit d'un air gêné. "Je veux simplement divertir. Vous voyez, quand j'étais en maternelle, l'institutrice m'a demandé ce que je souhaitais. J'ai demandé une grande maison, la paix dans le monde, et le pouvoir de divertir... Est-ce qu'on peut parler d'autre chose?"
"Avez-vous des amis à qui vous pouvez vraiment vous confier?"
Michael s'est tortillé. "Non, pas vraiment. Je crois que je suis plutôt solitaire."
"Et Tatum O'Neal?" me suis-je demandé.
Michael a haussé les épaules. "Elle est gentille. Elle était vraiment contente pour moi quand j'ai eu un rôle dans « The Wiz ». Elle et Ryan [Ryan O'Neal, le père de Tatum] étaient à mes côtés, ils m'aidaient avec mon texte, et je leur dois beaucoup. Tatum me comprends, je suppose. Elle va m'apprendre à conduire une voiture. Elle me présente à des gens, des gens célèbres. Mais mes vraies copines, ce sont les filles qui attendent là, derrière les grilles. Je sors et je leurs signe des autographes quand je peux. Elles aiment ça. Elles restent d'un côté de la grille, et moi de l'autre."
"Vous voulez dire que vous gardez la grille fermée?" ai-je demandé.
"Oh, oui. Bien sûr." "Vous avez d'autres amis?"
"Eh bien, j'ai bien une amie," a-t-il dit. "Une amie très chère et très proche à qui je peux dire tous mes secrets les plus intimes et les plus sombres, car je sais qu'elle ne dira rien à personne, à aucune autre âme vivante. Elle s'appelle..." Il a fait une pause dramatique. "Mademoiselle Diana Ross."
"Vous avez des secrets sombres et intimes, Michael?"
Il a ri, "Tout le monde a des secrets sombres et profonds." A ce moment-là, Michael a été rejoint par ses frères Jackie, Tito, Marlon, and Randy. Michael a parlé du succès du groupe à Motown et de l'hystérie fanatique due à leur célébrité que Motown a surnommée la "Jackson mania."
"Une fois chez un disquaire à San Francisco, plus d'un millier de gamins étaient là," a-t-il dit avec un ton discret. "Ils se sont tous bousculé vers l'avant et ils ont brisé une vitre. Une gros morceau de verre est tombé sur une fille. Et cette fille..." il a fait une pause pour l'effet, "a été égorgée." Michael a fait une trait sur sa gorge avec son index.
"Michael, ne fait pas ça. C'est dégueulasse," a dit son plus jeune frère, Randy.
Michael a ignoré Randy et a continué son histoire. "Elle s'est fait égorgée. Et je me souviens qu'il y avait du sang partout. Oh Seigneur, tellement de sang. Et elle a attrapé sa gorge et elle saignait et tout le monde l'a ignorée. Pourquoi? Parce que j'étais là et qu'ils voulaient me toucher et avoir mon autographe." A soupiré Michael. "Je me demande ce qu'elle est devenue."
"Elle est sans doute morte," Tito a murmuré. Jackie a tenté d'étouffer son rire. Les fans étaient une malédiction autant qu'une bénédiction. "On a eu trois chien de garde. L'un s'appelle Heavy, l'autre c'est Black Girl, et le dernier a pas de nom," Michael a dit. "On en a besoin," a-t-il insisté. "Vous voyez, une fois une dame a sauté par dessus la grille, elle est allée dans la maison et s'est assise dans le cabinet de travail. On est rentré à la maison, et elle nous a regardé et qu'est-ce qu'elle a dit?" Il a regardé Marlon. "Qu'est-ce qu'a dit cette dame?" "Elle a dit, 'Je suis là car Dieu m'a envoyée ici,'" Marlon a répondu. "Oui, Dieu l'avait envoyée," Michael a répété.
Jackie a encore ri. "Ouais, Dieu l'a envoyée s'asseoir dans le bureau des Jackson 5 et attendre qu'ils reviennent pour qu'elle ait leur autographe, et peut-être même sa photo avec eux. Elle avait une mission divine à accomplir. La vache, c'est drôle."

"Et puis une fois, une famille entière a réussi a entrer dans la propriété, et ils on visité toute la maison," Michael a continué. "Ils ont fouillé dans toutes nos affaires. Ils ont trouvé toutes nos affaires personnelles. Et Janet était restée ici toute seule. C'était effrayant. Et parfois, les fans nous posent des questions bizarres. Ils ne croient pas qu'on est réel. Une fois une fan m'a demandé la chose la plus gênante et ça devant tout le monde. Elle a dit, "Est-ce que vous allez au toilettes?" J'étais tellement gêné."

En plein milieu de l'interview, la taquinerie innofensive des frères est devenue plus mauvaise lorsque quelqu'un a comencé à parler de surnoms.
"Mike a un surnom," a mentionné Jackie. "Il est vraiment bon."
Le visage souriant de Michael est devenu mortellement sérieux. "Fais pas ça, Jackie," a-t-il dit d'un ton menaçant. Il a regardé ailleurs.
"On l'appelle-"
"Je vous en prie, les gars!" a supplié Michael.
"Big Nose," [ndt : Gros Nez] Jackie a continué, ignorant l'embarras de Michael.
Les frères ont ri entre eux. Le visage de Michael est devenu tout rouge.
"Oui, Big Nose," Marlon a répété en souriant. "On l'appelle Big Nose." Marlon a tapé Michael gentiment sur le bras. "Qu'est-ce qu'y a, Big Nose?"

Mais Michael ne riait pas. Il avait l'air d'être en train de se refermer sur lui-même à l'intérieur. Les autres l'ont ignoré, en continuant leur jeu jusqu'à ce que Michael soit au bord des larmes. Après il n'a quasiment rien dit de l'après-midi.
"C'est pas drôle, les mecs," Tito a dit d'un ton monotone.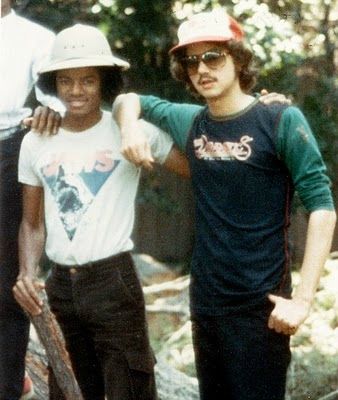 Après l'interview, on est allé dehors pour prendre des photos dans la chaleur du soleil californien. Le père, Joseph Jackson, un homme baraqué de 1m80 avec un grain de beauté sur le visage, une très fine moustache, et une bague rosâtre avec un diamant de la taille d'une bille, est arrivé en se pavanant dans la cour. "Les garçons ne feront pas de photos," a-t-il dit au photographe Whyman.
"Mais le publicitaire de chez Epic a dit qu'on devait venir habillé pour des photos," a protesté Marlon.
"Peut-être pourrions-nous faire quelque clichés avec vous," Whyman a proposé, espérant convaincre Joseph. Joe a réfléchi à la proposition. Il a pris une profonde respiration et gonfla sa poitrine. "Faisons quelques photos, les garçons." Après la séance photo, le photographe et Michael sont allés vers les volières à côté, qui étaient remplis de grands oiseaux colorés. Joseph Jackson est venu vers moi.

"Vous voyez, j"ai une philosophie sur le fait d'élever des enfants," a-t-il dit soudainement, alors que je ne lui avait pas posé la question. "Mon père était strict. Il était instituteur, et il m'a traité comme si j'étais l'un de ses élèves, pas comme si j'étais son fils. Je n'ai jamais eu de traitement de faveur de sa part. Et je suis content que ça ait été ainsi. J'ai été élevé très sévèrement quand j'étais jeune, et j'ai été capable de réussir beaucoup grâce à cela. Et mes enfants ont été élevés sévèrement, et regardé tout ce qu'ils ont réussi. Je pense que les enfants devraient avoir un peu plus peur de leurs parents. C'est bon quand ils ont un peu peur de vous. C'est bon pour eux, et c'est aussi bien pour les parents. J'ai fait de mon mieux avec les garçons, tout mon possible."
"Vous ont-ils jamais déçu?" ai-je demandé.
Joe a réfléchi the question. "Oui, beaucoup," il a dit. "Regardez le cas de Jermaine. Jermaine est là-bas avec Motown au lieu d'être avec nous. Il a choisi Berry au lieu de moi. Est-ce que vous savez ce que je peux ressentir? Ca fait profondément mal. Ca fait mal juste ici." Joe a cogné le côté gauche de sa poitrine avec son poing fermé.
"J'ai été déçu de nombreuses autres fois," a-t-il poursuivi. "Mais je ne crois avoir jamais laissé tomber mes garçons. Si je l'ai fait, tanpis pour eux. On fait du mieux qu'on peut quand on élève des gosses. Ca les a aidés de savoir qu'ils obtiendraient quelque chose de bien à l'issue de tout ça.
"Mes garçons, ils ont toujours été divertis, et ils m'avaient pour les faire répéter. Et ils pratiquent aussi des sports qui forgent le caractère comme le foot ou le base-ball," il a dit avec fierté. "Ils vous ont dit ça? Jackie aurait pu être joueur de base-ball s'il avait voulu. Avec les plus grands. Chicago White Sox. Ils sont tous bons en sport. A part Michael. Il n'a jamais pris une bat de sa vie." Joe a dit en souriant. "Il ne saurait pas quoi faire d'une bat. On l'embête avec ça, mais il aime pas trop ça. Michael a toujours été très, très sensible.
"Autre chose que vous devriez savoir à propos de Michael," Joe a dit, "c'est que depuis qu'il a quatre ans il a voulu être un artiste. Et il a toujours voulu être numéro un. C'est pour ça qu'il s'énerve quand il fait du sport, parce que ses frères peuvent le dépasser, et il ne peut pas être numéro un. Mais en musique, Michael sait qu'il est le meilleur. Numéro un," Joe a répété en hochant la tête. "C'est ce que Michael a toujours voulu être. Numéro un.
"Et à propos de Michael, Marlon m'a dit ce qui c'était passé. Vous n'allez pas écrire cette histoire sur son surnom, n'est-ce pas?" il a demandé. Je lui ai dit que je n'étais pas sûr de ce que j'allais faire.

Il n'aime pas le surnom qu'ils lui ont donné. Liver Lips." [ndt : Lèvres rouge-marron pulpeuses] "Liver Lips? Ils m'ont dit que son surnom était Big Nose."
"Oh, oui," Joe a dit. "Ce garçon est si susceptible en ce qui concerne son nez. Vous trouvez que quelque chose ne va pas avec son nez?" J'ai secoué la tête pour dire non. "Non, pas du tout."
"Moi non plus," a dit Joe. "Mais il ne parle que de ça. Son foutu nez. Il menace de le faire refaire. Qu'est-ce qu'il peut en faire?" Joe avait l'air perplexe. "Je lui ai dit que je lui casserai la figure s'il se le faisait refaire." A-t-il dit en riant. "On ne refait pas quelque chose qui n'est pas cassé. Il a un nez super. Il ressemble au mien."

Après, Michael est retourné dans le salon pour parler encore un peu de sa vie et de sa carrière. Alors que le photographe et moi le regardions, il a croisé sa jambe gauche sur son genoux droit et s'est mis inconsciemment à se curer les ongles des doigts de pieds.
"Quand je suis sur scène, je ne suis pas le même. Je suis différent," a-t-il fait remarquer. "Je crois que je suis un genre d'accro à la scène. Quand je ne peux pas être sur scène pendant un long moment, j'ai des crises et je deviens vraiment dingue. Je me mets à pleurer, j'agis de façon bizarre et complètement délirante. Je vous jure, c'est vrai. J'me mets à danser dans la maison ."
Il s'est mis à parler précipitamment. "C'est comme si une partie de moi-même manquait et que je devais la récupérer, parce que si je ne le faisais pas, je ne serais pas entier. Alors je dois danser et je dois chanter, vous savez? J'en ai vraiment besoin. Je ne suis bien que sur scène. Je ne me sens pas bien avec des...," il a fait une pause, cherchant le mot exact, "gens normaux. Mais quand je suis sur scène, je m'ouvre au monde et je n'ai aucun problème. Quoi qui puisse être en train de se passer dans ma vie n'a plus d'importance. Je suis là, je ne me préoccupe plus de rien, et je me dis, "Ca y est. Je suis chez moi. Je suis exactement là où je dois être, là où Dieu a voulu que je sois." Je n'ai aucune limite lorsque je suis sur scène. Je suis numéro un. Mais quand je ne suis pas sur scène," il a haussé les épaules, "Je ne suis pas vraiment..." Il s'est encore interrompu pour trouver le bon terme. "Heureux."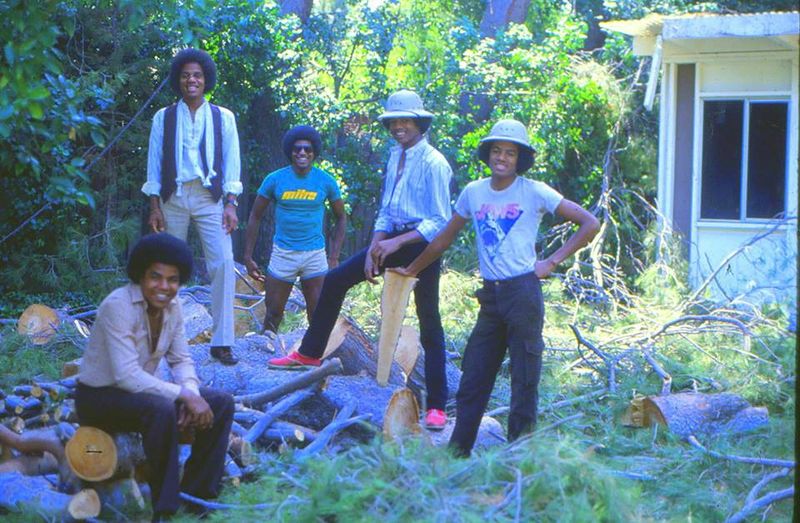 Plus tôt dans la journée, j'avais interviewé Sydney Lumet, le réalisateur de « The Wiz ». "Michael Jackson est le plus grand artiste qui ait été révélé depuis James Dean, je suppose," Lumet m'a dit. "C'est un acteur et danseur génial, probablement l'un des rares artistes avec qui j'ai travaillé. Son talent est incroyable."
J'ai fait part de la remarque de Lumet à Michael. Il a eu l'air gêné pendant un moment. "Qui est James Dean?" a-t-il demandé.
Plus tard, il a parlé de son rôle de l'Epouvantail dans "The Wiz". "Ce que j'aime à propos de mon personnage," a-t-il observé, "c'est sa - je suppose qu'on pourrait appeler ça - sa confusion. Il sait qu'il a ces, uh, ces problèmes - si on peut appeler ça comme ça. Mais il ne sait pas exactement pourquoi il les a ni comment ça lui est arrivé. Et il comprend qu'il voit les choses différemment des autres, mais il n'arrive pas à en connaître la raison. Il n'est pas comme les autres gens. Personne ne le comprend. Alors il vit toujours avec cette, uh...," il a fait une pause, "confusion."

Michael Jackson a arrêté de regarder ses doigts de pied pendant une fraction de seconde. "Tout le monde croit qu'il est très spécial," a-t-il conclu, "Mais, en fait, il est très triste. Il est tellement, tellement triste. Vous comprenez?" a-t-il demandé. "Vous comprenez sa tristesse?"
Source: MJFrance