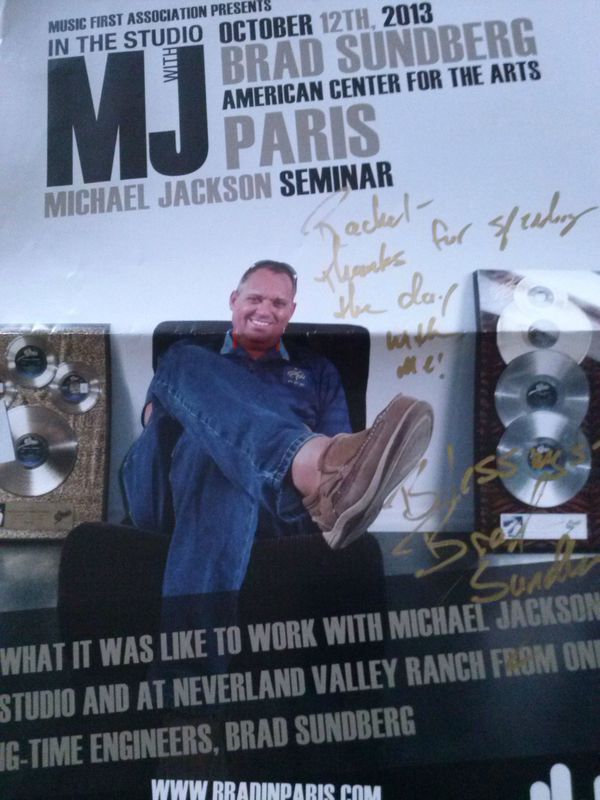 Rencontre avec Brad Sundberg, directeur technique de Michael Jackson pendant plus de 15 ans et qui a notamment travaillé sur les albums Bad, Dangerous et HIStory. Brad s'est également occupé de la musique dans le ranch de Neverland. (voir la présentation du séminaire)
J'ai essayé dans la mesure du possible de répertorier tout ce qui a été entendu. Je ne suis pas une spécialiste musicale, donc je ne peux pas rentrer dans le détail au niveau des démos entendues et l'émotion a parfois été si forte sur certains titres ou certaines images que j'espère n'avoir rien oublié.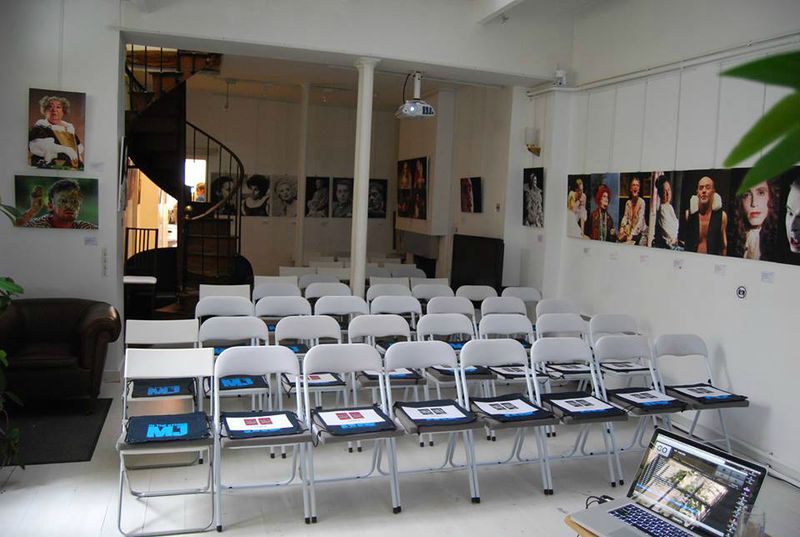 L'après-midi commence vers 14h15 : avant la session de l'après-midi, à partir de 16h, nous étions un petit groupe restreint de fans à avoir payé pour rencontrer Brad et obtenir une photo et une séance de dédicace.
Brad nous a tout de suite mis à l'aise en venant se présenter à nous et en nous serrant chaleureusement la main. Il demande à chacun de nous d'où nous venons, et même si on semble un peu impressionné au départ, l'ambiance se détent rapidement. Brad est très surpris de voir 7 fans russes, arrivées tout droit de Moscou pour participer à l'évènement. Les jeunes filles lui ont apporté un cadeau qui semble beaucoup le toucher : une boule de neige avec la cathédrale Saint Basile de la place Rouge, à Moscou. La séance photos commence donc avec ce groupe. Nous profitons pour échanger quelques mots entre fans. Beaucoup ont fait le voyage pour assister à ce séminaire : des fans des quatre coins de la France sont là mais également de l'étranger (Suisse, Angleterre, Belgique notamment)
Pendant l'heure et demi que vont durer les photos et dédicaces, Brad en profite pour nous passer quelques inédits :
- la démo de Ghosts
- le démo de I Can Help It, le titre écrit par Stevie Wonder
- la version instrumentale de Cheater
- la démo de 1988 de Earth Song. Cette démo est magnifique, uniquement en piano voix. La salle s'arrête quelques instants pour écouter la voix de Michael. Frissons garantis.
Les participants à la session de 16h entrent alors. Richard Lecocq, du MJDatabank est également arrivé pour assurer la traduction durant les 4 heures de débat.
Brad se présente, explique son parcours avant de rencontrer Michael. Rapidement durant sa jeunesse il a été intéressé par les sons dans la musique. Il a donc suivi un parcours qui lui a permis de travailler dans ce milieu. Originaire de la Californie, quand il fallu choisir le studio où il voudrait travailler, les Westlake Studios se sont imposés à lui, parmi les dizaines qui existent à Los Angeles pour la simple raison que c'est là que Michael Jackson avait enregistré Thriller.
De part sa mère, d'origine suédoise, Brad a baigné dans la dance music de type Abba, Bee Gees, Gloria Gaynor et bien sur Michael Jackson même si ses plus grosses influences sont plutôt rock, avec Pink Floyd, Led Zeppelin, Van Halen, …
Brad nous explique qu'il était un fan modéré de Michael.
Aujourd'hui, il veut nous faire partager son expérience de travail avec Michael. Il est d'ailleurs en train d'écrire un livre mais il veut prendre le temps de le faire, on ne l'aura donc pas avant deux ou trois ans. Ce séminaire portera donc sur ces souvenirs de travail avec Michael. Brad reste quelqu'un de humble. Il n'hésite pas à nous dire que les fans en savent certainement beaucoup plus que lui sur Michael Jackson, qu'il lui est déjà arrivé de ne pas pouvoir répondre à certaines questions mais que ce qu'il souhaite faire, durant ces 4 heures, c'est nous faire entrer dans « le studio de Michael Jackson », découvrir l'histoire des chansons et partager avec nous des anecdotes, des histoires qu'il a vécu avec Michael durant les sessions d'enregistrement. Ces souvenirs sont très précieux pour lui, il ne souhaite pas les rendre public, pour des raisons de droits aussi certainement (ce qui explique que les téléphones portables et autre appareils photos et enregistreurs étaient laissés à l'extérieur de la salle)
Son histoire avec Michael débute donc de 1985, lors de l'enregistrement des titres de Captain Eo au Westlake Studios. Brad n'était pas encore dans l'équipe des techniciens, il ne faisait que rapporter des hamburgers ou du café, un coursier en quelque sorte. Michael venait seul au studio, il conduisait depuis Encino, sans garde du corps. Brad explique que le studio est un véritable cocon pour les artistes, l'endroit où ils se sentent le plus en sécurité, et c'était le cas pour Michael.
Brad a trouvé en Quincy Jones et surtout Bruce Swedien, des maîtres qui l'influenceront dans son travail. Il raconte que ces deux derniers sont issus de l'ancienne école et que les prémices du travail avec les ordinateurs n'a pas été évident pour eux. Brad ne comprenait pas trop pourquoi. Il ne l'a comprit que dernièrement, quand il a retrouvé dans ses archives, la démo de I Can Help It, jouée sur cassette, uniquement avec trois musiciens. Pour pouvoir nous la présenter lors du séminaire, il a fallu la transférer sur un ordinateur, dans un studio à Orlando (en Floride). Un travail important alors que comme le disait Quincy, « c'est tellement plus simple de louer un orchestre !! »
Brad nous fait écouter une version inédite de We Are Here To Change The World avec l'instrumental qui permet aux danseurs de se caler pour la chorégraphie dans le film. Captain Eo inaugure, à l'époque, un nouveau son, un son qui fait le tour de la pièce.
L'album BAD
Brad évoque d'abord la chanson Scared Of The Moon (anecdote que l'on peut lire ici, publiée par Damien Shields il y a quelques jours). La démo, enregistrée en une journée (comme beaucoup de démos par ailleurs) est un simple piano voix (et un peu de guitare).
Ensuite nous entrons directement dans les studios Westlake à Los Angeles. Au départ, ces studios ne comprenaient que 2 studios d'enregistrement, une cuisine et une salle de bain. Une pièce de repos existe également à l'étage où Michael allait souvent. Les titres de Bad ont été travaillés dans le studio D
La plupart des démos de l'album Bad ont été d'abord travaillée dans le studio de Michael à Hayvenhurst. Mais Brad précise que ce studio n'était pas bon du tout, d'autant plus que les frères Jackson y allaient et venaient souvent.
Il a fallu environ 8 à 10 mois pour travailler les titres de l'album.
- Bad
Brad nous a ramené la multipistes de Bad. Il nous la présente et s'amuse à nous expliquer comment isoler chaque partie de la chanson (les chœurs, les voix, les cuivres, la guitare, …et même l'effet sonore). On peut donc entendre chaque partie seule, la chanson est complètement « désossée ». Brad explique que chaque partie de la chanson est enregistrée pendant 8 à 9 minutes, ce qui permet après de les réutiliser pour créer les versions vidéo ou maxi, par exemple. Les chœurs sont enregistrés en plusieurs pistes et plusieurs harmonies, ce qui permet de créer une chorale.
La partie vocale des titres est enregistrée quand la musique est définitivement terminée. Parfois, certains titres ont nécessité 20 prises vocales et les meilleures parties de chaque prise étaient retenues.
Brad nous a fait écouter la version initiale de Bad, plus lente que l'original que l'on connait.
Bien entendu, avec Bad, il a été difficile d'échapper à la question du duo avec Prince. Selon ce que des techniciens du studio lui ont rapporté (Brad n'était pas présent ce jour là), Prince serait venu au studio, aurait écouté la chanson et dit que ce titre n'était pas fait pour être un duo. Rien concernant les paroles à sa connaissance.
Lorsque l'album Bad est sorti, Michael est parti en tournée au Japon. Bruce et Brad sont alors retournés en studios pour créer les mixes et les versions vidéos
Suite à une question dans la salle, Brad a expliqué que le mixage des titres se fait selon les ingénieurs du son. Bruce Swedien, quant à lui, préfère faire les mixes au fur et à mesure des enregistrements.
- I Just Can't Stop Loving You
L'intro parlée de IJCSLY a été enregistrée sur un lit (avec des draps, précise Brad!), amené au studio. Michael s'est allongé à côté s'une tête de mannequin avec un micro incrusté dans les oreilles et à murmurer les mots.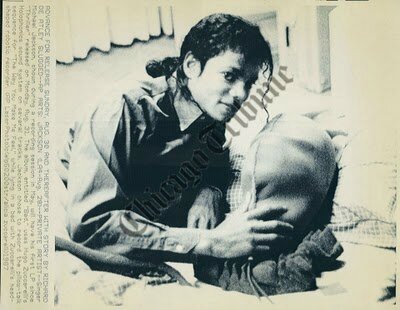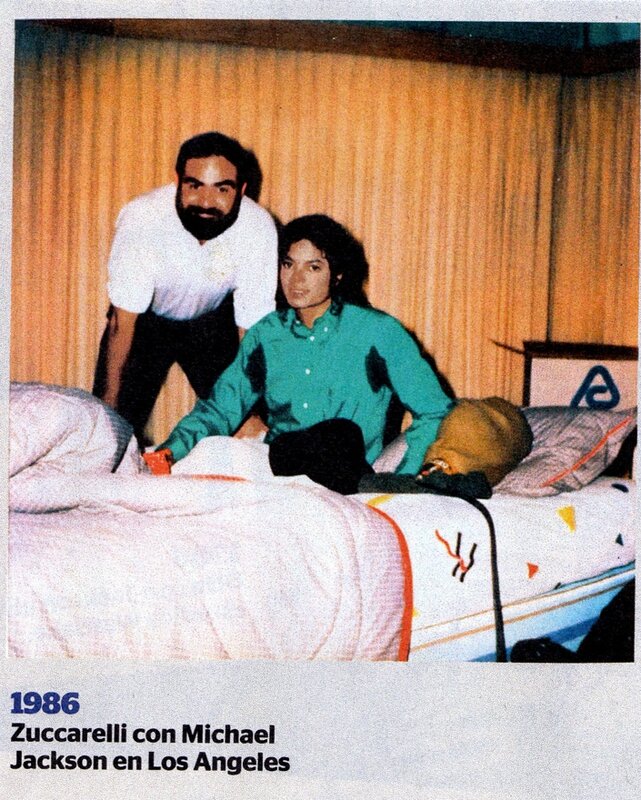 Cette intro parlée n'a pas été du goût des américains lors de la sortie du single aux Etats-Unis. Bien entendu, en entendant cela, la salle, et notamment nous, les femmes, avons prostesté !!!
Brad réalise un petit sondage à main levée : cette intro parlée fait l'unanimité parmi les fans de la salle mais il nous explique que lorsqu'il a fait son séminaire à New York, seul la moitié de la salle, un public féminin, aimait cette intro.
Pour le plaisir, brad nous fait la fait écouter……..la voix de Michael est magnifique, et Brad est d'accord avec nous, cette intro est magnifique.
Bien entendu, après les réactions aux Etats-Unis, Brad et Bruce sont retournés en studios, et ont coupé l'intro. De nouveaux pressages du CD de l'album sont ressortis sans cette version parlée sur le titre.
Brad explique que IJCSTLY a l'époque a été considéré comme un teaser de l'album, un titre moins fort que le reste des titres. Donc pas de nécessité de faire de clip.
- Another Part Of Me
Tous les fans connaissent désormais le duel qui a existé entre ce titre et Streetwalker. Lequel allait trouver sa place sur l'album.
Brad adorait ce titre mais Quincy Jones le détestait et préférait Another Part Of Me. La décision a finalement été celle de Quincy car n'oublions pas qu'à l'époque celui-ci représentait une figue paternelle pour Michael.
Mais Michael n'a pas laissé tomber tout de suite. Il avait loué le studio C des studios Westlake, il avait son propre ingénieur du son et il bossait Streetwalker de son côté !
Brad nous fait écouter la démo de Streetwalker, un mix de Bill Botrell, puis la version de 1987, plus connue mais avec quelques différences au niveau de l'intro et des ad-libs.
- The Way You Make Me Feel
La version de TWYMMF pour les Grammy's Award de 1988 a été enregistrée dans un hôtel de Pennsacola en Floride. Michael était en répétition à l'époque dans la ville pour son Bad tour américain, et un studio a été monté dans la chambre d'hôtel que Michael occupait. Un camion sono a été amené en bas de l'hôtel et les cables ont été montés jusqu'à la chambre.
Brad nous refait écouter cette version connue de ce titre mais toujours aussi bonne pour nos oreilles. « Pas mal pour quelque chose réalisé dans une chambre d'hôtel » conclut-il !!
- Liberian Girl
Une démo du titre où on entend Michael chanté au loin, avec des cris d'animaux nous a été présenté. Une « Jungle Version »
Pendant une courte pause, Brad en profite pour faire écouter une version de Don't Stop Till You Get Enough où Michael joue avec des baguettes sur des bouteilles vides ou pleines pour créer des sons différents.
L'album DANGEROUS
Pour cet album, trois équipes de production ont été mises en place :
- celle de Brian Loren, vite remplacé par Teddy Riley (Brad ne s'étendra pas sur cette équipe avec qui il a peu travaillé)
- celle de Bruce Swedien, assurant un travail ordonné, précis et rigoureux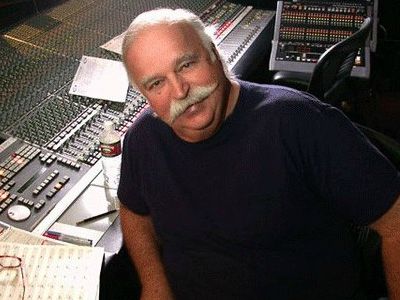 - celle de Bill Botrell, plutôt cool et spontané, où la bière était souvent présente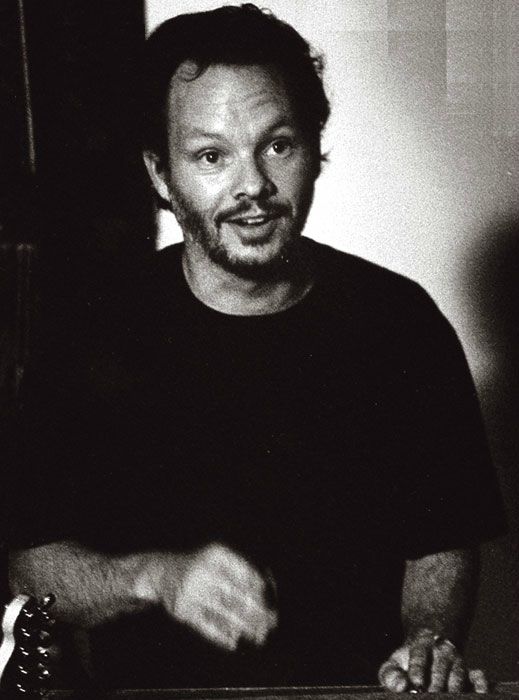 Brad devait s'assurer que tout fonctionnait bien pour chaque équipe, qui était plus ou moins en compétition pour avoir chacune ses titres sur l'album. Une compétition positive.
Du côté de Bill Botrell, qui avait une approche plus rock, sont nés des titres dont on a pu écouter certaines démos
- Black or White : la démo de 1990, sans la version rap
-Monkey Business, la version que l'on connait
- If You Don't Love Me, la version que l'on connait
- Who Is It
Du côté de Bruce Swedien, qui s'était petit à petit installé en tant que producteur, nous avons entendu :
- La toute première démo instrumentale de Jam, méconnaissable pour mes oreilles d'amateur ! A force d'être travaillé cette version aboutira à Jam
- Une démo de Jam, les paroles ne sont pas finalisées
- La démo de For All Time. Michael aimait travailler avec les musiciens de Toto. Steve Porcaro avait écrit Human Nature (le titre préféré du répertoire de Michael de Brad Sundberg) et il renouvelle avec For All Time. Un titre qu'il plébiscite auprès de Brad pour le voir figurer sur l'album, mais Brad n'a malheureusement pas un pouvoir de décision
- La toute première démo de Someone put Your Hand Out, plus ryhtmée que celle que l'on connait
- Une version inédite de Heal The World (un titre sur lequel Brad a tellement passé de temps qu'il ne l'apprécie plus beaucoup. « Un peu trop Sirupeux pour lui »), les paroles ne sont pas tout à fait les mêmes et l'intro est avec des cris d'enfants
Puis Brad est revenu sur l'équipe de Bill Botrell avec une anecdote sur l'enregistrement du titre Dangerous.
Michael aimait enregistrer dans l'obscurité, seule une lumière illuminait le pupitre pour les paroles des chansons. Michael était entouré d'un paravent, à 3 pans, qui pouvait être bougé afin de modifier le son. Brad était dans la cabine de mixage, il ne pouvait pas voir Michael, il l'entendait juste bouger, taper des mains ou des pieds. Ce jour là il entend Michael bouger les pans du mur, car il fait quelques mouvements de danse en attendant le début de l'enregistrement
Au moment où débute la prise, un grand bruit se fait entendre et Michael pousse un cri. Brad ne voit toujours rien, il demande à Michael si tout va bien. Michael lui répond que oui. Mais ce n'est pas le cas. Brad et Bill entrent dans la cabine d'enregistrement et voient Michael par terre. Le paravent lui était tombé dessus et il se tenait l'arrière de la tête. Michael a tout de même continuer la session mais en se tenant la tête. A la fin de l'enregistrement, Brad fini par emmener Michael lui-même chez un médecin. Lui qui d'habitude était toujours entouré de gardes, de Bill Bray ou de Miko Brando, ce jour là il était seul.
Le fracas que fait le paravent en tombant a été enregistré et fait partie de l'intro d'une des démos que Brad nous a fait écouter
Give In To Me
Brad nous a donné un aperçu de la manière dont est née la chanson GITM.
Il s'agit d'une session de 2 heures durant laquelle lui (pour l'enregistrement), Bill Botrell (à la guitare) et Michael (au chant) ont improvisé.
Auparavant, et dans l'optique de créer un titre rock, ils avaient rapporté au studio plusieurs CD de AC/DC, Van Halen, …
Brad nous fait écouter un condensé d'environ 12 minutes de cette session où on entend les trois hommes mettre le matériel en place, plaisanter, discuter. Michael chante de bribes en plaisantant, « like C.I.A », « like F.B.I. », « Like B.B.King". Une atmosphère de travail improvisé, bon enfant mais qui au fur et à mesure que le temps passe voit naître les premières notes et les première paroles de GITM. Une douzaine de minutes d'écoute de bonheur pour tous les fans dans la salle. https://soundcloud.com/mjj-artworks/from-the-seminars-in-the
Brad nous offre ensuite une vidéo de l'ambiance qui régnait en studios durant l'enregistrement de l'album. On voit Michael offrir un magnétoscope et des tas de cassettes VHS (notamment des 3 stooges, une série qu'il affectionne) à l'un de ses collaborateurs en convalescence suite à une opération chirurgicale. Michael est comme un enfant à Noël…. Magique ! On aperçoit également l'équipe, et Michael bien sur, en train de manger.
NEVERLAND
Avant de terminer avec l'album HIStory, Brad évoque rapidement son travail dans le ranch de Neverland. Il a été chargé par Michael d'y installer la musique que l'on entend dans le parc.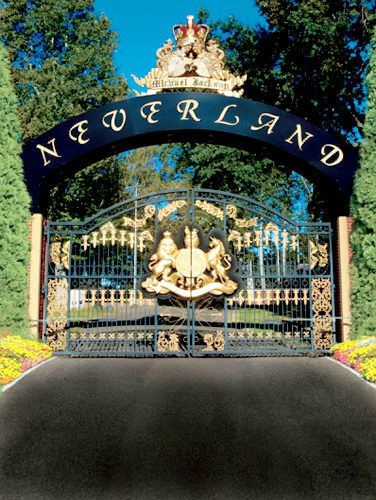 Il parle plus précisément de la musique que l'on peut entendre lorsque les portes principales de Neverland, The Ornate Gates, s'ouvrent. Michael voulait que chaque fois que s'ouvriraient ces portes résonne une musique. Brad a donc préparé un CD avec les meilleurs titres de Michael, Beat It, Billie Jean, … En l'entendant, Michael a aimé, dansé dessus ………..puis détesté. Il a dit « ce n'est pas possible, je ne peux pas avoir mes propres musiques chez moi ». Brad a donc annulé le CD. Finalement Michael a choisi Danny Boy, un hymne funèbre irlandais pour l'ouverture des superbes portes du ranch !!!
Sur chaque attraction, Brad a installé une musique. Il a passé 6 ans à construire Neverland
Brad nous diffuse un appel téléphonique de Michael qui le remercie pour le travail sonore qu'il a fait dans son ranch
HISTORY
Nous n'avons pas beaucoup eu le temps de parler des créations des chansons car nous avions déjà passé plus de 4h en compagnie de Brad.
Cependant, Brad termine le séminaire en beauté en nous diffusant plusieurs vidéos. Auparavant, il nous explique qu'en 1994, lorsqu'ils ont commencé à travailler sur l'album HIStory, un tremblement de terre a eu lieu en Californie. Michael ayant tellement eu peur, a décidé d'aller enregistré au Hit Factory Studios de New York. Tout le matériel a donc été transférer là bas. Les vidéos qui vont nous être montrées ont donc été tournées à New York
La première vidéo est un enregistrement filmé de la chorale d'Andrae Crouch répétant pour They Don't Car About Us
Vient ensuite un moment émouvant, un film avec Smile en fond sonore où sont compilés les meilleurs moments du travail en studio pour HIStory, avec les différents membres de l'équipe. On y voit notamment un Bruce Swedien faisant le pitre !!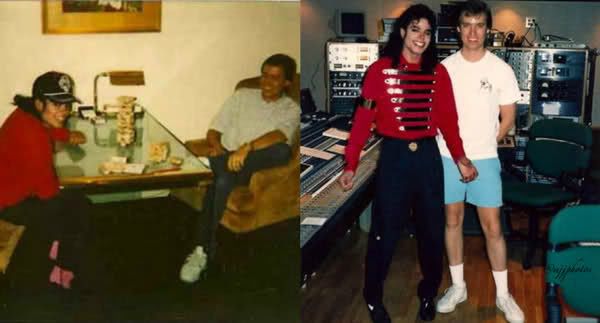 Et pour finir, le clou de ce séminaire, le moment le plus touchant, le plus exceptionnel, celui que tout fan rêve de vivre : Michael dans la pénombre du studio, lors de l'enregistrement, en une prise, de Childhood.
Il est là sur l'écran, face à nous, rien que lui et nous et on a l'impression d'être avec lui dans le studio, c'est merveilleux ! Michael est dans le noir, face au micro, le casque sur les oreilles. On peut entendre la musique dans son casque. L'orchestre philharmonique de New York qui l'accompagne est dans une autre pièce. C'est un vrai live, un moment unique. Michael se lance dans une interprétation du titre ou il y met tout ce qu'il possède. Sa voix est superbe. Il joue avec ses mains, fait des mimiques. Il est tellement satisfait de lui, qu'il sourit et serre son poing comme s'il disait Yes ! Il est heureux. C'est un moment magique. Je suis remplie de frissons, les larmes coulent et je ne suis pas la seule à être aussi émue par ce moment. Je ne suis pas sûre qu'on puisse un jour revoir Michael aussi heureux. Ces images sont fantastiques. Lorsque se termine le film, la salle est d'abord silencieuse quelques secondes puis un tonnerre d'applaudissements retentit. Brad est aussi touché que nous de revoir ces images. Comment ne pas l'être !
« C'était mon ami » dit-il.
Merci Mr Brad Sundberg, presque 5 heures de séminaires avec vous, avec Michael et sa musique. C'est même encore trop court.
Merci à tous les organisateurs, j'ai vécu un moment incroyable que je ne suis pas prête d'oublier.
Quelques photos de la devanture de la Dorothy's Gallery, avec des collectors MJ