Le 09 décembre 1972: Les J5 font une apparition à la Watts Christmas Parade de Los Angeles (California) où ils sont les présidents d'honneur. La parade est diffusée le lendemain sur KTLA. (voir l'album photos sur la page facebook)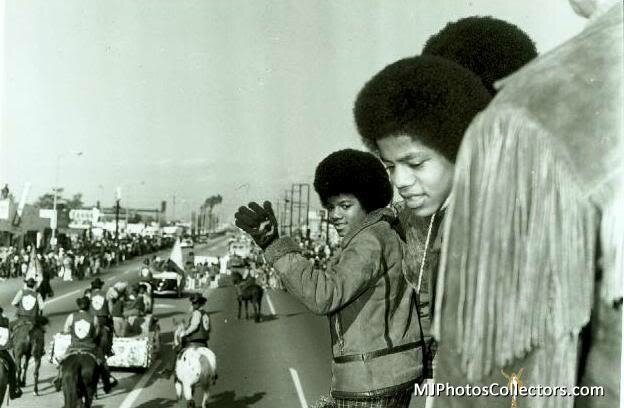 Le 09 décembre 1979: Le Destiny tour passe par Vancouver (Canada)
Le 09 décembre 1984: Dernier concert du Victory tour au Dodger Stadium de Los Angeles. Durant "Shake Your Body (Down To The Ground)", Michael annonce qu'il s'agit de la dernière tournée du groupe.
Le 09 décembre 1988: Le Bad tour est de retour à Tokyo (Japon), 45 000 spectateurs au Tokyo Dome, premier concert d'une série de neuf
Le 09 décembre 1992: Les 3èmes Annual Billboard Music Awards ont lieu au Universal Amphitheater de Universal City à Los Angeles (California). Michael reçoit le 1992 Billboard Awards pour un single numéro 1 mondialement (Black or White) et l'album numéro 1 à travers le monde (Dangerous). C'est la première fois qu'un artiste reçoit les deux récompenses la même année. Michael accepte les awards des mains de Phil Collins lors d'une vidéo filmée quelques jours plus tôt à Neverland. Il déclare: «Je suis honoré d'être reconnu par Billboard, qui est considéré comme la bible de l'industrie. Rien n'aurait pu m'empêcher de partager cette occasion spéciale autre que" Heal The World "et mon engagement sur la tournée . Mon sincères remerciements à Billboard, aux enfants, et à mes fans en général. Votre soutien au fil des années a été une source d'inspiration. Merci Beaucoup. Michael reçoit aussi un spécial award commémorant les 10 ans de Thriller et dit "Wow ... Merci. Je suis encore plus touché que vous saluiez mes efforts et, plus important encore, qu'on se souvienne de «Thriller» après une décennie. Je vous aime tous. "
Le 09 décembre 2002: Lors des Annual Billboard Awards, Chris Tucker remet à Michael, en direct du ranch de Neverland, un special Billboard Award pour son album Thriller qui est resté pendant 37 semaines numéro 1, ce qu'aucun autre album n'avait fait. En recevant son award, Michael déclare: "Merci beaucoup. Je suis très honoré. Je suis très heureux. Je remercie toutes les personnes qui apprécient mon travail. Je remercie les Billboard Awards. J'ai vous ai toujours admiré . Et aux fans du monde entier, je vous aime. Je ne pourrais pas être moi sans vous. Merci à Dieu. Chris Tucker je t'adore."