Voilà, déjà une semaine que j'ai mon livre Sur Les Pas de Michael Jackson entre les mains, ce fameux guide de voyage pratique écrit par Antoine Cadinot et Christophe Charlot pour les fans de Michael.
Avec mon blog et sa section Voyage, j'avais rêvé de créer, grâce aux quelques voyages que je peux faire, un guide référence des lieux liés à Michael. J'en ai rêvé, Antoine et Chris l'ont fait !!! Et ils l'ont très bien fait !
Un guide de 246 pages, composé de 15 sections, où sont référencés pas loin de 500 lieux (musées, maisons, stades, studios, lieux de tournages, …) où MJ est passé ou a été honoré, tous liés à l'HIStoire personnelle et artistique du King of Pop. Des tas de photos en couleurs, que les fans, qui ont eu l'occasion de se rendre dans les lieux cités, ont partagées avec les auteurs. Je suis d'ailleurs fière d'en faire partie !
Le livre se décompose par pays/continent, chacun ayant une couleur particulière ce qui permet de les reconnaitre facilement :
Japon (gris)
Etats-Unis et Canada (rouge), bien entendu la plus grosse partie du guide, qui couvre non seulement la Californie, mais également New York, Las Vegas, Washington, … et bien sur Gary !
Royaume-Uni (vert d'eau)
Irlande (vert d'eau)
France (bleu cobalt)
Belgique (marron)
Pays Bas (orange)
Allemagne (violet)
Suisse (vert clair)
Italie (vert foncé)
Espagne (bordeau)
Ailleurs en Europe (rose foncé)
Australie (rose clair)
Afrique (vert kaki)
Ailleurs sur la Terre (bleu clair)
Chaque pays est présenté d'une manière globale : capitale, langue officielle, population, superficie, monnaie, fuseau horaire et, pour chaque section, les auteurs nous ont fait part de leurs coups de cœur, une sélection des 3 ou 4 lieux à visiter ou à voir concernant Michael. En prime, pour les Etats- Unis une petite liste des incontournables, les endroits à ne manquer sous aucun prétexte. Certaines grandes villes ont également une carte, notamment New York, Los Angeles et Hollywood, Londres et Paris. Cela permet d'avoir une vue d'ensemble des lieux en fonction de l'endroit où l'on peut être.
Pour chaque lieu, une brève description est donnée, et bien entendu est spécifié le lien avec Michael, la date à laquelle il y est passé, a séjourné, a performé, … Comme tout bon guide qui se respecte, l'adresse est mentionnée, avec la station de métro et le site internet s'il y en a un. Pour les musées, les horaires et tarifs sont également indiqués. Et puis bien sûr les lieux sont catégorisés et côtés selon le code ci-dessous. Personnellement, je trouve cela très pratique, et j'adore l'idée d'avoir penser aux pieds de MJ comme cotation !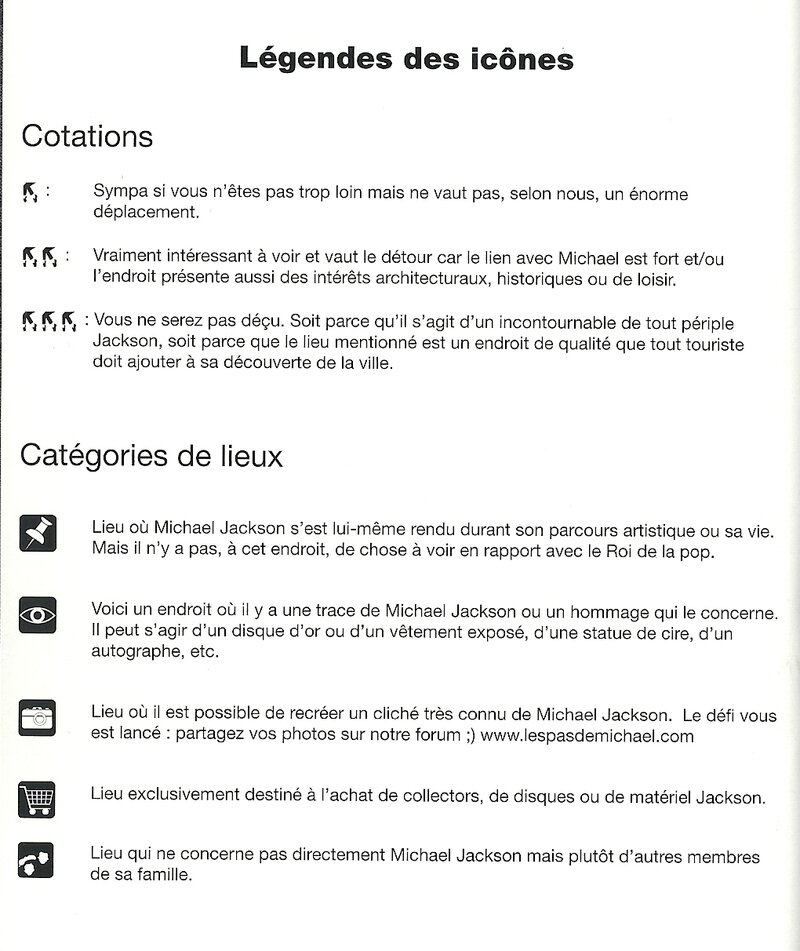 Les auteurs n'ont pas listé TOUS les lieux où Michael s'est rendu, cela semble impossible à faire d'ailleurs, mais seulement les lieux les plus significatifs de sa longue carrière et de ses périples à travers le monde, ce qui représente déjà beaucoup. A défaut d'être une liste exhaustive, nous avons un livre référence riche en photos et anecdotes. A sa lecture j'ai ainsi découvert que Michael avait visité un château à 8 kilomètres de mon lieu de travail….si j'avais su !!!
Bref un vrai guide, digne de celui du routard ! Un contenu complet, clair, précis, que tout fan qui part sur les traces de son idole (ou non) devra mettre dans sa valise. Et il sera d'ailleurs dans la mienne d'ici un mois !
Christophe et Antoine reconnaissent ne pas avoir visité tous les lieux. Petit message personnel à leur attention : Messieurs, si vous avez besoin d'embaucher quelqu'un pour le faire, je suis prête à changer de travail pour pouvoir visiter tous ces lieux magiques où pour certains la présence de Michael doit se faire sentir !!
Le guide est appelé à évoluer bien sur. Des lieux qui ferment, une exposition modifiée, … ce qui laisse envisager une réédition, pour notre plus grand plaisir.
Personnellement, la partie sur les Etats Unis est ma préférée. Tant de lieux emblématiques à voir, où Michael a laissé son empreinte…au sens propre comme au sens figuré. D'ailleurs en parlant d'empreintes, je regrette une chose, et ce serait sans doute le seul bémol que je pourrais trouver à ce guide, c'est que la Broken Heart Stone, la plaque de ciment sur laquelle Michael a laissé ses empreintes en 1984, et qui se trouve désormais devant le Grauman's Chinese Theater à Hollywood, ne soit pas mentionnée. Une plaque, encore trop peu connue des fans qui ne voient que les empreintes des enfants laissées en janvier 2012. Et pourtant les vraies empreintes de Michael sont juste à côté ! (voir ici)
A ceux et celles qui hésitaient encore à acheter ce guide, je pense qu'il n'est plus nécessaire d'attendre. Vous trouverez toutes les informations sur le site.
Bonne lecture et bons voyages !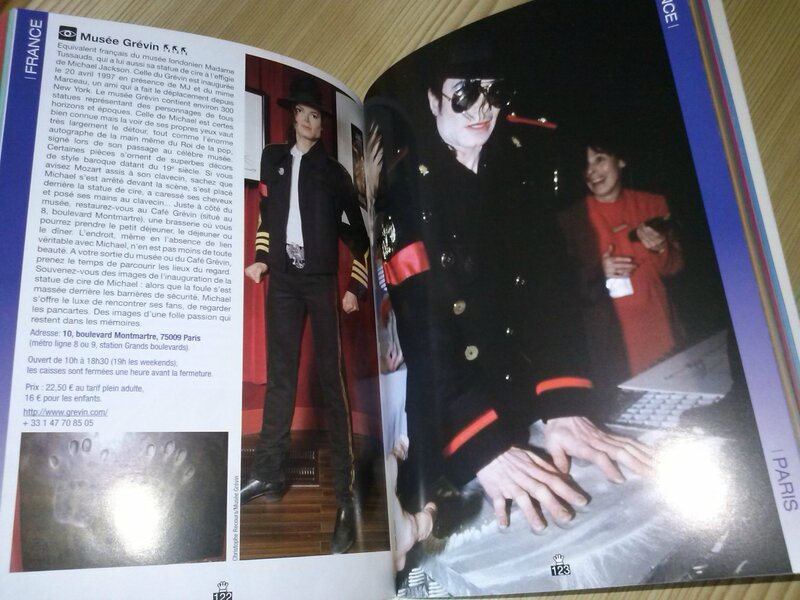 Le livre est disponible depuis peu en version eBook sur iPad, Kindle, tablettes et smartphones. Vous pouvez vous le procurer sur iTunes, Google Play, Kobo, Numilog et chez amazon.fr où il est toujours possible de le commander en version papier.
Présentation du livre sur le site:
Le premier guide de voyage sur Michael Jackson !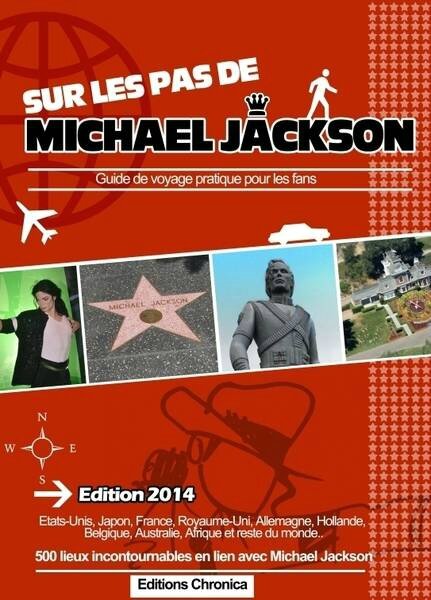 Que vous soyez bourlingueur ou simple passionné, Sur les pas de Michael Jackson est taillé sur mesure pour vous.
Cet ouvrage totalement unique est le premier guide de voyage (format A5) Michael Jackson, entièrement consacré au King of Pop. Grâce à ce guide pratique tout en couleurs, vous découvrirez, sur papier glacé, pas moins de 500 lieux liés à l'histoire du Roi de la Pop: lieux de tournages, demeures, stades mythiques, lieux en hommages, attractions Michael Jackson , statues, statues de cires de Michael,…
Qu'il y soit passé, y ait organisé une séance photo, un concert ou qu'il y ait vécu, des centaines d'endroits sont regroupés dans ce guide qui vous fera voyager des Etats-Unis au Japon en passant par la France, le Brésil, l'Espagne, la Belgique, la Hollande, l'Allemagne, etc.
Plusieurs dizaines de pays sont intégrés dans cet ouvrage. Sur les pas de Michael Jackson vous permettra d'organiser votre voyage ou simplement de rêver et de découvrir des lieux totalement surprenants.
Vous retrouverez des lieux mythiques, des bons plans et une foule de conseils de voyages sur une multitude de pays :
•Etats-Unis
•Royaume-Uni + Irlande
•France
•Allemagne
•Belgique
•Suisse
•Pays-Bas
•Japon
•Australie + Nouvelle Zélande
•En bonus: le reste de l'Europe (Italie, Espagne, Europe de l'Est, Russie…)
•En bonus: le reste du monde (Brésil, Argentine, Mexique, Canada, Chine, …)
Quelques extraits:
Afin de mieux faire connaître cet ouvrage, MJFrance propose une interview d'Antoine Cadinot, l'un des auteurs de ce guide
Bonjour Antoine, pourrais-tu te présenter auprès de nos lecteurs ? Depuis quand est-ce que tu es fan de Michael Jackson, d'ou viens-tu, quel âge as-tu, quel est ton parcours de fan et quel genre de fan es-tu ?
Je m'appelle Antoine CADINOT, je vais avoir 30 ans, je suis originaire et je vis à Amiens (Picardie). Dans la vie, je suis chargé d'études à Paris. Je suis un grand admirateur de Michael Jackson depuis la période Dangerous. Je pense que ce qui m'a attiré chez MJ, c'est son talent bien évidemment, ses multiples paradoxes (tout paradoxe intrigue et intéresse), son coté humain et aussi sa capacité à être ce qu'il était malgré tout ce "qu'on" lui a fait subir. C'est une véritable leçon à mon sens. Je suis admiratif de l'œuvre mais aussi du personnage et de sa capacité à avancer et à supporter cette pression démentielle.
Comment est venue cette idée d'écrire un tel ouvrage et comment s'est déroulée ta collaboration avec Christophe Charlot ?
J'ai fait la connaissance de Christophe par le biais du MJBackstage et des réseaux sociaux. Je lui propose de temps en temps des articles ou des idées pour le magazine MJB. Un jour je lui ai proposé une rubrique voyage pour le MJB. Cette idée est venue naturellement en voyageant. J'ai visité une vingtaine de pays en Europe ainsi que les Etats Unis et souvent, sans le provoquer, je remarquais un endroit ou quelque chose en rapport avec Michael Jackson. J'imaginais cette rubrique pour 2 ou 3 MJB où l'on mettrait une vingtaine de lieux emblématiques à chaque fois, avec des infos pratiques et des repères historiques. Très rapidement Chris a eu l'idée de faire un guide à part entière.
Dans mon esprit je me disais qu'il fallait au moins 300 lieux pour pouvoir faire un guide et cela me paraissait difficile à atteindre. Mais très rapidement en commençant à rédiger et à faire des recherches, nous nous sommes vite aperçus que l'on allait largement dépasser ce premier seuil. Nous nous sommes d'abord concentrés sur les lieux les plus emblématiques et sur les grosses villes, puis rapidement, le guide a couvert tous les continents.
Nous avons recoupé et vérifié les informations de chaque lieu au maximum. En prenant contact avec les personnes sur place, ou avec quelques fans qui sont, ou qui se sont rendus dans ces pays, nous avons pu obtenir des infos, des photos et découvrir encore d'autres lieux que nous avons intégrés. Aimant voyager et étant fan de Michael Jackson, c'est vraiment le genre d'ouvrage très intéressant à écrire. Nous avons appris une multitude de choses sur MJ bien sur, mais aussi et surtout, sur des tas de lieux emblématiques sur la planète.
As-tu visité ces 500 lieux incontournables en lien avec Michael Jackson ?
J'aimerais bien mais il faudrait beaucoup de temps et d'argent :) . C'est bien évidemment plus facile de se rendre dans les lieux français. Cependant il y a 40 lieux en France qui sont référencés dans le guide et je ne les ai pas encore tous fait. Il y en a aussi énormément que j'ai déjà visité, en France, en Europe et aux Etats Unis sans savoir, au moment de ma visite, que Michael Jackson y était déja venu pour telle occasion ou qu'il y avait quelque chose en lien avec MJ dans cet endroit là.Il me reste encore une bonne marge, je pense que sur les 500 lieux du guide, j'ai dû en visité 10%. Christophe lui a vu d'autres pays et d'autres lieux comme le Japon, par exemple.
Quels sont les lieux que tu préfères et pourquoi ?
Il y a bien sur des lieux très emblématiques qui évoquent directement Michael Jackson (Neverland, le walk of fame, Encino, Gary, Disneyland...). Après avoir écrit le livre et appris différentes choses sur les lieux, j'aimerais par exemple, me rendre dans l'hôtel de Los Alamos ou a été tourné Say Say Say et qui n'a presque pas été modifié depuis le clip. La Zombie dance intersection de Thriller située à Los Angeles ne paye pas de mine au premier abord mais demeure hautement symbolique. Certains lieux que Michael Jackson a visité en Afrique lors de son pèlerinage en 1992 sont fascinants, je pense notamment à la basilique Notre Dame de la Paix à Youmoussoukro. Et puis il y aussi les nombreux hommages, stèles ou statues toujours sympathiques à voir, comme celle se situant en Malaisie, devant un "Hard Rock", elle représente Michael Jackson caricaturé façon statue de Lincoln à Washington, et sa réalisation technique est parfaite.
Est-ce que ce livre propose des conseils pour les fans qui voudraient visiter tel ou tel lieu ? Parlez-vous par exemple de Visa qu'il faut avoir dans tel pays ou de conseil sur tel ou tel hôtel à proximité d'un lieu ? Des bon plans pour des moyens de transport pas cher etc etc ?
Le guide propose des informations pratiques ainsi que des bons plans concernant les lieux repris dans "Sur les pas de Michael Jackson". Pour chaque endroit, nous expliquons evidemment le rapport avec Michael Jackson, (pourquoi est-il venu ici?, était-ce pour un événement particulier?, à quelle époque?, que s'est-il passé? etc....) mais aussi des repéres historiques (pourquoi telle place ou tel monument existent-ils?), des infos pratiques (moyens d'accès, heures d'ouverture, tarifs, bons plans dans les environs, modalités de reservation d'une chambre d'hotel ou d'un restaurant que Michael Jackson a fréquenté) et d'autres renseignements (par exemple, style d'architecture des édifices, infos liées à la ville ou au pays). Nous avons voulu rendre ce guide le plus pratique possible avec également quelques anecdotes. Toutefois, il ne remplace pas un guide traditionnel type Routard ou Lonely Planet qui restent indispensables pour les aspects généraux de chaque pays évoqué...
Existe-t-il un moyen interactif pour les fans que d'échanger leurs expériences concernant ces fameux endroits incontournables ?
Oui sur le site (surlespasdemichaeljackson.com/participez/) les fans peuvent nous faire part de leur visite, nous envoyer des photos et même nous faire découvrir de nouveaux lieux. C'est d'ailleurs très important pour nous permettre d'actualiser nos informations, car certains lieux peuvent ne pas être "figés". Je pense par exemple à une statue de cire dont le costume peut changer et donc ne plus correspondre à la description que nous en avons faite, un établissement peut aussi fermer ou avoir changé de place. Nous essayons de nous tenir informés de toutes ces choses de notre coté, mais l'expérience et les informations des fans sont très précieuses et intéressantes. Nous en sommes encore au début du concept et tous les retours qui pourront nous permettre de corriger, d'améliorer nos informations ou simplement d'échanger sont bénéfiques.
Il y aussi une page Facebook sur laquelle vous trouverez plein d'informations sur le guide et des photos ou vidéos rares, et sur laquelle tous les commentaires sont les bienvenus :https://www.facebook.com/surlespasdemichaeljackson?bookmark_t=page
Enfin il est également possible de nous faire part de vos avis ou de vos observations par mail :surlespasdemichael@gmail.com
Si le nombre de 500 parait assez important, penses-tu que ce livre puisse un jour voir une suite avec encore plus de lieu à visiter ?
Souvent en recherchant des infos précises pour un lieu dans une ville donnée, on découvre en fait plusieurs lieux dans cette ville, parfois totalement surprenants. Et il y a toujours plus d'endroits à voir dans chaque ville que ce que l'on imagine au premier abord. Et cela semble sans fin, Michael Jackson s'est produit en concert partout dans le monde. En bon passionné d'art et d'histoire qu'il était, il visitait énormément d'endroits dans chacune des villes qu'il traversait, rendait visite à des personnalités, aux enfants... les hommages (stèles, statues..) se multiplient à travers le monde. Il semble presque impossible de tout référencer mais nous essayons. Nous avons découvert des lieux jusqu'à l'étape ultime de la rédaction du guide et nous en découvrirons encore d'autres après. Ce guide est mondial mais on pourrait presque imaginer des guides plus spécifiques à certains pays tant le nombre de lieux semble important. Si l'on ajoute à cela, les retours des fans qui visitent ces lieux et qui nous font part d'ajouts, ou de corrections, alors une ou plusieurs nouvelles éditions de ce guide sont effectivement probables.
Qu'est-ce que tu aurais envie de dire aux fans qui lisent cette interview et qui comme toi, sont des passionnés du Roi de la Pop ?
L'héritage laissé par Michael Jackson est immense. En marchant sur ses pas, cela permet parfois d'avoir un point de vue différent et de comprendre encore un peu plus son message. La plupart d'entre nous connaissons très bien sa carrière, sa vie et son oeuvre mais se rendre sur certains lieux emblématiques permet d'entretenir la magie, de se remémorer des moments, et d'apprendre de nouvelles choses. Et à l'image du talent du personnage, cette quête semble infinie. Que les fans n'hésitent pas à échanger au maximum avec nous et à nous faire part de leurs expériences. J'en profite également pour souhaiter une bonne année 2014 à tous, avec la santé et de superbes voyages jacksoniens.
Source: MJFrance