Le 05 mai 1971, la famille Jackson quitte la maison de Bowmont Drive et emménage dans la propriété du 4641 Hayvenhurst Avenue, à Encino, banlieue de Los Angeles. Cette maison, achetée 140 000 dollars par Joseph et Katherine, grâce au succès des Jackson 5, reste encore aujourd'hui la demeure familiale, même si ni l'un ni l'autre n'y vivent plus.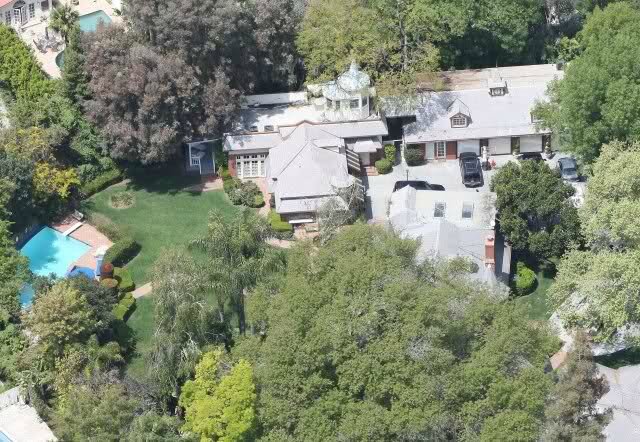 Katherine raconte : « Nous avons (…) décidé d'acheter une grande maison pour toute la famille. Après avoir vécu pendant deux ans dans les deux maisons que Motown nous avait louées, nous avons pensé qu'il était temps d'avoir notre propre maison. Tout d'abord, nous avons limité nos recherches à Hollywood. L'idée d'être près de Motown et des studios d'enregistrement nous tentait. Et puis, finalement, nous avons décidé d'acheter une maison tout en haut de la colline, à Bel Air, qui donnait sur toute la ville. Notre agent immobilier nous poussa à prendre une maison qu'il avait choisie pour nous à Bel Air. Et pour nous prouver qu'il avait raison et que c'était un bon investissement, il nous conduisit dans la vallée de San Fernando, un jour, pour nous montrer une maison à Encino, qui était à vendre pour à peu près la même somme, c'est-à-dire 140 000 dollars. L'agent était persuadé que cette maison de Encino, comparée à Bel Air, était beaucoup moins intéressante parce qu'elle était située sur un terrain plat et qu'il n'y avait pas cette vue magnifique. Mais finalement nous sommes vraiment tombés amoureux de la maison d'Encino. Nous adorions le fait qu'elle était située sur un terrain immense et qu'il y avait dix-huit citronniers, orangers et mandariniers et également un grand terrain pour que les garçons puissent jouer au basket. La maison était très agréable.
Elle avait le style du ranch de Californie, avec un étage et six chambres, une grande véranda ensoleillée et puis cinq salles de bains. Nous adorions tout particulièrement le grand séjour tout en verre qui était baigné de lumière toute la journée. Et c'est finalement cette maison que nous avons décidé d'acheter. Nous y avons déménagé le 5 mai 1971, un jour après mon 41ème anniversaire » (Jackson & Jackson, Histoire d'un rêve).
Située à une trentaine de minutes en voiture au nord de Los Angeles, Encino est l'une des communautés les plus riches de la métropole. Elle y accueille de nombreuses célébrités.
La maison d'Encino avait été avant les Jacksons, la propriété d'Earle Hagen, un célébre compositeur américain de musique de téléfilms. Une photo de lui peut d'ailleurs être vue sur son site dans les escaliers de la maison, les mêmes escaliers où la famille Jackson pose en photo pour le magazine Life, en septembre 1971.
La propriété d'Encino, qui s'étend sur un hectare, comportait un portail électrique, une maisonnette adjacente, un petit théâtre et une maison pour les employés. Dans le salon, un canapé encastré dans le sol faisait le tour de la pièce. Sur les murs s'étalaient de nombreuses plaques, des disques d'or et de platine, symboles des millions d'albums et de singles vendus. Un journaliste a défini la pièce comme « un croisement entre un hall de motel et celui d'un label de Sunset Boulevard ».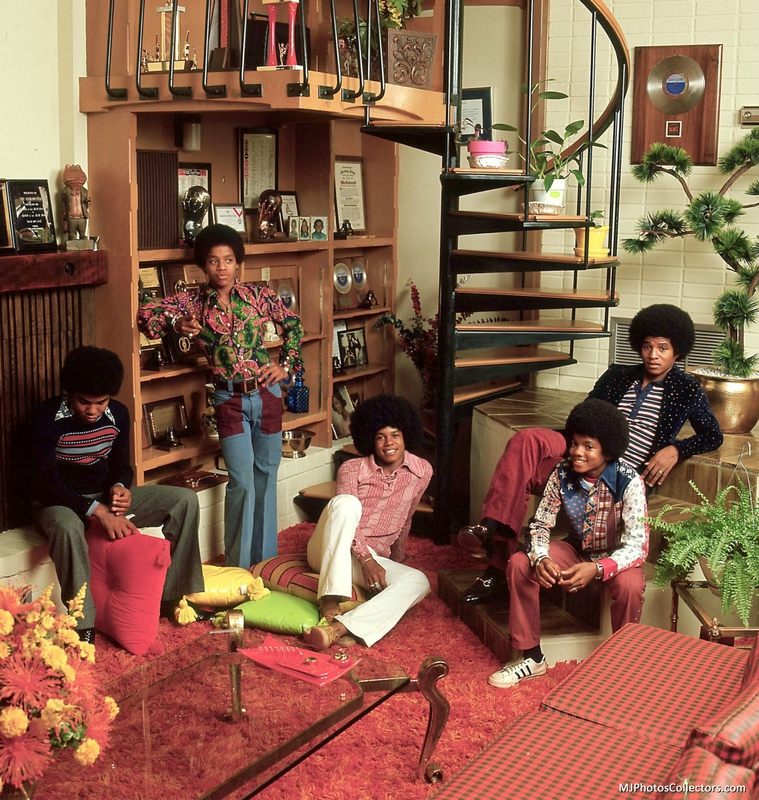 La propriété comportait une piscine olympique, un demi-terrain de basketball, un court de badminton et un stand de tir à l'arc. La tranquillité des environs assurait à la famille désormais célèbre une paix ininterrompue. Ils avaient prévu de bâtir un studio ainsi qu'une chambre noire. Michael aurait eu le coup de foudre pour les deux dauphins en mosaïque au fond du bassin de la piscine.
Jermaine apporte également sa vision des choses : « La maison était décorée dans le style des années 1970 : beaucoup de portes coulissantes, des sièges en plastique, des couleurs criardes, des lambris en bois et le top du top était l'immense escalier en spirale qui trônait dans le grand salon, où l'on se vautrait sur des canapés design en mousse. Il y avait des chambres à deux lits pour Marlon et moi, Tito et Johnny (Jackson, le batteur des J5), Michael et Randy, La Toya et Janet, Jackie et Ronny (Rancifer, le claviériste du groupe). (…) C'était une grande maison, certes, mais pas un château. Deux cent quarante mètres carrés pour treize personnes (…) et chaque mètre carré était utilisé. » (You Are Not Alone, Le vrai Michael dans les yeux de son frère)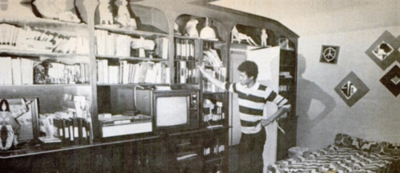 Michael dans sa chambre à la fin des années 70
Selon Jermaine, le fait d'habiter dans une grande maison aurait aidé les liens entre la famille à se détendre. A Gary, dans la petite maison, la famille était obligée d'être proche. A Encino, chacun pouvait faire un peu ce qu'il voulait dans la propriété. Mais ce qui a surtout commencé à faire que la famille était moins unie fût le mariage et le départ de la maison familiale des frères. Tito, d'abord, en 1972, part s'installer avec sa nouvelle épouse, Dee Dee. Puis Jermaine, en 1973 part vivre avec Hazel. Jackie se marie en 1974 et s'installe avec Enid. Marlon suivra en 75 avec Carol mais n'avouera son mariage que quelques mois plus tard. Michael reconnait avoir très mal vécu cette situation.
Encino est donc la maison qui a vu grandir les Jackson 5, qui les a vus devenir les Jacksons et surtout a été le témoin de l'ascension fulgurante de Michael. Une maison qui a vu Michael s'enfermer dans sa timidité et sa solitude, une prison dorée où il se réfugie entouré d'animaux, mais c'est également le lieu où sont nés les premiers albums solo de Michael en tant qu'adulte.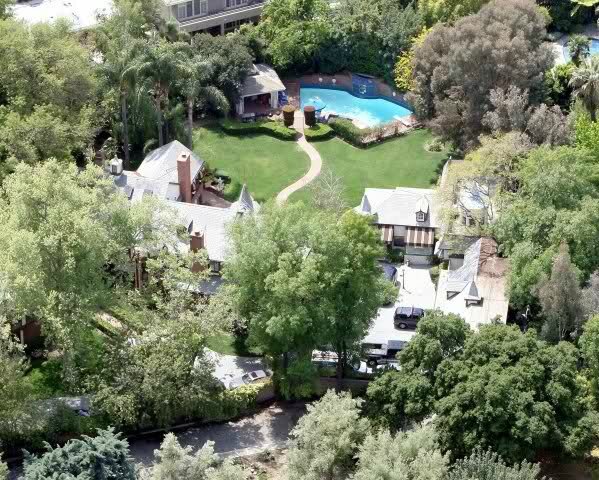 Cependant la maison telle qu'elle est aujourd'hui ne ressemble en rien à celle dans laquelle a emménagé la famille Jackson en 1971.
http://www.youtube.com/watch?v=BmkydqpMP3o
En effet, au début de l'année 1981, Joseph Jackson est confronté à des problèmes financiers tels qu'il envisage de vendre la maison familiale. Il trouve l'acheteur idéal en la personne de … son propre fils, Michael. Celui-ci a acheté sa part, Katherine et Joseph conservant la seconde part. Joseph finirait cependant par vendre la sienne, laissant un quart à Katherine. Michael devient donc le propriétaire majoritaire de Hayvenhurst.
En 1983, Michael décide de rénover complètement la maison. Finalement détruite pour être reconstruite, la nouvelle demeure, une fois terminée au bout de deux ans, devient un véritable palais. Un second étage est ajouté, les jardins sont entretenus et tout l'intérieur rénové à l'image de Michael (pendant ce temps, Michael et quelques membres de sa famille iront vivre dans un appartement que Michael avait acheté au 5410 Lindley Avenue à Encino)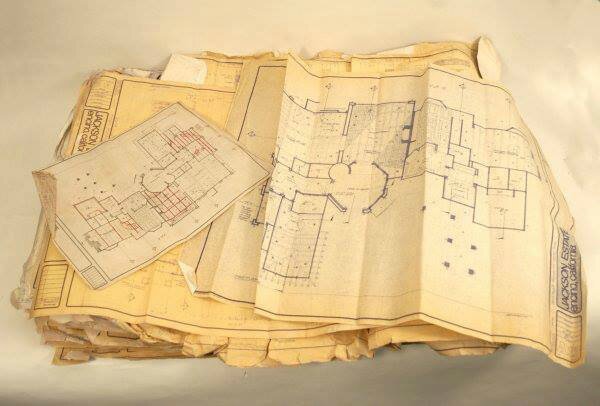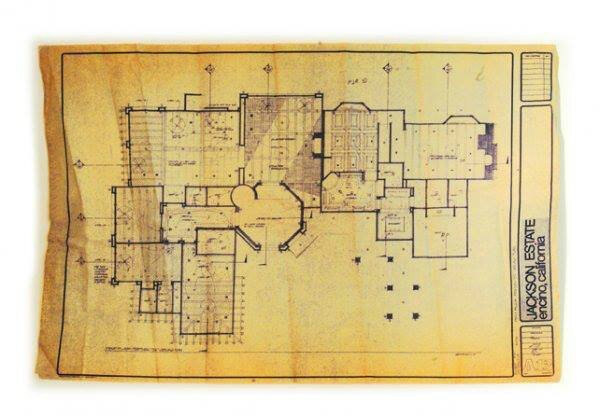 Les plans de la maison pour la future rénovation, en 1982
La maison prend alors un style Tudor, style que Michael avait découvert et apprécié lors d'une tournée anglaise. « Comme Michael avait entièrement payé cette nouvelle maison, elle était décorée selon ses goûts. C'était son idée par exemple que la maison devait être de style anglais Tudor. Je ne peux pas dire que je raffole du style Tudor. Pour moi, ces maisons sont trop sombres et trop lugubres. Mais finalement nous nous sommes mis d'accord pour avoir beaucoup de fenêtres afin d'apporter un maximum de lumière » raconte Katherine
L'EXTERIEUR, LE JARDIN
L'allée de briques donnait sur une fontaine blanche à trois niveaux posée devant la maison.
Toutes les fenêtres étaient garnies de petits vitraux aux carreaux biseautés. On voyait un grand panneau de « Bienvenue » au dessus des portes du garage.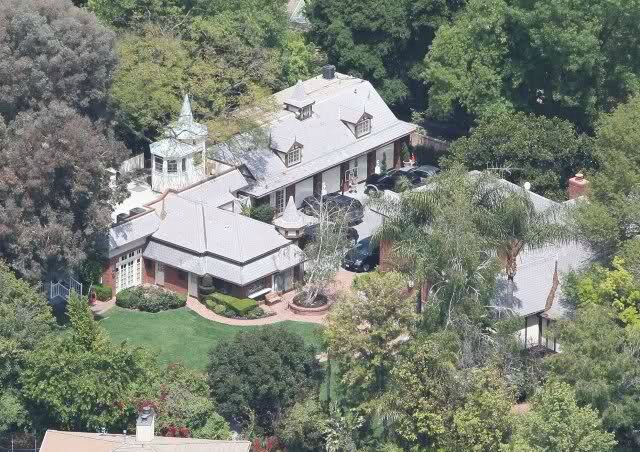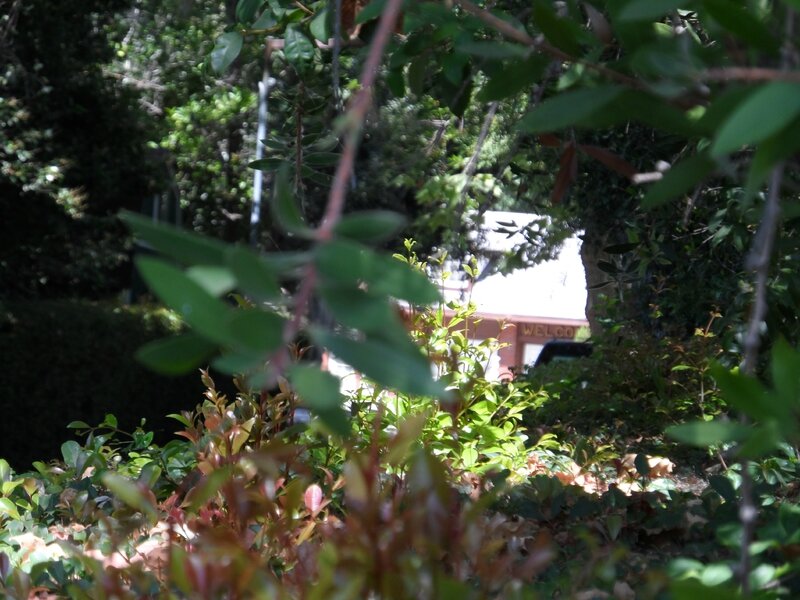 Le "Welcome" (Bienvenue) s'aperçoit depuis le portail (juillet 2012)
Sur la façade se trouvait une énorme horloge composée de chiffres romains.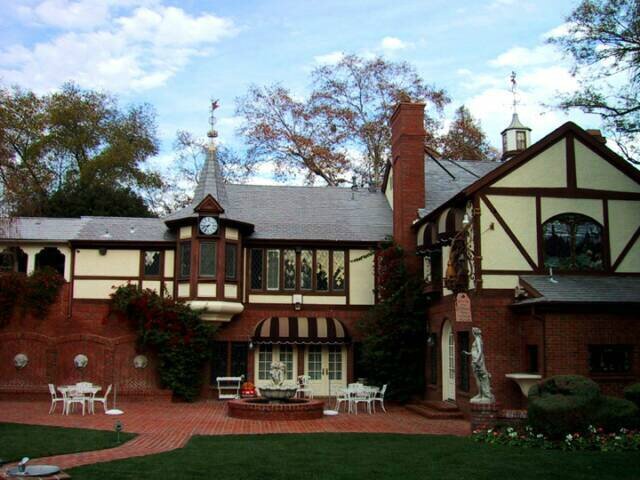 « Au milieu de la cour pavée, il y a toujours un réverbère victorien avec une plaque de rue où est inscrit le mot « bonheur » (Happiness)
Dans la partie gauche, il y a un bâtiment en briques qui imite la devanture d'une boutique ; il s'agit d'un magasin de jouet comme on en voyait dans les années 1950, avec des poupées en porcelaine, des petits soldats en bois et en plomb, des ours en peluche et un mini-rocking-chair.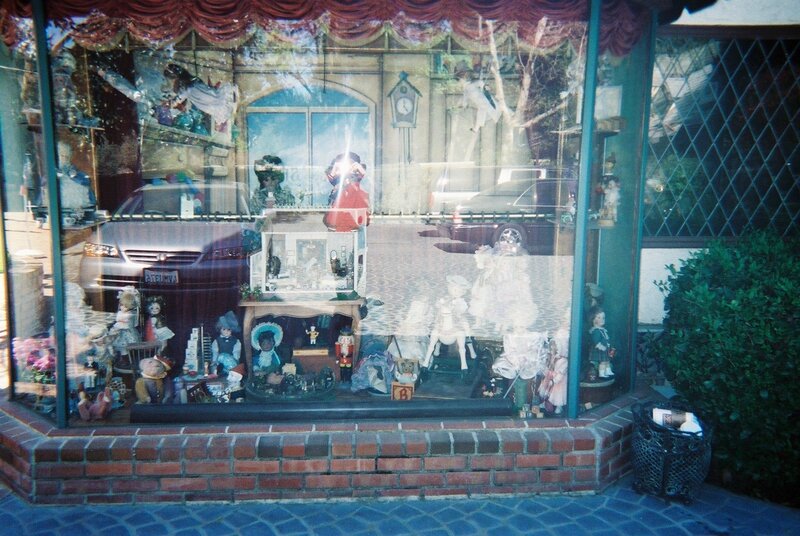 Il y a également une boutique de fleuriste avec des tas de compositions florales artificielles dans des paniers.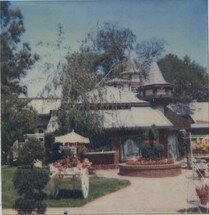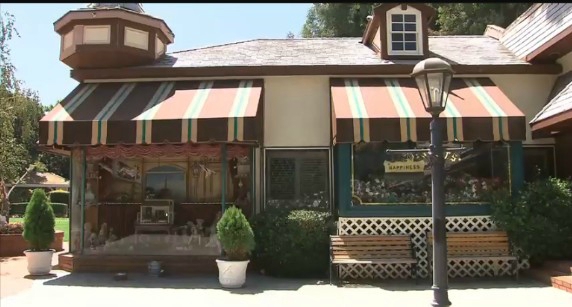 C'est la façade du studio de Michael. (…) Quand on entre dans le studio, on voit d'abord un mur peint représentant une forêt amazonienne. On y voit aussi Michael, perché sur un arbre, en train de lire la Bible des Témoins de Jéhovah : Le Secret de le Vie (The Secrets Of Life).
Sur le mur extérieur du studio sont également peints un château dans le style Disney, sur une colline, et un chemin qui mène vers une forêt. Au premier plan, Michael est représenté avec un enfant, et la scène est intitulée Des enfants, des châteaux et des rois, écrit en lettre lumineuse » selon Jermaine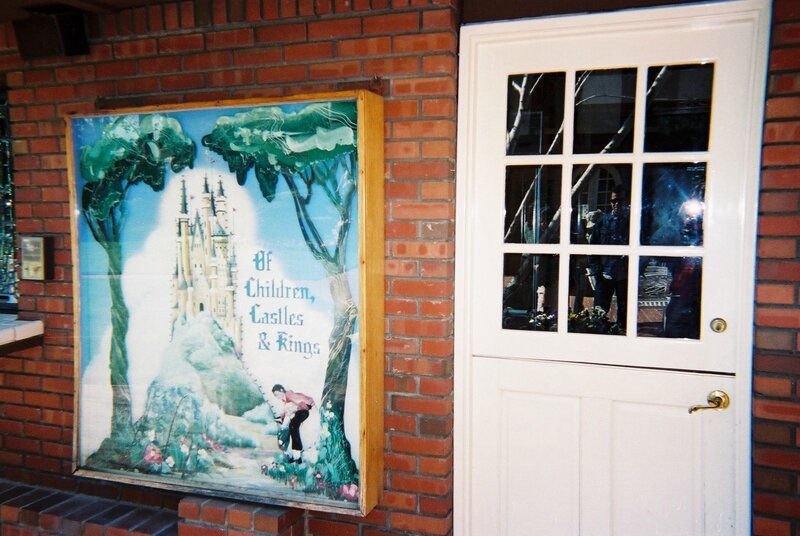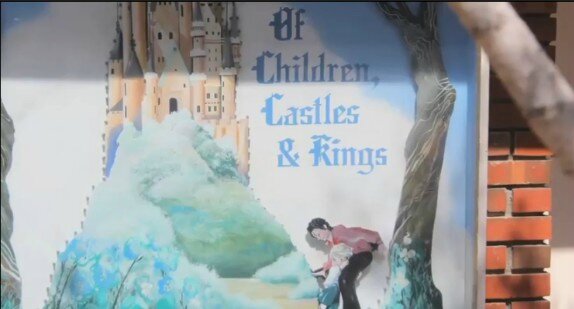 Dehors, de gracieux cygnes blancs et noirs glissaient avec langueur sur les bassins du jardin.
Un couple de paons, deux lamas, deux biches, une girafe et un bélier y avaient également élus domicile. Les animaux passaient la nuit à l'étable et pouvaient se promener en toute liberté durant la journée. Les fans ou les voisins pouvaient voir Michael promener ses animaux en dehors d'Encino, sur le bord de la route comme c'est le cas ci-dessous avec son lama Louie.
A côté du garage, Michael avait construit une version miniature de la Main Street de Disneyland, sans oublier le magasin de bonbons. On y trouvait une réplique du robot parlant d'Abraham Lincoln, comme l'attraction Lincoln de Disneyland. Il y a également des pancartes gravées à la main portant des messages typique du monde de Disney. Il y en a une notamment, suspendue à l'un des angles de la maison, où sont inscrits les mots « Suivez vos rêves là où ils peuvent vous conduire ».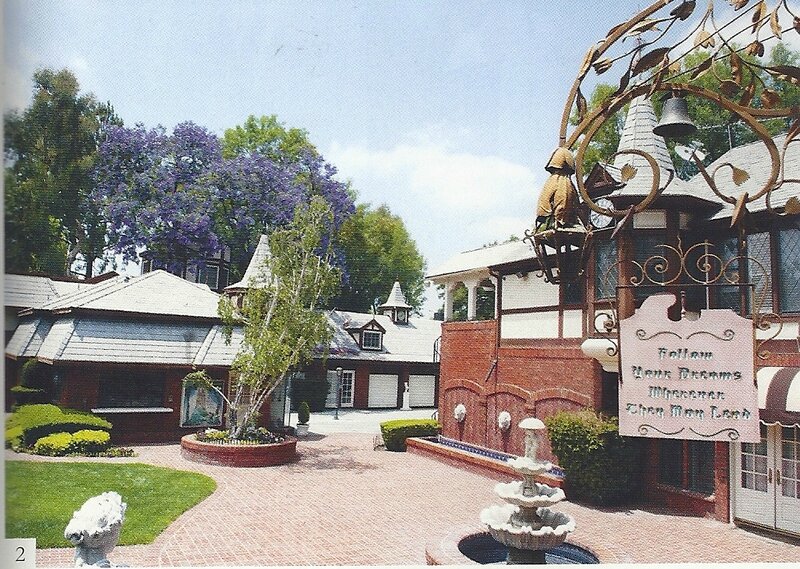 Le studio au fond, à gauche, la memory room, devant à droite et les appartements de Michael, avec son balcon, au centre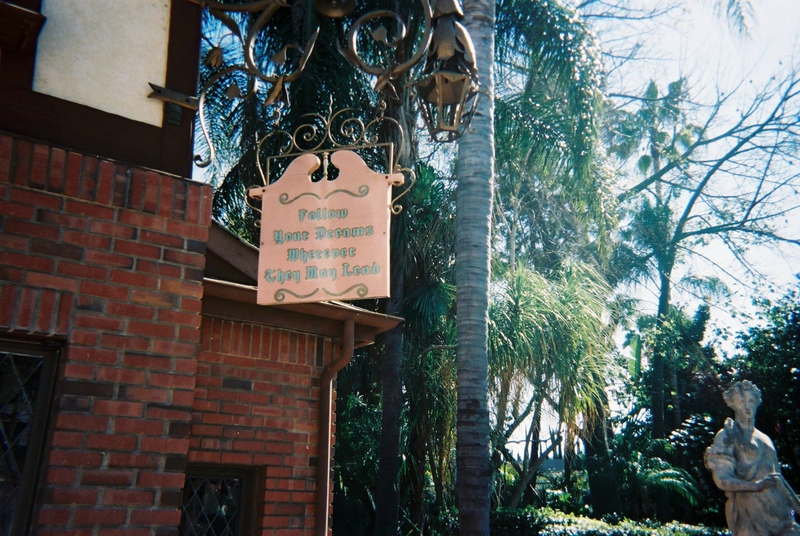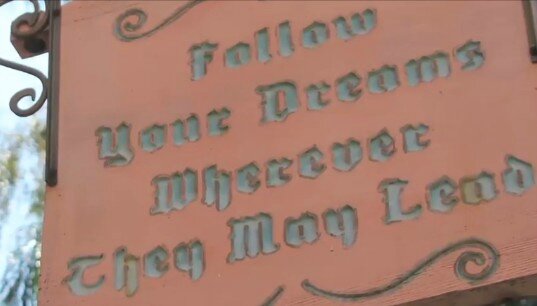 A Encino, Michael a construit son petit monde Disney à lui, qui annonçait le parc d'attractions qui verrait le jour plus tard à Neverland.
« Les changements les plus étonnants sont (…) visibles dans les jardins. Michael y a fait mettre des fleurs partout, des parterres de fleurs en forme d'arc en ciel avec toutes les couleurs du spectre lumineux » indique Jermaine. Un ruisseau passe au milieu du jardin, qui s'élargit en un bassin.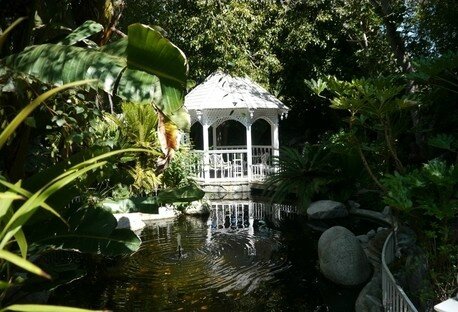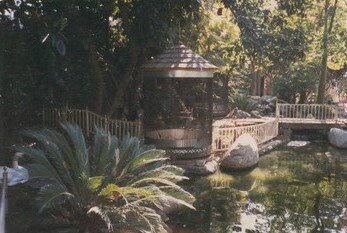 Des chemins de briques décorés de fleurs exotiques et d'arbustes soigneusement taillés serpentaient à travers le vaste terrain pour mener à des coins reculés où Michael aimait méditer, seul. La grande piscine était engageante. De l'eau jaillissait sur les quatre statues à l'effigie d'un Neptune barbu. Une cascade se déversait sur deux perruches de céramique sophistiquées et colorées. L'eau fraîche s'écoulait ensuite jusqu'au bassin principal avant de se jeter dans un jacuzzi bouillonnant.
LA MAISON
Entrons maintenant dans la maison et laissons Jermaine la décrire : « En entrant, on est accueilli par en fontaine en pierre avec des chevaux sculptés, agenouillés. L'entrée principale est une double porte qui donne sur un immense couloir dallé de marbre blanc.La bibliothèque et le petit théâtre se trouvent à gauche ; le salon et la cuisine à droite. L'escalier en spirale est construit comme un chandelier central.
Dans le couloir, à droite, la moquette vert émeraude conduit aux chambres de La Toya et de Janet ; à gauche on arrive dans la suite de maman et de Joseph, et celle de Michael. Ses appartements et les chambres de ses sœurs se trouvent aux deux extrémités de la maison. (…)
Dans ses appartements, il avait fait installer une cheminée en brique, une salle de bain en marbre noir et un lit escamotable que l'on pouvait remonter contre le mur parce que Michael préférait souvent dormir sur le sol. »
Katherine ajoute : « Comme sa chambre a un plafond très très haut, j'ai suggéré d'y installer un deuxième petit étage, une sorte de mezzanine, avec un deuxième foyer pour une cheminée et une deuxième salle de bains. C'est là que Michael a installé une chaise de coiffeur, d'ancien barbier, dans cette salle de bains, et c'est là qu'on lui fait ses coupes de cheveux. C'était mon idée aussi de lui faire construire un lit pliant, qui se rabat dans le mur. Au départ il ne voulait pas de lit, il voulait dormir simplement dans un sac de couchage de façon à avoir un maximum d'espace pour pratiquer sa danse. Ce lit pliant, abattant, semblait le compromis idéal. Une fois qu'il était rabattu dans le mur, on ne savait même pas qu'il était là et il était recouvert de panneaux de bois. »
« Sa chambre ouvrait sur un patio en brique, avec une pergola couverte de végétation reposant sur de grosses colonnes. Il avait fait installer une douche géante dans un coin et un barbecue carrelé de l'autre côté : c'est là qu'il s'asseyait le matin. De là, il pouvait voir les jardins à gauche et la cour pavée au-dessous. » précise Jermaine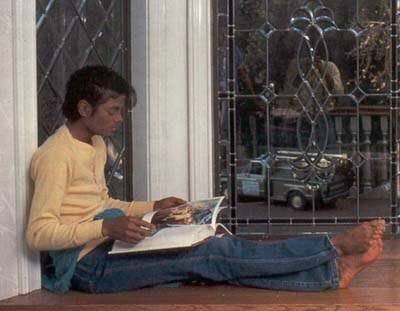 « La grande idée pour notre nouvelle maison fut d'avoir un sous sol aménagé. Je me suis dit que puisque maintenant chacun avait sa propre chambre, avec sa télévision, nous n'aurions plus de vie de famille le soir tous ensemble comme nous en avions l'habitude. Et cette grande salle de jeux au sous sol fut vraiment un succès dès la première soirée. (…)
Il y a également dans notre maison une grande salle de gymnastique tout en haut et, en bas, nous avons une pièce équipée uniquement de tous les derniers jeux électroniques vidéos (….)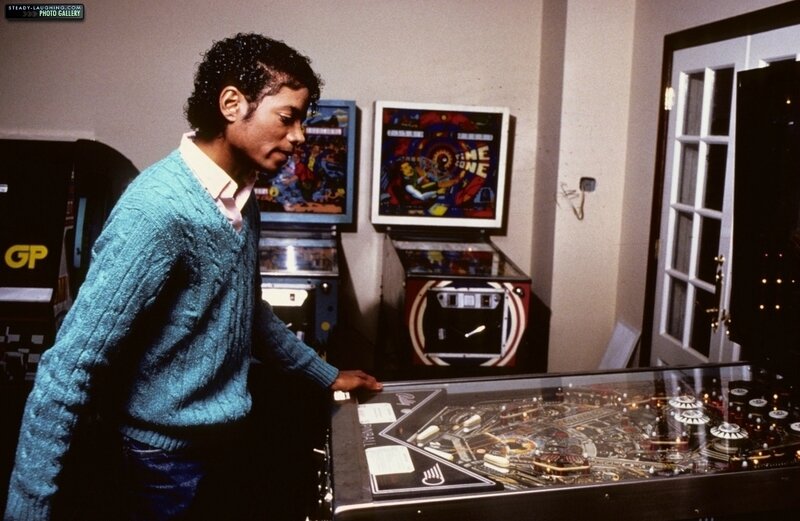 Il y aussi toutes les collections d'art qu'il (Michael) a emmagasinées, en particulier toute une série de statues anciennes venant d'Europe ainsi que des horloges en bronze et en or ouvragées. La plupart de ces pièces sont exposées dans le living room et l'entrée. Michael était tellement fier de ses objets qu'il avait fait installer des lumières en fibres optiques dans le plafond, ce qui fait que la nuit, ils étaient éclairés même quand l'électricité était coupée et qu'il faisait complètement nuit » ajoute Katherine
Au rez de chaussée de la maison se trouvait un cinéma de trente-deux places garni de sièges de velours rouge et équipé de projecteurs 16 et 35 millimètres. Les murs ainsi que le rideau qui couvrait l'écran étaient bleu canard. Michael y passait de longues heures ; il y avait toujours des films de Fred Astaire et des vidéos des Three Stooges prêts à être visionnés.
Il y avait également une salle des trophées lambrissée, à côté de l'entrée, près du hall, où de nombreuses récompenses de Michael étaient exposées, dans des boîtes en acajou. Les disques d'or et de platine des Jackson ornaient les murs. On y trouve également des plaques commémoratives, toutes les petites statuettes des différents Oscars qu'il a reçus, des clés que les maires de certaines villes lui ont remis, les maquettes de ses pochettes de disques. Parmi les couvertures de magazines et autres souvenirs, on trouvait un diorama d'un mètre quatre-vingts représentant Blanche Neige et les sept nains (voir la photo dans l'article ci-dessous).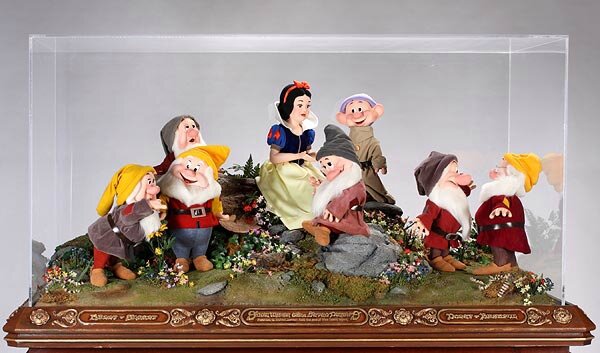 La salle des trophées est l'une des pièces que Michael a décorée personnellement.
On aperçoit cette pièce, furtivement, dans une vidéo tournée le 27 avril 1984 quand, à la demande de Michael, des acteurs costumés en Blanche Neige et les sept nains sont venus lui rendre visite à Encino (à 0:39), ainsi que dans une interview accordée à Ed Bradley en 1986.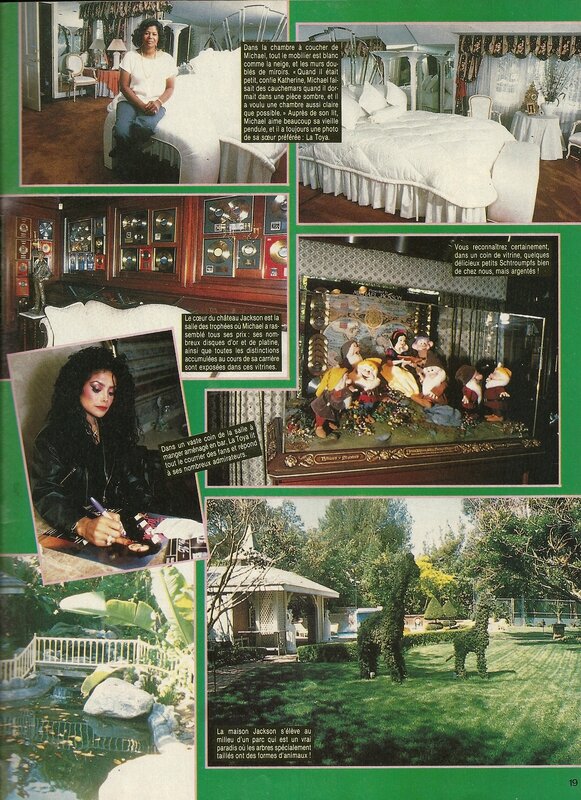 Podium, juin 1988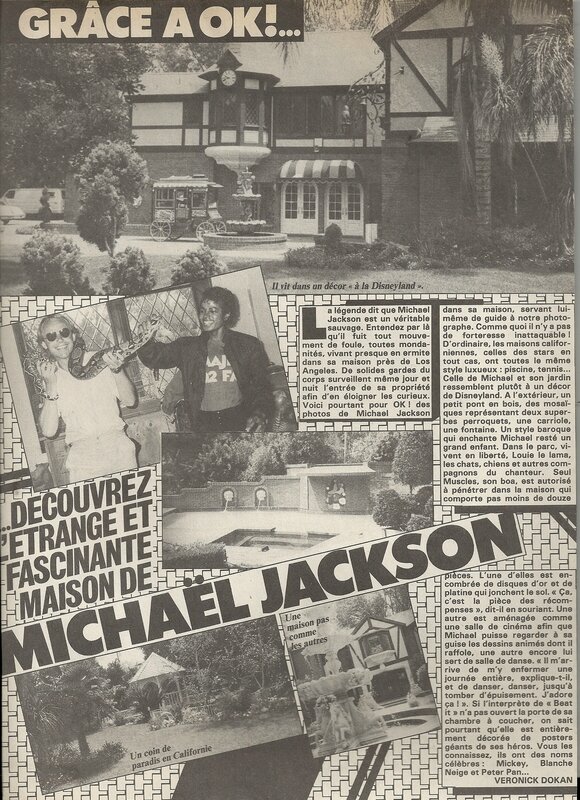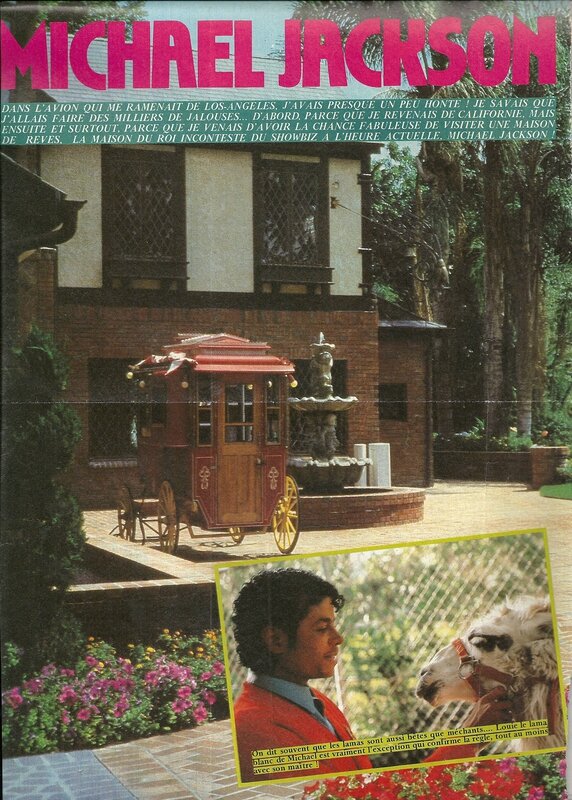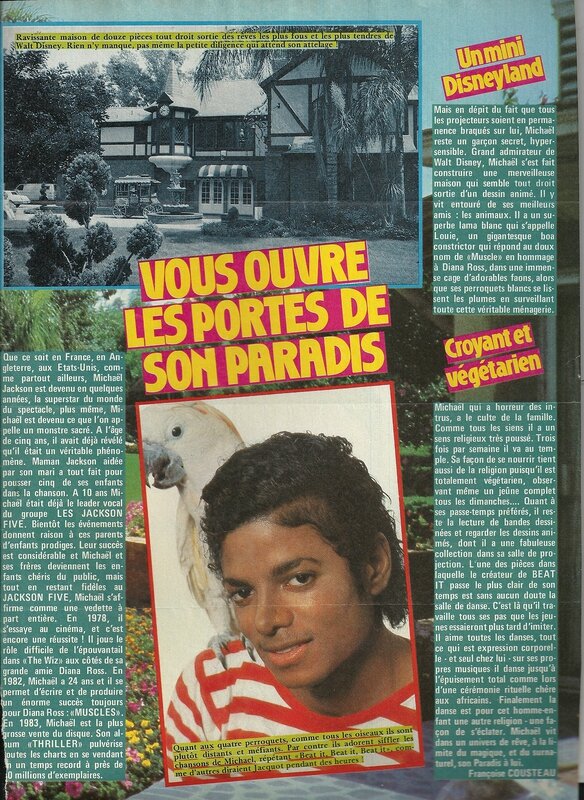 LA MEMORY ROOM
Cette Memory Room, une pièce magnifique chargée de souvenirs, était un projet secret de Michael.
Son frère Jermaine raconte : « Le grenier, deux pièces étroites au dessus du garage, fut interdit aux visites pendant des semaines. C'est là que Michael concoctait son projet secret avec ses assistants.
Lorsque le jour J est arrivé, Michael a demandé à tous ses frères et sœurs de se rassembler dans la salle à manger avec maman et Joseph (…) C'est alors que Michael est apparu à la porte ; il a frappé dans ses mains pour attirer notre attention.
- Voilà, ma surprise est prête. Suivez-moi !
En file indienne, nous avons traversé la cour et grimpé l'escalier qui conduit au grenier. J'étais au milieu du groupe quand j'ai entendu un cri de surprise à l'avant. Lorsque je suis arrivé en haut et que j'ai regardé autour de moi, j'ai compris pourquoi. Michael avait transformé tout l'espace en salle des souvenirs. Il avait littéralement recouverts les murs et les plafonds de photos qui avaient été tirées en grand format et qui formaient un collage géant. (…) Je parle de murs entièrement occupés par des clichés et des instantanés de nos années passées en famille, nos années en tant que groupe et ses années à lui en artiste solo. (…) Il y avait des photos de nos grands-parents, de la famille, de notre maison au 2300 Jackson Street, il y avait tous les témoignages de notre enfance, l'époque des Jackson 5, des couvertures de magazines, des images des pubs télés, des affiches de concert et des photos de foule. Tout était là, même le permis de conduire de maman, le certificat de mariage de nos parents et le fameux meilleur bulletin de notes de Michael.
Dans la deuxième pièce, tout au bout, il y avait tous les accessoires, les trophées, les agendas, sans oublier une vitrine pleine de ses gants à sequins. Vers le milieu des années 1980, il a installé son « mur des célébrités : il y avait peut être cinquante photos de lui avec des stars comme Julie Andrews, Elton John, Jackie Onassis, Frank Sinatra, Barbra Streisand, Sean Connery, Whoopi Goldberg, Joan Collins, Liza Minnelli, Dustin Hoffman, Meryl Streep, James Brown et E.T. (..) et même une photo en gros plan de notre professeur, Rose Fine. Il y avait également des messages, parfaitement calligraphiés, qui couraient autour de la pièces comme des sous-titres : « Joseph a réalisé ses rêves à travers nous » ; « Merci à Jéhovah, Joseph, Maman, Berry Gordy, Suzanne de Passe, Diana Ross » ; « La Terre a sa propre musique pour ceux qui savent l'entendre ». Et dans la salle de bains du grenier, il avait accroché une seule affiche : une image géante de l'album de Diana Ross sorti en 1981, Why Do Fools Fall In Love ? (…)
Une des deux chambres était dédiée aux années Jackson 5. Juste au dessus de l'escalier, il avait accroché une photo publicitaire en noir et blanc, d'un mètre soixante de hauteur où nous étions représentés en grandeur nature. (…)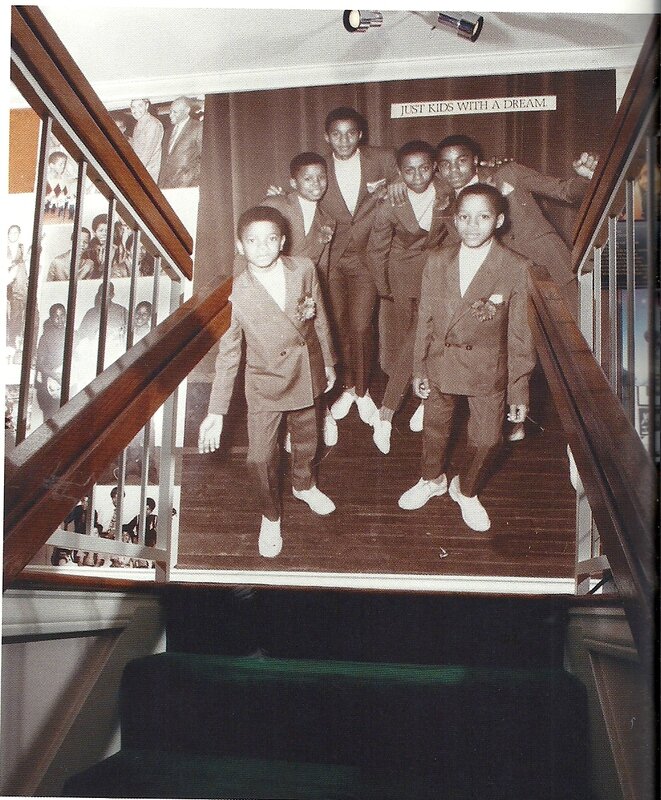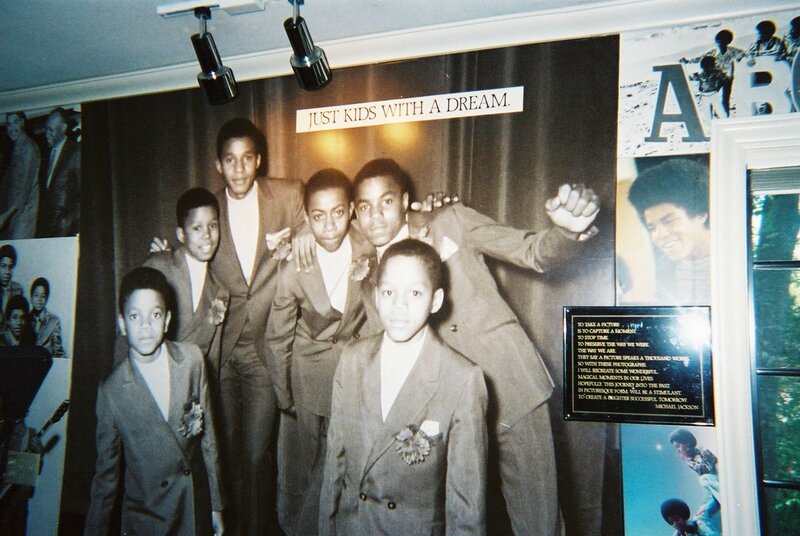 Il avait écrit sa propre légende : « Des enfants qui ont un rêve ». Au dessous, sur une plaque incrustée dans le mur, Michael avait fait graver ce poème, en lettre d'or sur fond noir :
To take a picture
Is to capture a moment
To stop time
To preserve the way we were
They say a picture speaks a thousand words
So with these photographs
I will re-create some wonderful
Magical moments in our lives
Hopefully, this journey into the past
In picturesque form
Will be a stimulant
To create a brighter, successful tomorrow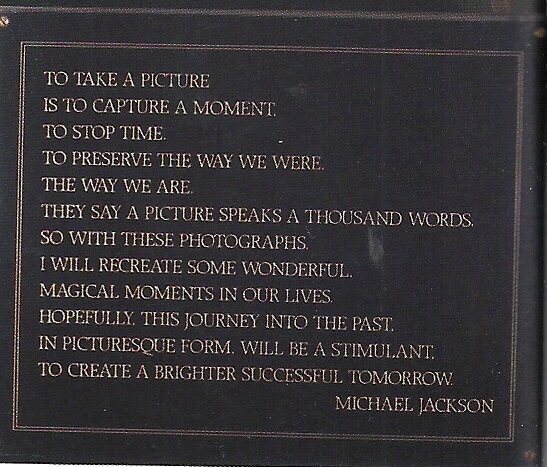 Traduction
Prendre une photo
C'est capturer un instant,
Arrêter le temps
C'est conserver intact l'image de ce que nous étions
On dit qu'une photo peut remplacer des milliers de mots
Aussi avec ces photos
Je vais recréer les moments merveilleux
Et magiques de nos vies
En espérant que ce voyage dans le passé
Photographique
Sera un stimulant
Pour créer des lendemains plus lumineux et remplis de succès »
Katherine raconte : « Michael avait récupérer les photos dans ma collection personnelle. Un jour où je n'étais pas là, il était venu dans ma chambre, il avait trouvé la combinaison du petit coffre dans lequel je les gardais et il s'était servi lui-même. Les gros plans de ces photos occupaient tout l'espace, il ne restait plus un centimètre carré de libre. Nous étions tous stupéfaits, très émus, Michael nous observait pour voir nos réactions. Visiblement, c'était très important pour lui que nous aimions ce qu'il avait fait.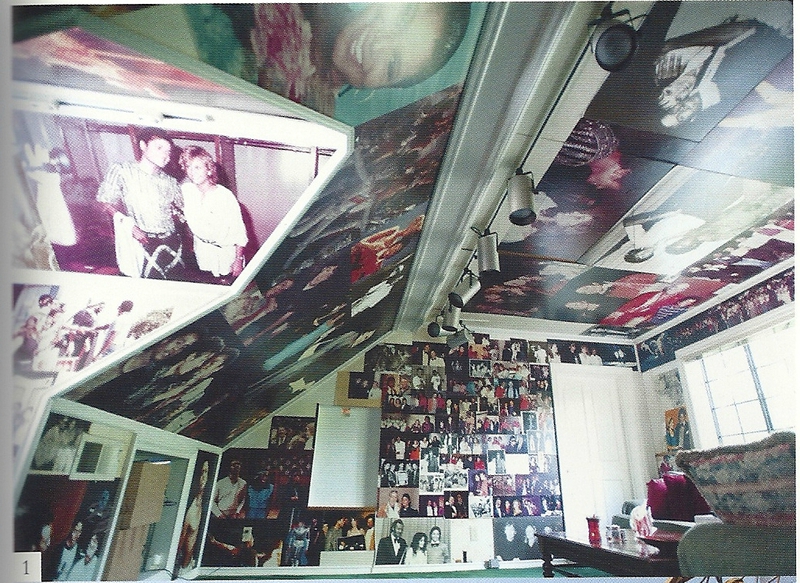 En 1975, Michael avait également commencé à décorer le grenier avec ses vêtements et ses objets personnels, ce qui en faisait déjà une sorte de musée Michael Jackson et de galerie famille Jackson. Parmi tous ces objets, il y avait une collection de ses vestes de concert, chacune présentée dans un coffret de plexiglas de 1,50 mètre de haut étiquetée avec la circonstance au cours de laquelle cette veste avait été portée, c'est-à-dire par exemple, il y avait « Victory Tour Kansas City Opening Night » (…). Il y avait aussi « Star On Hollywood Walk Of Fame » et puis également la veste qu'il avait portée en 84 pour rendre visite au président Reagan et recevoir ses Grammys.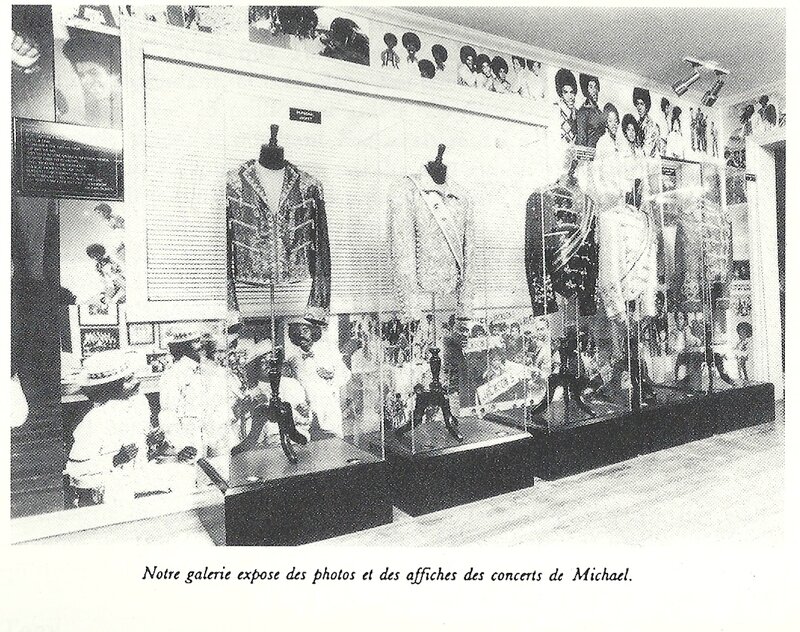 Dans une autre vitrine en plexiglas, Michael avait disposé un grand nombre de ses gants uniques à sequins, mais l'exposition la plus étonnante était celle de ses propres statues en cire (….)
Michael aimait tellement se trouver dans ce grenier qu'il y avait installé un système de stéréo et son parquet de danse portatif afin de pouvoir danser au milieu de ses souvenirs. Le grenier est devenu une de ses retraites, après son retour de la tournée Victory. »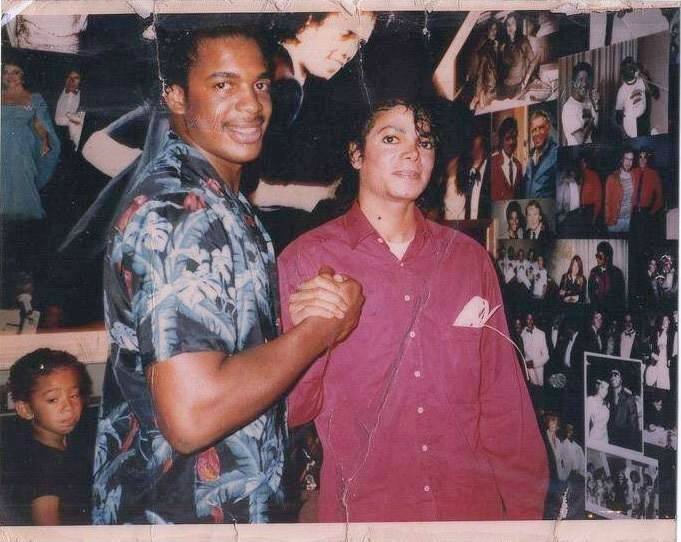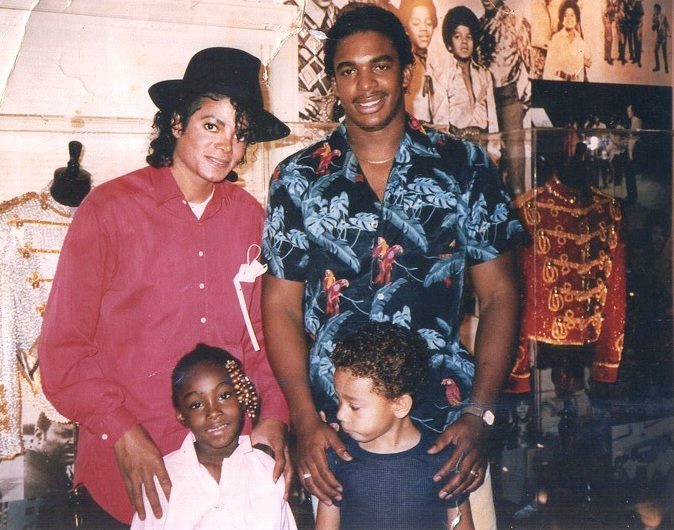 Michael et son cousin Keith Jackson dans la Memory Room
En 1988, Michael achète Neverland et quitte la maison familiale pour s'installer, seul, dans son ranch, situé à plus de deux heures de Los Angeles. Il sera le dernier des enfants à quitter Hayvenhurst.
Suite aux multiples infidélités de Joseph, Katherine se retrouve finalement seule et propose à certains de ses enfants de s'installer à Encino, ce que feront Jermaine et Randy avec leur famille respective.
Fin 2010, plus d'un an après la disparition de Michael, Katherine part vivre en location dans une propriété de Calabasas, au nord de Los Angeles, avec les enfants de Michael dont elle a la garde. Au départ provisoire, en raison de nouveaux travaux de rénovation àEncino, la situation est finalement devenue définitive.
La maison de Hayvenhurst est tellement empreinte de souvenirs liés à Michael que l'on peut aisément comprendre les difficultés de Katherine à vivre désormais à Encino.
Sources : Randy Taraborrelli, Michael Jackson/Katherine jackson, Jackson & Jackson, Histoire d'un rêve/ Jermaine Jackson, You Are Not Alone, le vrai Michael dans les yeux de son frère.
Le portail d'Encino (juillet 2012)
Petite Visite avec La Toya de ce qu'est devenu Encino