Lundi 21 avril ……presque 10 jours déjà que nous avons entamé ce fabuleux voyage.
Aujourd'hui, nous avons un objectif que l'on s'est fixé avant de partir : entrer dans l'école où Michael a été élève, la Gardner Street Elementary.
C'est un jour de classe, les petits américains ne sont pas en vacances et nous décidons de tenter notre chance dès aujourd'hui. Comme il est encore tôt, nous partons d'abord en direction de la première maison de la famille Jackson à Los Angeles.
Sur la route, nous nous arrêtons devant le Hollywood Palladium, au 6215 W Sunset Blvd. La salle a souvent accueilli les Jackson 5 pour divers évènements dans les années 1970 (The Salute to Muhammad Ali en 1971, Black Image Awards en 1972, …) et aussi été le lieu de la conférence LA Gear en septembre 1989.
Le 1601 Queens Road, la première maison que la famille Jackson a habitée à Los Angeles, est située sur les collines d'Hollywood. On y grimpe par une route sinueuse bordée de petites propriétés à l'abri des regards. La maison aux allures d'Hacienda se trouve à l'angle de la rue, est joliment fleurie et entourée de palmiers si typiques à Los Angeles.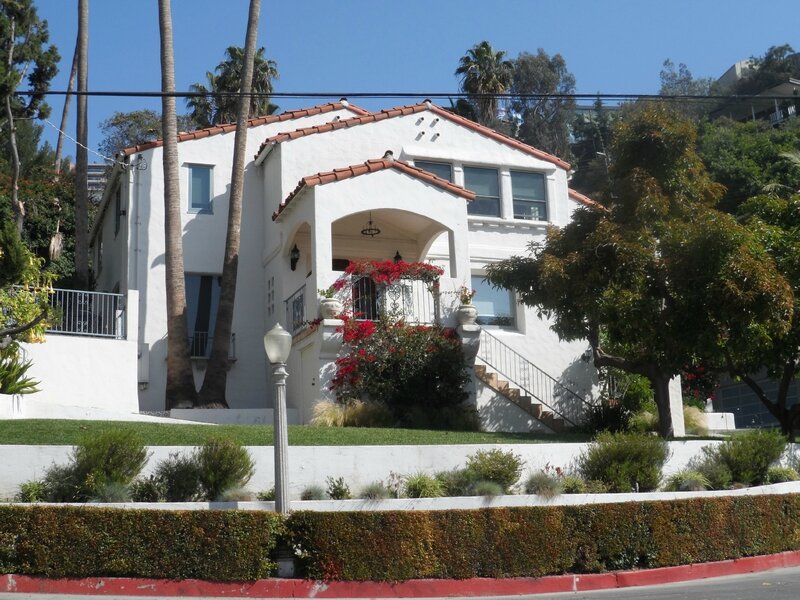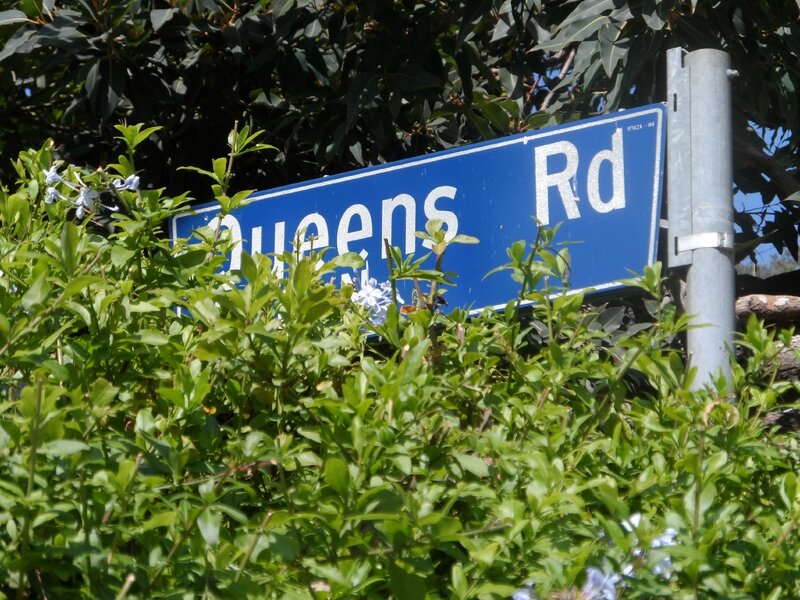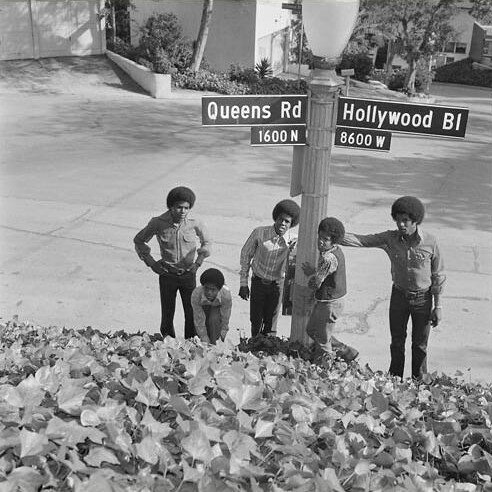 Quelques photos plus tard, nous redescendons vers le centre d'Hollywood afin de mener à bien notre « mission ».
Il ne nous faut pas longtemps pour parcourir le trajet jusqu'à la Gardner Street Elementary, au 7450 Hawthorn Avenue, ce trajet que Michael devait d'ailleurs faire puisque l'établissement a été sa première école à Los Angeles, en 1969 et 1970. Il est aux alentours de 10 heures et le quartier est calme. Les enfants sont en classe. Nous nous garons le long du trottoir, devant le Michael Jackson Auditorium que nous ne pouvons pas manquer. L'auditorium avait été inauguré par Michael lui-même en octobre 1989.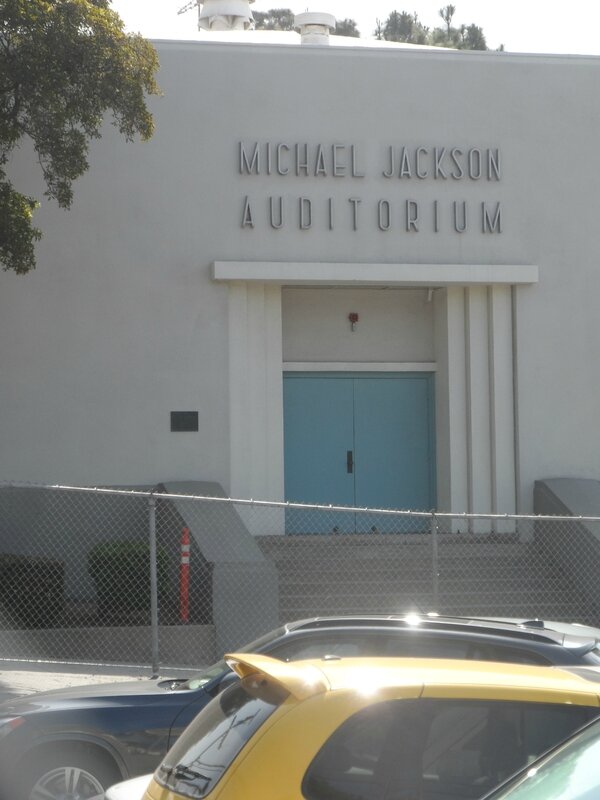 Nous sonnons timidement à la porte en cherchant encore quel drôle de prétexte nous allons bien pouvoir donner pour nous faire ouvrir. Est-ce que le simple fait de dire que nous sommes des fans françaises de Michael Jackson nous ouvrira la porte ? Mais nul besoin de réfléchir plus longtemps, la porte s'ouvre sans aucune demande d'explication. En moins de temps qu'il en faut pour le dire, nous voilà à l'intérieur de l'école de Michael !!! Nous parcourons le couloir qui nous fait face en observant les affichages aux murs et nous dirigeons lentement vers le premier bureau que nous apercevons. Nous avons apporté avec nous des livres français pour enfants que nous souhaitons donner à l'école. Espérons que ce geste plaira au responsable !
La secrétaire est au téléphone quand nous arrivons dans l'entrebâillement de la porte . Nous attendons qu'elle finisse sa conversation et qu'elle nous fasse signe pour nous approcher. Je lui explique la raison de notre visite, nous souhaitons voir la salle de classe de Michael, celle où il également laissé un petit mot sur le tableau de l'école, et j'en profite pour lui glisser que je suis également enseignante….qui sait, ça peut peut être aider !!!
Un homme apparait du bureau voisin et je lui répète mon petit discours. Nous lui montrons les livres que nous avons apportés. Il semble apprécier le geste même si j'apprends que le français n'est pas enseigné dans l'école ! Il nous explique que les enfants sont en classe et que ce n'est pas possible de voir pour l'instant la salle de classe de Michael. La secrétaire nous propose de revenir à la fin des cours, vers 15h. Le rendez-vous est pris…nous serons là !
Nous ressortons de l'école non sans avoir essayé de jeter un coup d'œil de ci, de là et surtout, une fois à l'extérieur nous prenons en photo l'auditorium en espérant que cet après-midi, nous pourrons également y entrer !
Nous prenons la route pour Beverly Hills. Sur le route, je me souviens que se trouvait un des magasins, une librairie, que fréquentait Michael, The Book Soup. Un petit arrêt dans la boutique pour essayer de décrocher des renseignements à la vendeuse, qui ne sera pas très bavarde. Elle nous dira simplement que Michael venait de temps en temps, avant sa disparition.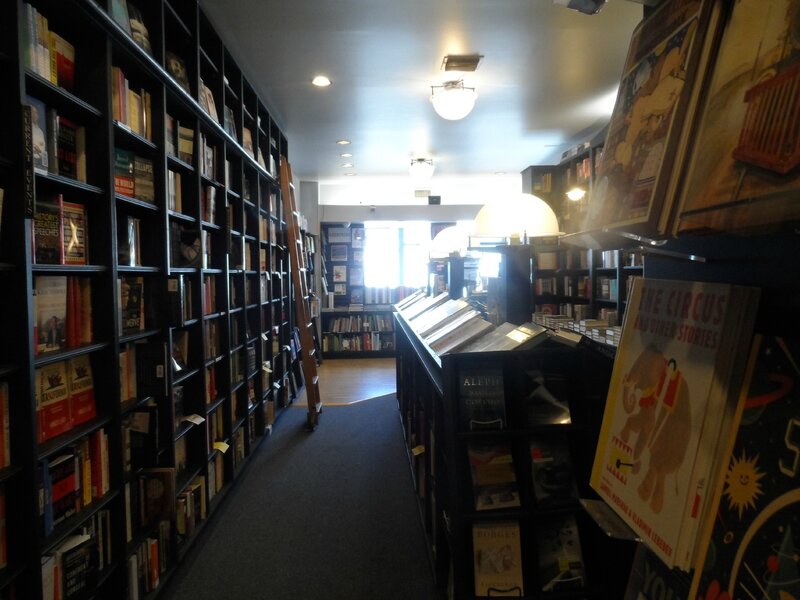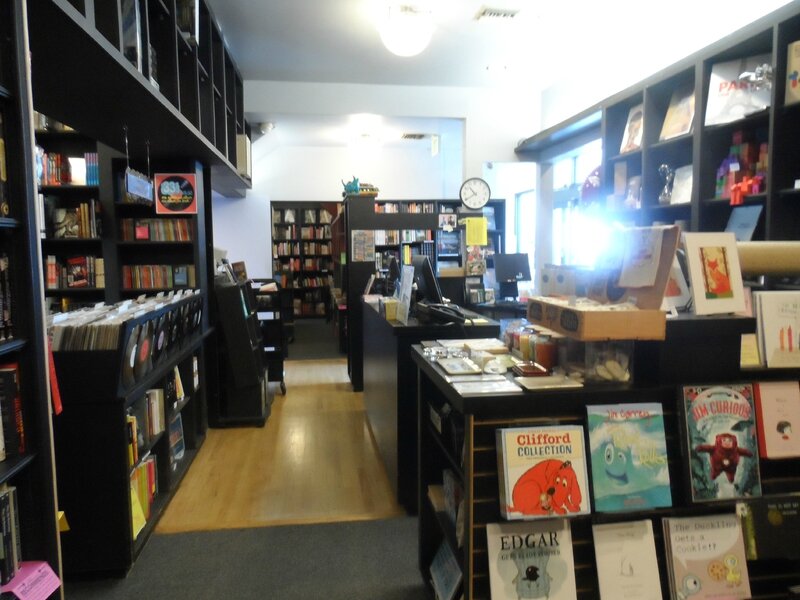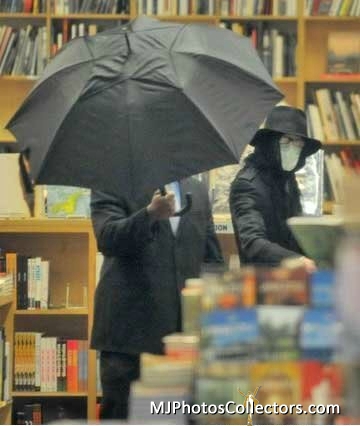 Une route étroite nous mène au 2430 Bowmont Drive, la maison que la famille Jackson a occupée après s'être plus ou moins faite chasser de Queens Road, parce qu'ils faisaient trop de bruit. Située en hauteur, la propriété a l'avantage d'être plus en retrait d'Hollywood. Je reconnais tout de suite la maison que j'avais vue en photo dans les magazines, bien que le bas soit désormais fermé.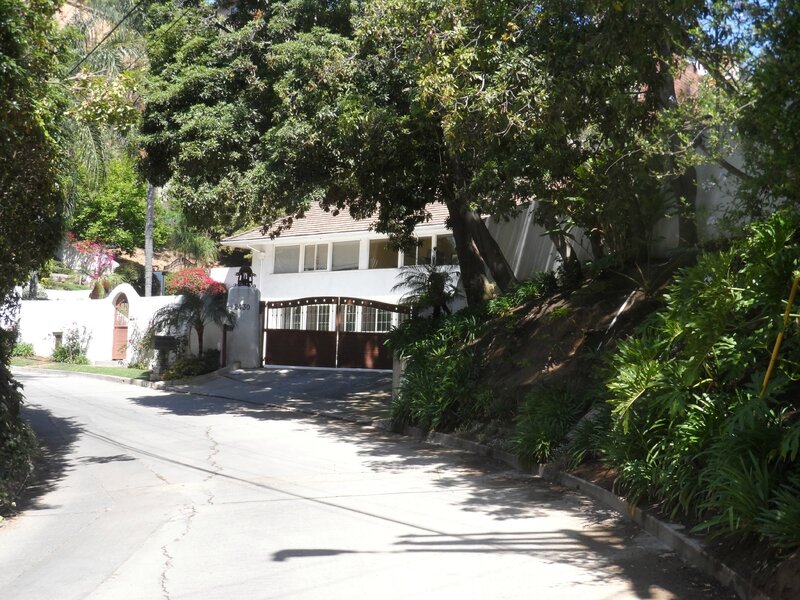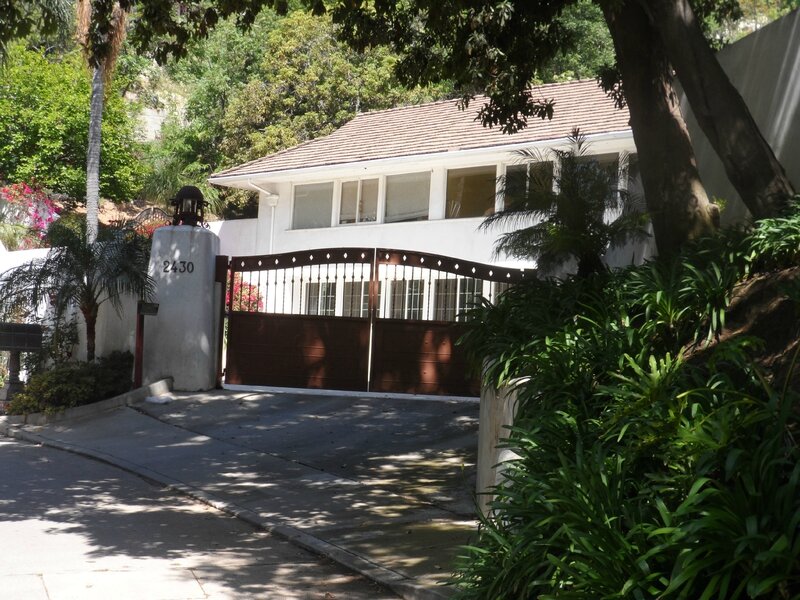 Au 1156 Shadow Hill Way, nous n'apercevrons pas grand-chose de la maison que Michael a occupée brièvement en 2004, après que son ranch de Neverland ait été saccagé. La maison, bien à l'abri des regards, n'est pas visible de la rue. On la devine simplement au bout d'une allée dont la grille, bien qu'ouverte, nous signifiait que les lieux étaient surveillés.
Nous aurons la même déception devant la maison de Liz Taylor, au 700 Nimes Road à Bel Air. Après tout, il ne fallait pas s'attendre à grand-chose, nous sommes dans les quartiers riches et les stars n'ont pas envie d'être embêtées par les nombreux touristes qui jouent le même jeu que nous.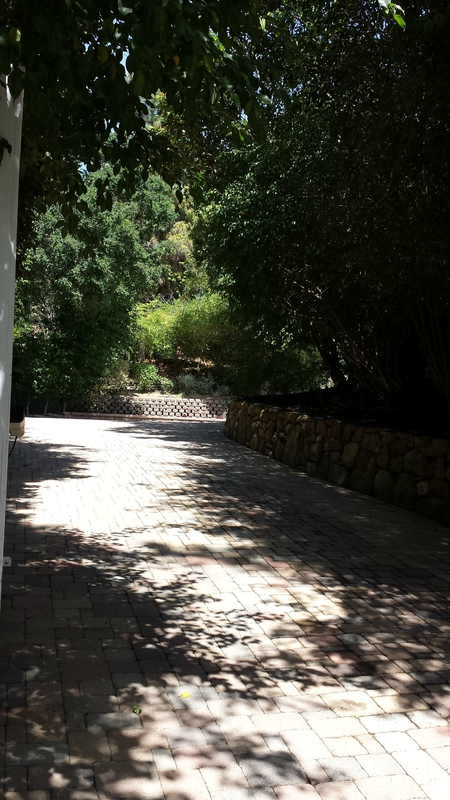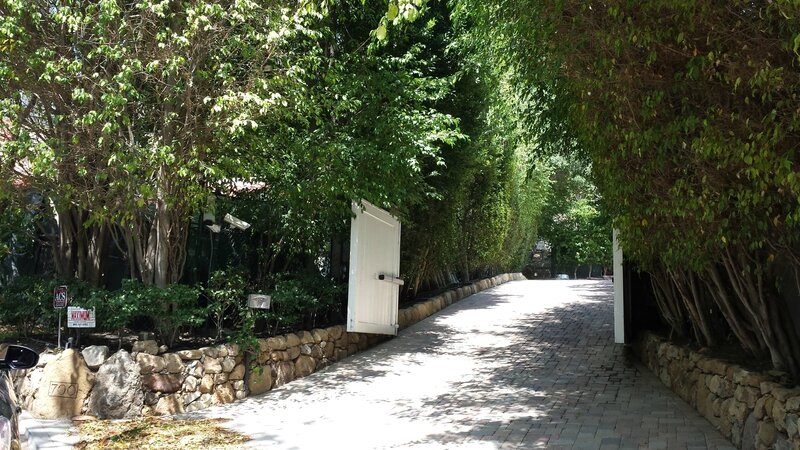 L'adresse suivante est le 100 N Carolwood Drive, tristement connue pour être la dernière adresse de Michael. La maison n'est qu'à 5 minutes en voiture de la propriété de Liz Taylor. L'endroit est désert et silencieux. Seule une marchande de cartes des maisons des stars essaiera de nous revendre sa marchandise en nous faisant croire que nous faisons une bonne affaire !!!
Le portail noir derrière lequel, il y a presque cinq ans, le drame s'est joué, est là devant nous. Mon impression d'il y a deux ans est toujours la même. Je n'aime pas ce lieu, cette maison qui ne représente pas Michael. Elle me fait froid dans le dos.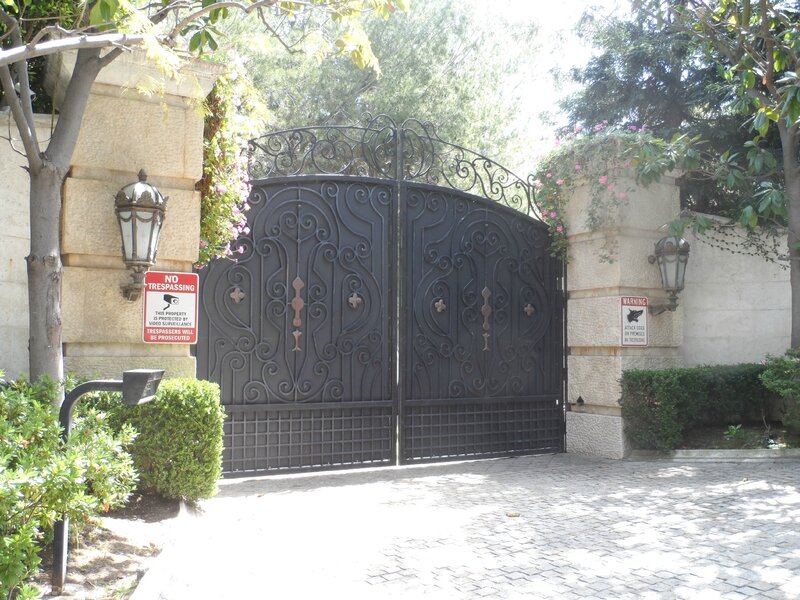 Par la grille, on peut apercevoir une des fenêtres du rez de chaussée. Une voiture est stationnée dans l'allée. La maison semble avoir trouvé un nouvel acquéreur.
Bien que nous soyons restées que peu de temps sur place, nous avons eu le temps de voir un de ces bus touristiques qui fait le tour des maisons des stars à Beverly Hills et évidemment il s'arrête devant celle de Holmby Hills. La vie de Michael, même dans ce qu'elle a de plus triste, reste malheureusement un spectacle !
En route pour le Chakra Restaurant, nous passons devant la célèbre société Julien's Auctions puis faisons un arrêt au 10750 Wilshire Blvd. Il s'agit d'un grand bâtiment, The Westford, regroupant des appartements et Michael en possédait un, qui lui servait de repère quand il avait des affaires à traiter en ville.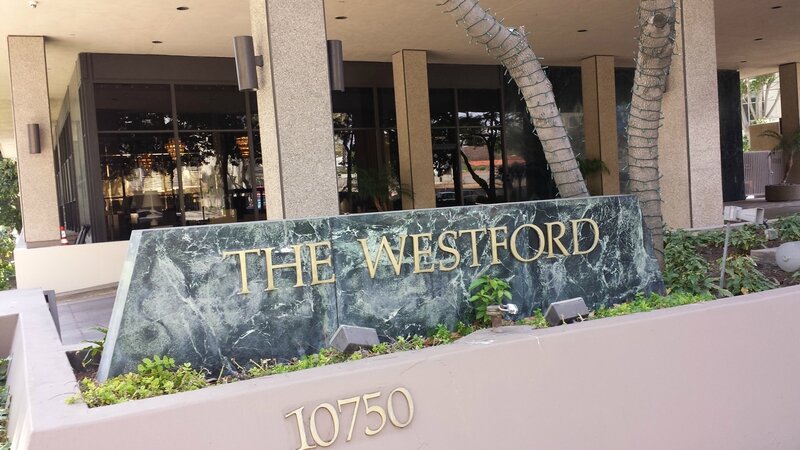 Le condo de Michael n'était d'ailleurs pas pas très loin des anciens bureaux de MJJ Production, au 10960 Wilshire Boulevard.
Non loin de là se trouve également le Beverly Hilton Hôtel où Michael a assisté, entre autre, en janvier 1990 à l'inauguration de The Book, un portrait de lui, réalisé par son ami Brett Livingstone Strong.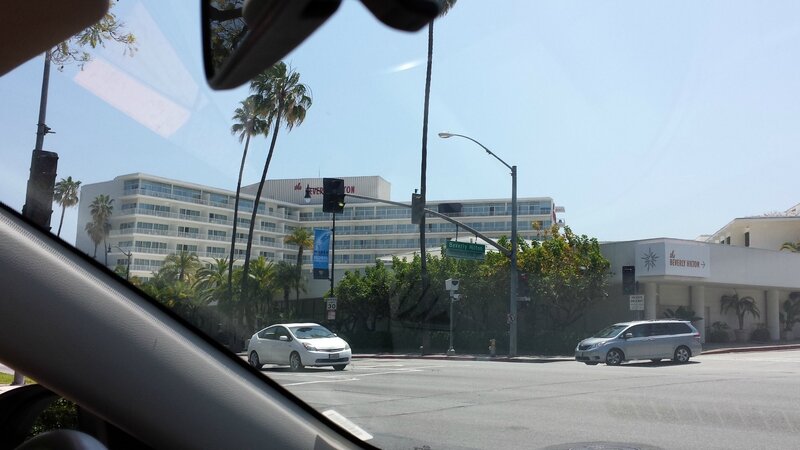 Le Chakra Restaurant est situé dans une rue calme au 151 S Doheny Drive. Nous sommes toujours dans le quartier de Beverly Hills mais les maisons de la rue sont beaucoup moins claquantes que celles que nous avons vues auparavant. Nous repérons le restaurant indien, où Michael aimait venir. Un mois avant sa disparition, toute la famille s'était réunie là pour fêter les 60 ans de mariage de Katherine et Joe.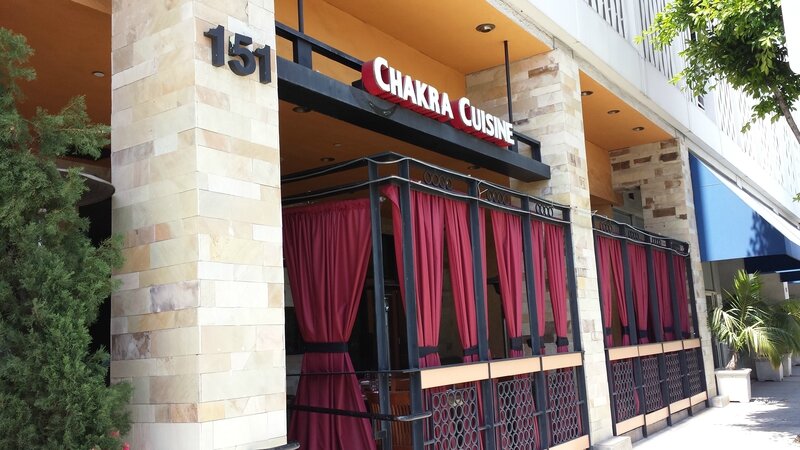 Il n'y a personne à l'intérieur du restaurant et nous entrons en expliquant au jeune homme la raison de notre visite. J'aperçois une plaque avec un extrait d'un article du journal India West qui parle de cette fameuse fête du mois de mai 2009.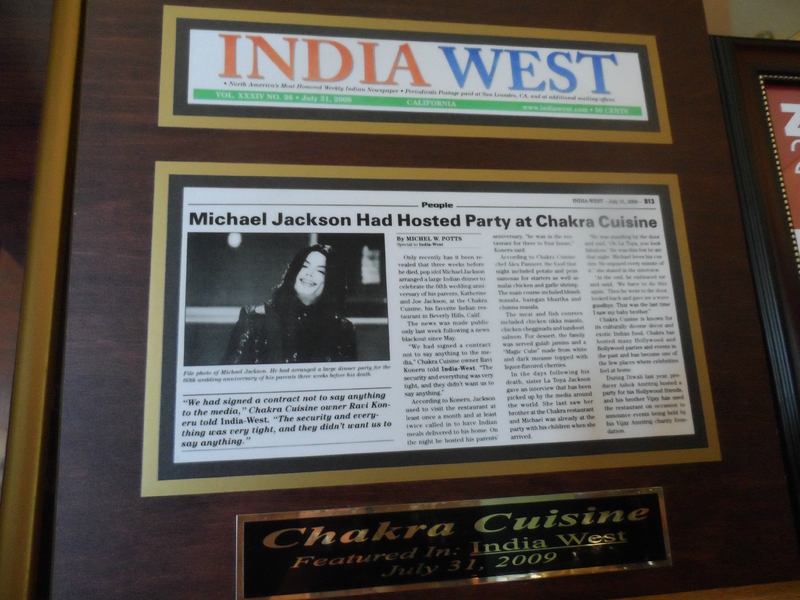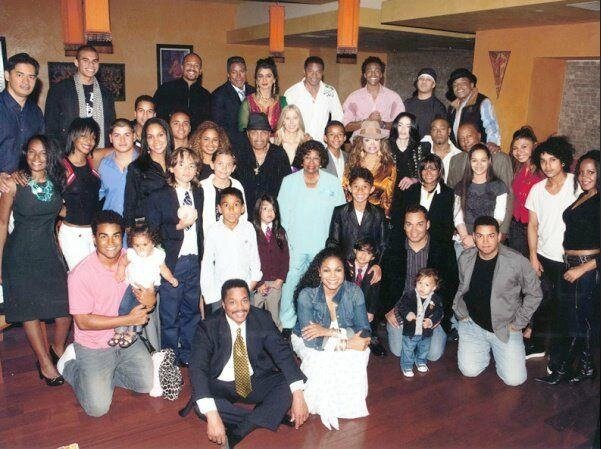 Le jeune homme nous montre la table que Michael aimait occuper, au fond de la salle, et pendant que nous prenons quelques photos, il nous sort le menu Michael Jackson.
Il nous laisse libre de prendre autant de photos que nous le souhaitons. Je me serai bien laissé tenter par un petit repas, les odeurs dans le restaurant étant absolument divines, mais l'heure tourne et nous avons un rendez-vous que nous ne voulons pas rater et d'autres lieux à visiter.
Un autre endroit m'intéresse tout particulièrement: le mur de la pochette du disque « Off The Wall ». Si le GPS nous mène bien au 7771 Beverly Blvd, nous ne trouverons malheureusement à cet endroit qu'une pharmacie fermée. Et comme il est quasiment impossible de stationner, nous n'avons pas pu prendre le temps de chercher ce mur qui existe pourtant bien, mais qui a été repeint en blanc. Dommage !
Sur la route en direction de ce mur, nous apercevons le Cedars Sinaï Hospital où Michael a rencontré Debbie Rowe lorsqu'il y était traité pour sa maladie de peau, et où son premier fils, Prince, est né.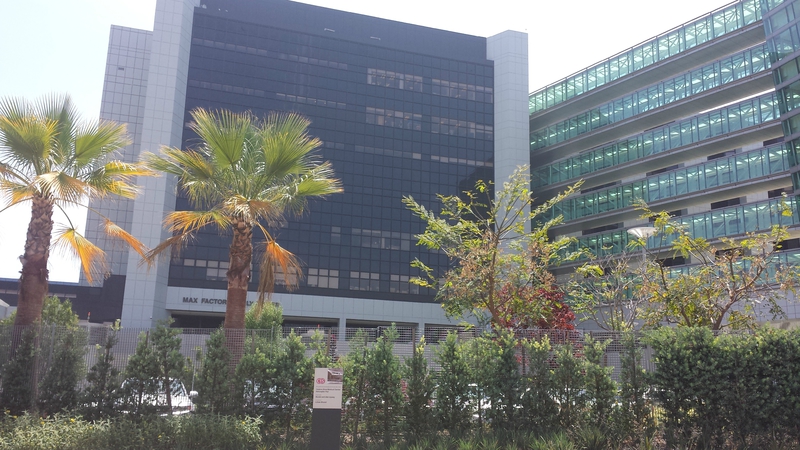 Il nous reste un peu de temps avant notre rendez vous à l'école et à quelques minutes en voiture, au 751 N Fairfax Avenue, se situe l' emplacement des anciens Cherokee Studios, les studios qui ont vu les premières sessions d'enregistrement de l'album Off The Wall.
J'étais déjà venue à cette adresse il y a deux ans mais je n'avais rien trouvé à part effectivement un building. En faisant quelques recherches sur internet, j'ai vu des photos de fans qui avaient réussi à entrer à l'intérieur pour voir une fresque murale de Michael rappelant son passage entre ces murs. C'est donc avec cette idée de rentrer aussi que nous frappons à une porte, la plus près du numéro de l'adresse. Une jeune fille charmante nous ouvre et nous lui sortons à nouveau notre petit discours, désormais bien rôdé : « Nous sommes des fans françaises de Michael Jackson et nous savons qu'il y avait ici d'anciens studios d'enregistrement ». La jeune demoiselle nous répond qu'elle ne sait pas, qu'elle est nouvelle dans la société qui est installée ici. J'insiste un peu en lui disant que j'ai entendu parler d'une fresque à l'effigie de Michael. Elle me dit qu'elle n'est pas au courant et me suggère d'aller voir dans le café qui est juste à côté. Un peu déçues, nous repartons mais nous n'avons pas fait 10 mètres qu'on entend un « Hey Girls » qui nous fait nous retourner. Un homme, d'une trentaine d'années, qui sort de la porte que nous avons vue se refermer devant nous quelques secondes auparavant, nous appelle et nous demande ce que nous cherchons. Je lui reparle de la fresque et il nous dit tout de suite « suivez-moi » et nous fait entrer dans le bâtiment. Isabelle et moi nous regardons étonnées et le suivons. Je reste tout de même un peu méfiante car il nous mène dans un parking derrière les bureaux. Lorsqu'il ouvre enfin une porte et qu'il nous montre fièrement ce que nous cherchions, un « wouah » sort de notre bouche. La fresque est là, Michael à l'époque d'Off The Wall, superbe ! Une autre d'Elvis, juste à côté, rappellent que deux kings ont enregistré ici.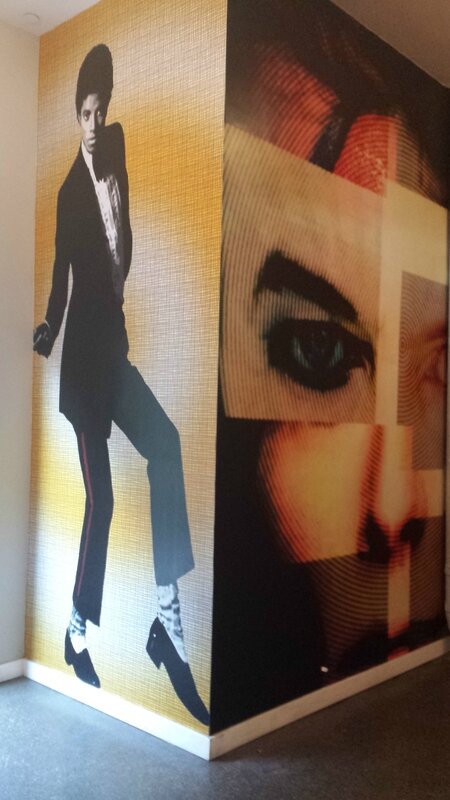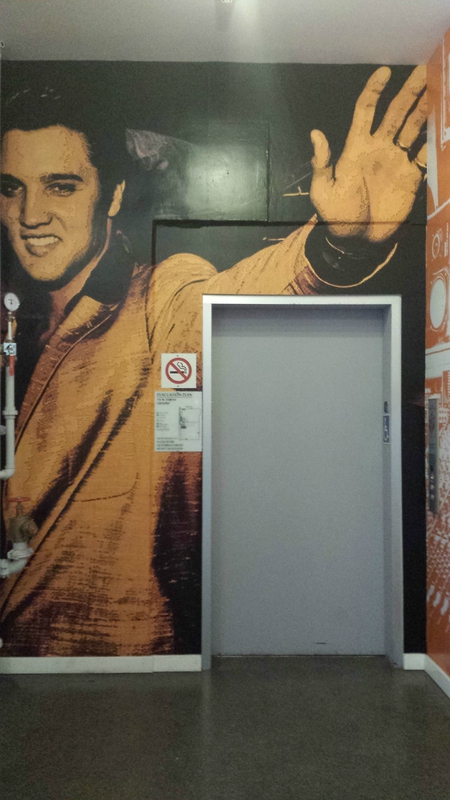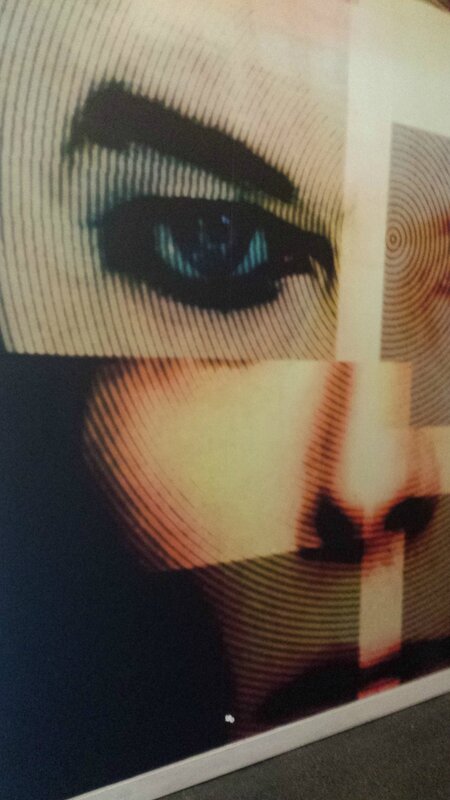 Pendant qu'Isabelle prend des photos, je discute avec l'homme qui nous a fait entrer et qui me demande d'où on vient. Je lui raconte notre périple depuis Gary et il est simplement étonné de voir les kilomètres que l'on a faits pour Michael. Nous rigolons tous les deux de la situation quand je lui dis que j'étais au courant de cette fresque et de la présence d'anciens studios et forcément très déçue qu'on nous refuse de la voir ! Il me teste un peu (enfin je crois) en me demandant quel est l'album de Michael qui a été enregistré ici et me fait comprendre à demis mots qu'il ne peut pas faire entrer tout le monde même si peu de particuliers sont au courant. On peut dire que nous avons eu de la chance !
Nous le remercions chaudement et repartons en direction de Hollywood.
Il est un peu plus de 14h30 quand nous nous garons à nouveau devant le Michael Jackson Auditorium de la Gardner School. Des enfants sont dans la cour de récréation. Cette fois, inutile de sonner, la porte d'entrée est grande ouvert car la sortie des élèves, les plus jeunes, a déjà commencé. Nos livres sous le bras, nous nous dirigeons vers le même bureau que le matin. La secrétaire nous a reconnues mais est au téléphone. Pendant que nous patientons, la sonnerie de fin des cours retentit et les enfants envahissent les couloirs. J'ai l'impression d'être dans un film !
Vers 14h50, le responsable que nous avions rencontré le matin nous indique qu'un jeune homme va nous conduire dans la salle que nous voulons voir. Nous lui proposons les albums de jeunesse en français mais il les refuse poliment en nous disant que l'école n'en aura pas l'utilité. Il termine simplement en nous disant sympathiquement « Enjoy your visit »
Le jeune homme nous mène au premier étage par les escaliers empruntés par Michael ce jour d'octobre 1989 où se trouve le Michael Jackson Music Lab. La salle est aujourd'hui une salle de musique et d'informatique.
Le professeur qui vient à peine de finir sa journée est toujours là. Nous le saluons et découvrons au fond de la pièce l'autographe que Michael avait laissé sur le tableau à l'époque avec l'inscription « Love The Children ». Je suis à cet instant en train de me repasser dans ma tête les images tant de fois vues sur youtube !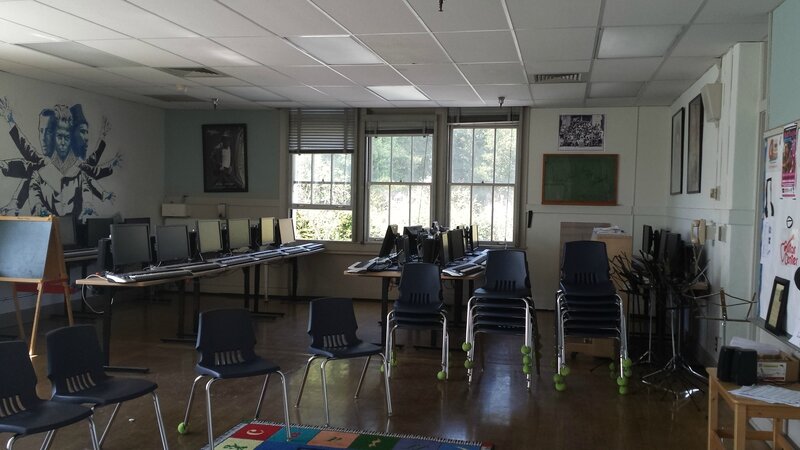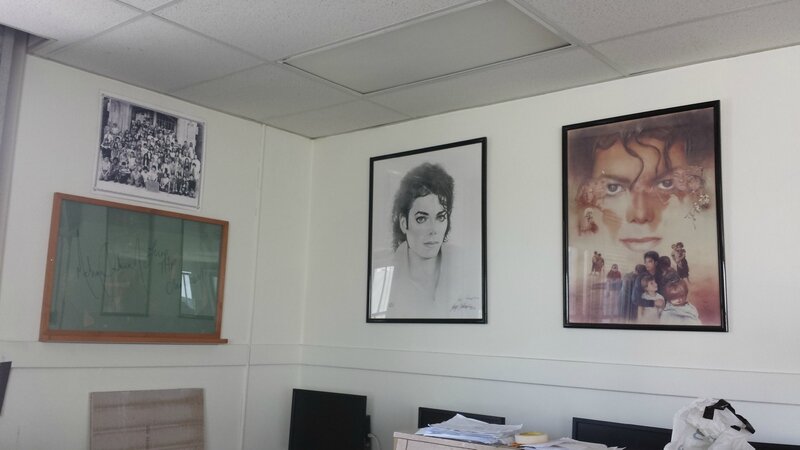 La photo de classe de Michael de l'année 1970 est accrochée au dessus. Sur le côté un dessin de Michael (le jeune homme ne pourra pas nous renseigner sur son origine) et le portrait Heal The World de Nate Giorgio (je pense que c'est une reproduction mais nous n'aurons pas la confirmation). Sur le pan de mur opposé, un poster de Michael. C'est un petit moment magique que nous vivons et nous essayons de le faire durer.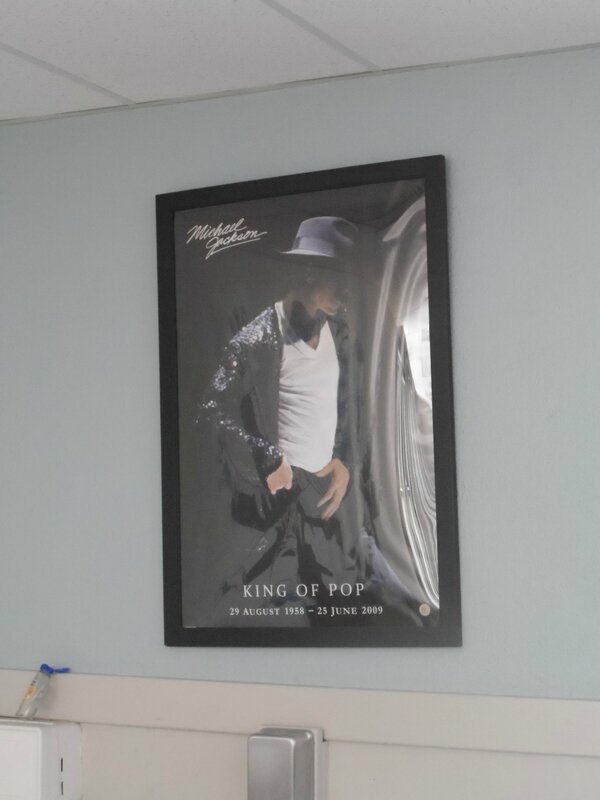 Lorsque nous redescendons, Isabelle demande au jeune homme s'il est possible de voir l'auditorium de la cour. Il nous y conduit et au passage je remarque l'escalier par lequel on voit Michael sortir (certainement du bureau du directeur où nous étions peu de temps auparavant, à 2 :06 dans la vidéo ci-dessus).
L'auditorium est alors juste là devant nous, avec ses escaliers sur lesquels Michael s'est tenu.
En remontant vers l'école, en empruntant le même chemin que Michael, nous passons devant la porte qui donne dans l'auditorium. Je murmure à Isabelle que ce serait sympa si on pouvait y entrer, mais je pense qu'on en a déjà beaucoup eu. Elle en parle aussitôt au jeune homme qui lui répond que ce n'est pas possible, il n'a pas la clé. Nous avons eu comme l'impression que ce n'était pas vrai, mais nous n'insistons pas.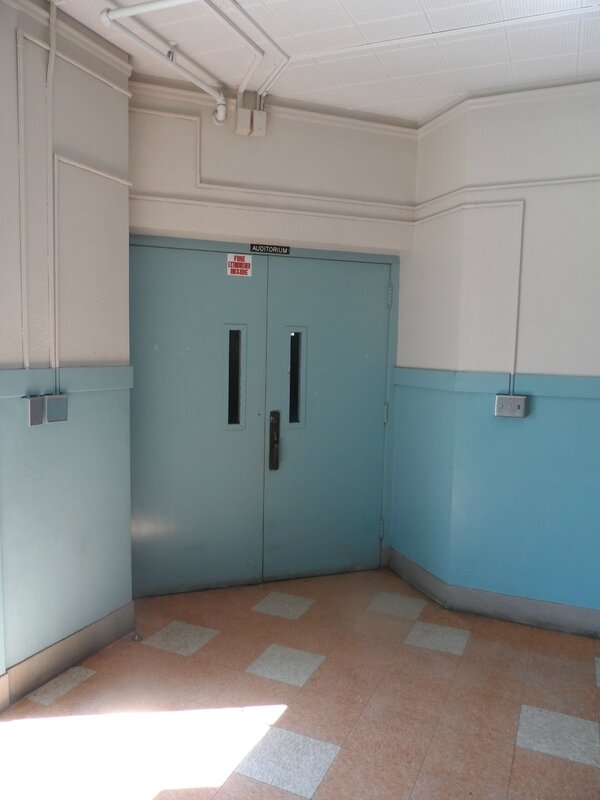 La visite est terminée, nous remercions notre guide et repartons. Sur le perron de l'école, une femme nous voit échanger nos impressions et comprenant que nous sommes des touristes, nous indique que si on veut entrer dans l'école il faut demander un badge de visiteur. Nous lui expliquons que nous venons de terminer notre visite et à nouveau, Isabelle, hardie, lui demande si elle travaille dans l'école. Comme c'est le cas, elle lui demande si on peut voir l'intérieur de l'auditorium. La femme nous répond par l'affirmative en, en moins d'une minute, nous nous retrouvons dans les coulisses de l'auditorium puis sur la scène, là même où Michael a tenu son discours lors de cette inauguration après avoir reçu de son ancienne institutrice un exemplaire de la plaque qui se trouve sur le mur extérieur de l'auditorium.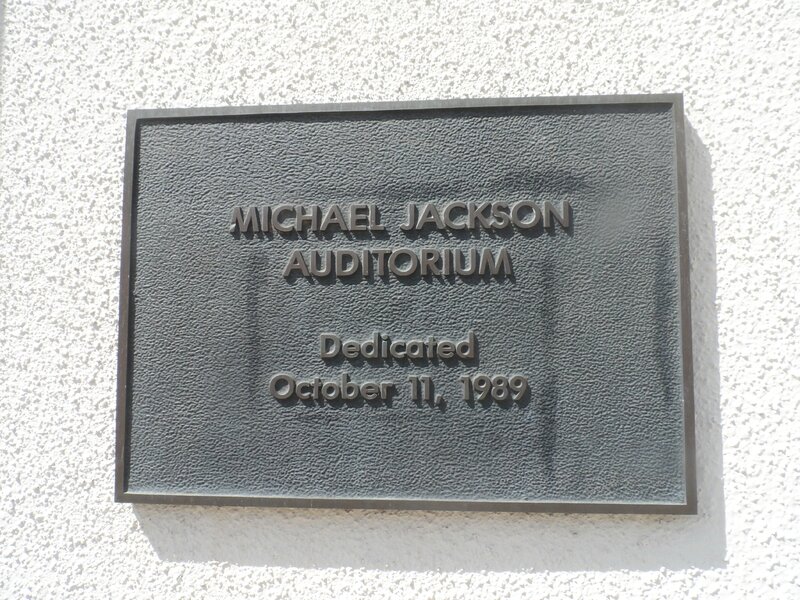 La femme qui semble être une enseignante nous propose de nous prendre en photo sur la scène…cela ne se refuse pas bien sur ! Elle a deviné que nous étions des fans de Michael et nous parle d'un professeur de musique qui était encore dans l'école l'an dernier et qui faisait toujours apprendre aux enfants ses chansons.
Le tour de l'école est maintenant terminée, notre « mission » est accomplie, plus que l'on aurait pu l'imaginer et nous en sommes ravies.
Nous quittons Hollywood pour nous rendre dans le downtown de Los Angeles. Sur la route, nous apercevons le Children's Hospital, à qui les enfants de Michael avait fait don, en 2011, de dessins de leur père.
La Thriller House, au 1345 Carroll Avenue, est la célèbre maison dans laquelle ont été tournées les dernières scènes du short film Thriller, où Michael rejoint sa compagne de tournage qui s'est réfugiée dans cette maison pour échapper aux zombies.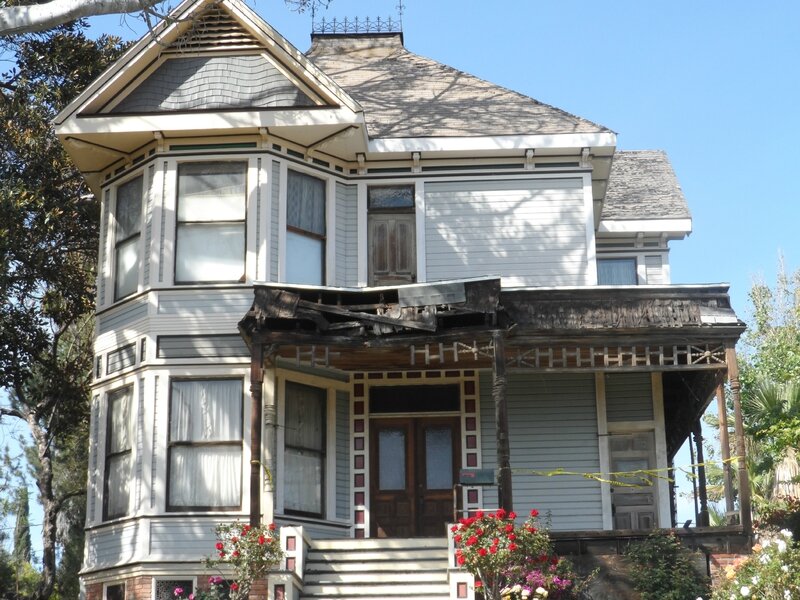 La maison, que j'avais vue il y a deux ans, parait encore plus délabrée. Je ne sais pas si elle est habitée, en tout cas, bien que fleurie, elle ne tombe en décrépitude.
Dans le dowtown, le Palace Theater, le cinéma que l'on voit au début du short film Thriller est fermé mais on reconnait bien les lieux qui ont servi au tournage.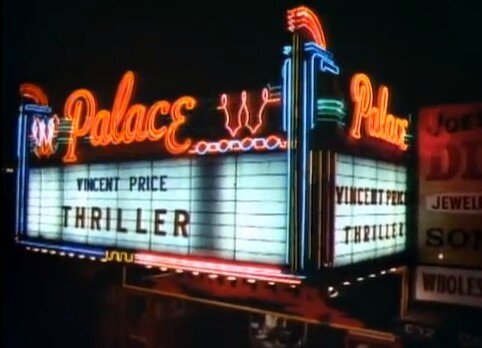 Nous passons devant le Monte Carlo Café, au 109 5th Street, qui est malheureusement fermé. Nous aurons l'occasion de revenir voir ce restaurant qui a servi de lieu de tournage pour les scènes du bar du clip Beat It.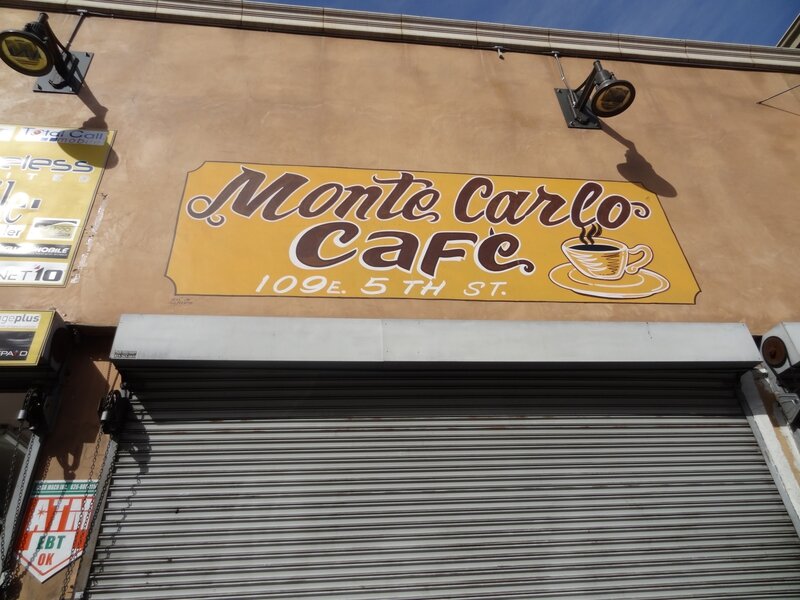 La zombie Alley est l'avenue qui a servi a tourné les célèbres scènes de danse du short film Thriller. Légèrement éloignée du centre ville, à l'angle de Union Pacific Avenue et de Los Palos Street, nous nous retrouvons dans un quartier désert où les ouvriers d'une usine nous regardent bizarrement pendant que nous nous garons pour repérer les lieux exacts. Ce n'est d'ailleurs pas évident à trouver car la rue est assez longue.
Comme nous repartons, j'ai soudain un flash en voyant les carrés sur un des murs ocre qui bornent la route…. Je revois ces carrés dans le clip. Je freine brusquement sous le regard interrogateur d'Isabelle. « Je suis sûre que c'est là » je lui dis et, avant qu'elle n'aie eu le temps de réagir, je descends de la voiture pour prendre les photos !!!
Une des dernières adresses dans le dowtown, pour cette journée, sera celle des hangars qui ont servi à la dernière scène du clip Beat It, à l'intersection de la 5th Street et d'Almeda.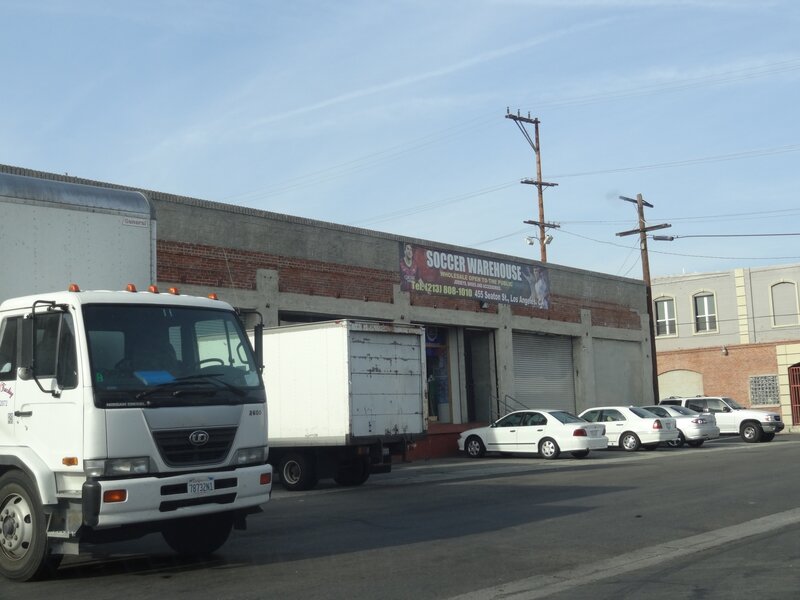 Sur le chemin du retour, nous nous retrouvons bloquées sur la route plusieurs minutes à cause d'un tournage d'une scène d' « Esprits Criminels »…enfin il semble que c'était ça car Isabelle et moi avons reconnu, en même temps, au volant de sa voiture noire Derek Morgan (l'acteur Shemar Moore) !!!!
Avant de rentrer, nous faisons un dernier arrêt au Shrine Auditorium, au 665 W Jefferson Blvd, où en janvier 1984, Michael remporte un nombre record de 8 récompenses lors des American Music Awards pour son album Thriller. C'est également dans cette salle de spectacle qu'est tournée, ce même mois, la publicité pour Pepsi au cours de laquelle il est grièvement brûlé au cuir chevelu. Nous ne pouvons pas entrer mais l'extérieur du bâtiment est superbe.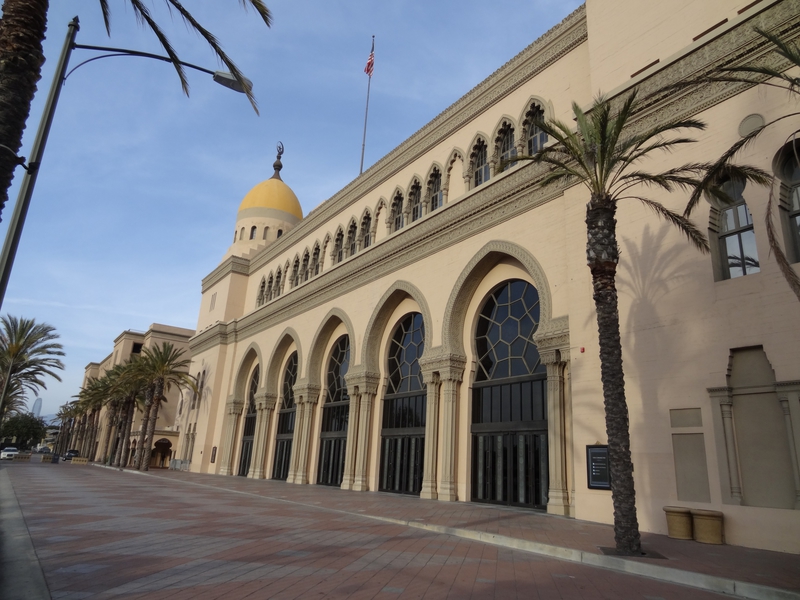 Nous venons de vivre une très belle journée, avec des opportunités très sympas. Los Angeles est vraiment une ville magnifique…surtout quand on est sur les traces de Michael !
Voir également l'album photos Les maisons de Michael à Los Angeles