Du 3 septembre au 4 octobre 2014, le magasin Colette de Paris accueille l'exposition Neverland Lost, un portrait de Michael Jackson.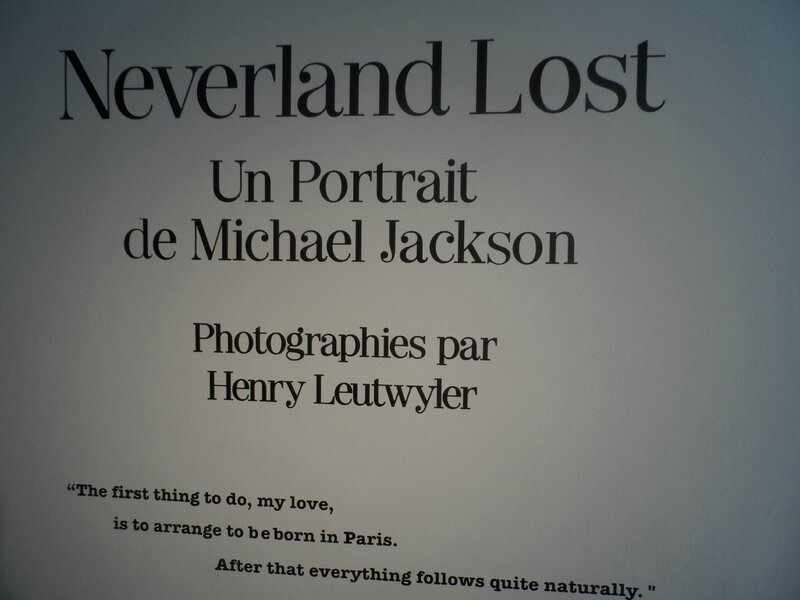 L'expo avait déjà eu lieu en 2010 durant les mois de mai et juin 2010 à la Fnac de Paris Montparnasse et reprend les nombreux clichés du livre du même nom, Neverland Lost, A Portrait Of Michael Jackson de Henry Leutwyler, paru len 2010. Elle est également passée par quelques villes Européennes, New York et Los Angeles et est donc de retour à Paris.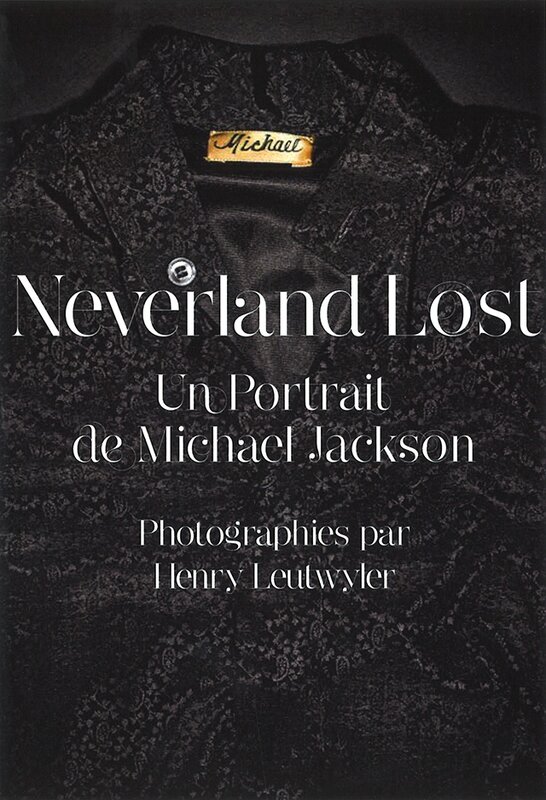 Ce portrait examine le mythe de Michael Jackson à travers ses objets personnels et des pièces des costumes de scène, comme les gants iconiques scintillants, évacués du ranch de Neverland pour être vendus aux enchères. Avec la légèreté d'un documentaire approfondi, ces photographiess nous font entrapercevoir l'agitation intérieure d'un homme, pris entre le personnage public de l'un des plus grands artistes de tous les temps et sa vie privée séquestrée et troublée. Les fameuses chaussettes scintillantes qui dépassaient des chaussures vernies ne sont finalement que des chaussettes montantes ordinaires décorées de strass. Les chemises pailletées sont marquées par les traces de maquillage et de sueur. Probablement pour la première fois, nous voyons leur banalité. A travers la démystification de ces portraits neutres, Leutwyler crée pourtant avec Nerverland Lost un catalogue d'images dont la plupart sont intimes jusqu'à l'insupportable.
Né en Suisse et basé à New-York, Henry Leutwyler est un photographe reconnu. Son travail a fait l'objet de parutions dans le New York Times Magazine, Vogue, Esquire et Vanity Fair.
Six mois avant la mort du King of Pop, Henry Leutwyler se livre à une séance photo étrangement prémonitoire. Une gigantesque vente aux enchères vide Neverland, le domaine de Michael Jackson, pour pallier à la ruine financière du chanteur. Le photographe immortalise chaque objet mis en vente, des extravagantes tenues de scène aux possessions les plus personnelles, dans un livre, Neverland Lost (Steidl, 2010). A l'occasion de l'exposition de ses clichés chez Colette, le photographe raconte son expérience au site style.lesinrocks.com

Quel était le point de départ du projet?

J'étais en reportage sur le trafic d'armes venant d'Amérique du sud, et j'ai visité une sorte de bunker sous-terrain où étaient conservées toutes les armes confisquées par la police avant d'être détruites. En sortant, je trouve une petite coupure de journal entourant un pistolet. On m'informe que j'ai sous les yeux le revolver qui a tué John Lennon. J'ai sauté sur l'occasion pour le prendre en photo, et tout est parti de là. Je me suis dit que tous mes héros étaient inphotographiables de nos jours, la plupart étant décédés. L'unique moyen de le faire, c'était à travers leurs objets. J'ai donc commencé à rechercher les objets de mes héros. En février 2009, la maison d'enchères Julian's Auctions annonce une gigantesque vente des objets ayant appartenu à Michael Jackson, et je propose au magazine Portfolio de photographier son mythique gant blanc. Neverland, le domaine de Michael, avait été entièrement vidé - mêmes les portes ont été démantelées - et tous les objets ont été sortis, numérotés, catalogués, estimés. Je suis parti avec mes assistants de New York à Los Angeles, et on a photographié le gant blanc, puis un deuxième gant, et un troisième gant. On nous avait donné une heure ou deux, on est restés quatre jours. On y est retourné par la suite, et une fois qu'on avait tout bouclé, que j'ouvrais mon ordinateur de retour à l'hôtel, la nouvelle est tombée : la vente aux enchères était annulée. J'ai tout de même fait un portfolio d'une dizaine de photos, mais je n'envisageais absolument pas d'en faire un livre. Plus de six mois plus tard, je montrais les photos sur mon iPhone à mon ami le photographe Robert Polidori, qui a contacté Steidl. Et trois mois plus tard, le livre sortait.

Vous êtes spécialiste du portrait. A leur façon, les objets raconteraient un personnage?

Michael a été photographié un million de fois depuis tout petit, mais personne n'a jamais fait son portrait à travers ses objets. Si vous les regardez de près, les objets parlent. Je trouve d'ailleurs qu'une nature morte bien faite reflète bien mieux l'être humain qu'un portrait traditionnel. Surout qu'avec la coiffure, le maquillage, Photoshop, vous arrivez rarement à avoir une vraie photo. Là, il y a les tâches de transpiration, la rouille... Ça vit quoi. Je l'avais déjà fait pour mon livre sur Elvis, et je le poursuis avec mon prochain ouvrage sur lequel je travaille depuis onze ans. J'y rassemble les photos d'objets de personnages mythiques : les lunettes de Gandhi, le pinceau de Warhol, la guitare de Prince, le révolver qui a tué Lennon... Pour moi, c'est la suite logique du photographe portraitiste : faire le portrait de quelqu'un à travers l'objet. Et je crois qu'il faut partager tout ça avec les gens qui ont peut-être moins de chance que nous, à qui on livre une autre vision de l'artiste, une autre qualité. Avec ces photos des objets de Michael, on voit à quel point il aimait la mise en scène, la glorification - il s'est érigé en légende. Les dorures, les peintures, les costumes extravagants, toutes ces paillettes... Il a lui-même créé le mythe du King of Pop.

Quelle était votre réaction quand avez découvert la pièce où étaient entreposés les objets de Michael?

C'était un hangar ! Deux hangars énormes, et des conteneurs en plus, dans le Dowtown Los Angeles, d'une hauteur de plafond de plus de 30 mètres. J'ai pris en photo les portes de Neverland, les fontaines, les meubles, les tableaux... tout. Je crois que l'importance du projet, c'est de garder une histoire en images d'une vie qui était privée. Aujourd'hui, il n'est pas certain qu'il va y avoir un musée, que les objets vont rester groupés… Quand on a commencé à réfléchir sur le livre, c'était pour garder la famille des objets en un recueil, de se dire que si dans 50 ans quelqu'un veut étudier Michael Jackson, il pourra avoir accès à ces photos. Dans 50 ans, le gant blanc ne sera peut-être plus là. J'ai rencontré des gens formidables, j'ai fait des expositions dans le monde entier… La finalité du livre, c'était de célébrer le génie musical qu'a été Michael Jackson.

Avant la vente initiale, les objets de Neverland ont été exposés au public. Les fans de Michael Jackson y sont venus en masse. Avez-vous eu leurs échos sur votre projet?

Quasiment à chaque exposition des fans clubs venaient me voir. L'un des plus enthousiastes était celui de Madrid : on a carrément fait une conférence rien que pour eux, qui a été poursuivie par trois heures de conversation. Au départ, j'appréhendais un peu leur réaction. On ne peut jamais faire plaisir à tout le monde. Mais je n'ai jamais eu un mauvais commentaire de leur part, ils ont toujours soutenu le projet, en étant très curieux et courtois. Le projet avait été photographié de façon respectueuse, j'ai fait ces natures mortes selon la même éthique professionnelle que pour mes portraits : on est là pour rendre les gens beaux et intéressants, et non pas le contraire. Ce n'est pas mon métier de dire "fautif / pas fautif". C'est un témoignage historique, mené de façon académique. C'est à partir du résultat final que vous portez votre propre jugement.

Pourquoi avoir choisi de réaliser les photos de Neverland Lost sur fond noir, alors que celles de vos autres ouvrages sont sur fond blanc?

Etrangement, je me suis instinctivement dit qu'il fallait faire ces photos sur fond noir. J'ai pensé à l'adage du philosophe japonais Yuichiro Tanizaki, "l'or brille dans la pénombre". On met toujours le diamant en plein soleil, alors qu'en réalité il va briller d'autant plus dans l'ombre. Je me suis dit, vu ce qu'on est en train de photographier - et vu l'état de Michael à l'époque, qui vivait totalement reclus - on va prendre ça avec le même esprit japonais, et on a choisi les fonds noirs. Six mois plus tard, j'étais à mon bureau à New York, et un ami m'appelle pour m'annoncer que Michael Jackson est mort. Rétrospectivement, les photos ont un côté funéraire. Même si on ne pouvait pas prévoir ce qui allait se passer, il y avait déjà un vrai souci de respect de la mémoire durant cette séance photo.

Parmi toutes les photos de ses costumes de scènes, hauts en couleurs, vous avez choisi de clore votre livre avec la photo de la première édition de Peter Pan. Pourquoi ?

Parce que je pense qu'il vivait un peu comme lui. Quand les enfants grandissent, ils doivent quitter Neverland. C'est un peu ce qui s'est passé. Sur place, mes assistants et moi, on avait le sentiment d'être témoins d'un moment triste. Ce n'était pas une ambiance très joyeuse. Michael a été mis sur le devant de la scène dès ses cinq ans : avec Neverland, il a essayé de recréer une enfance qu'il n'avait pas eue, avec tous ses jouets, le Luna Park, les petites voitures... Quand on prenait tout ça en photo, on se faisait la réflexion que son enfance était en train de lui échapper une seconde fois. La star fait faillite, et on lui retire tout ce qu'il a crée. Je l'avais dit à mes assistant : si ça devait m'arriver, je me suiciderai. Et peu de temps après, il est décédé. Les raisons, on les connaît. Mais peut-être qu'il y avait autre chose. Si on y réfléchit bien, un génie musical qui se retrouve à 50 ans sans un rond, sans maison, sans possessions, c'est quand même dramatique.
Samedi 13 octobre, je me suis rendue chez Colette, avec une amie, pour voir cette expo. Au premier étage du magasin, les photos encadrées sont exposées au public parmi les rayons de vêtements chics.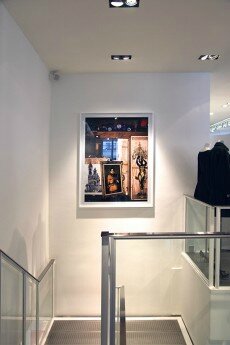 Dès l'escalier qui y mène, deux grandes photos de 120 x 156 cms d'objets de Neverland, dont le fameux trône en or sur lequel Michael avait posé de 120 x156 cm, mettent dans l'ambiance. Malgré la foule, et le passage important dans l'escalier, on est obligé de s'arrêter pour admirer ces deux photos….et tant pis pour les clients qui râlent derrière ;).
Voici les photos prises lors de cette visite. La qualité n'est pas toujours là, en raison des reflets dûes aux nombreuses lumières du magasin...
Neverland in Crates
Michael Jackson, Gold Throne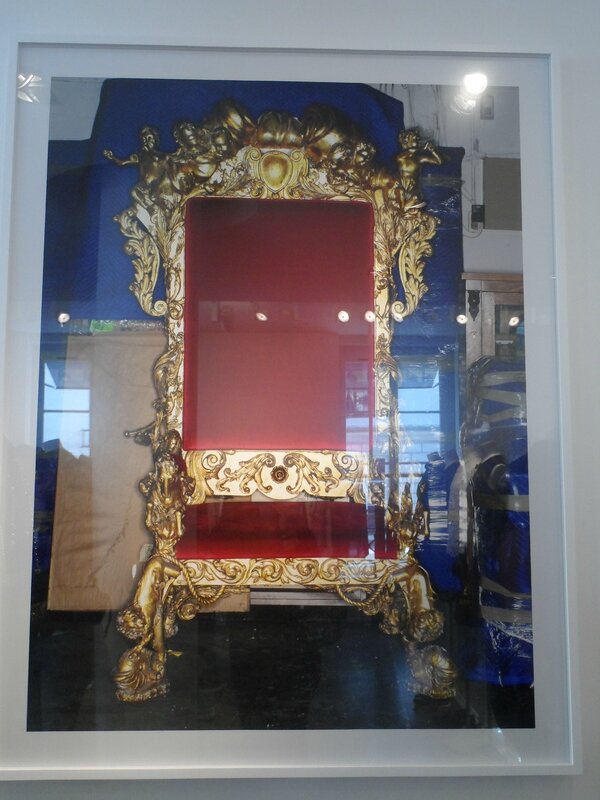 Six photos, dont quatre plus petites, sont exposées au niveau de la caisse :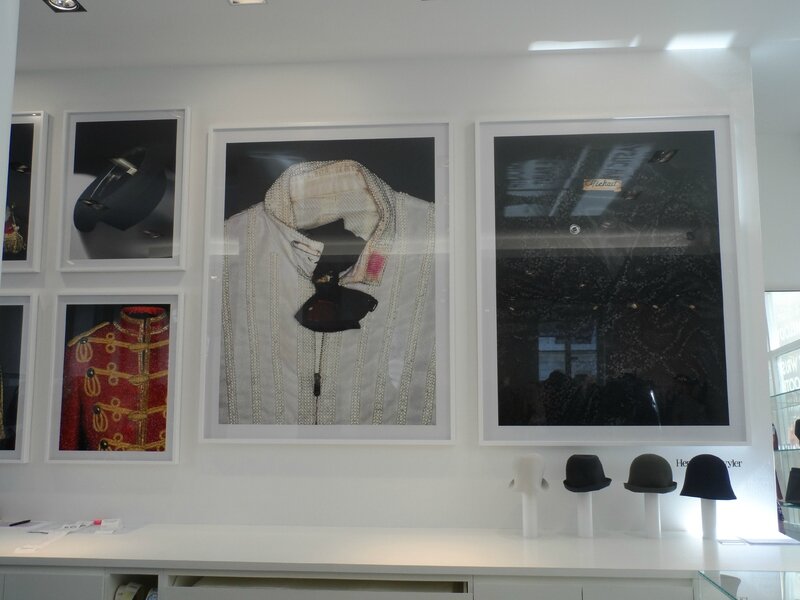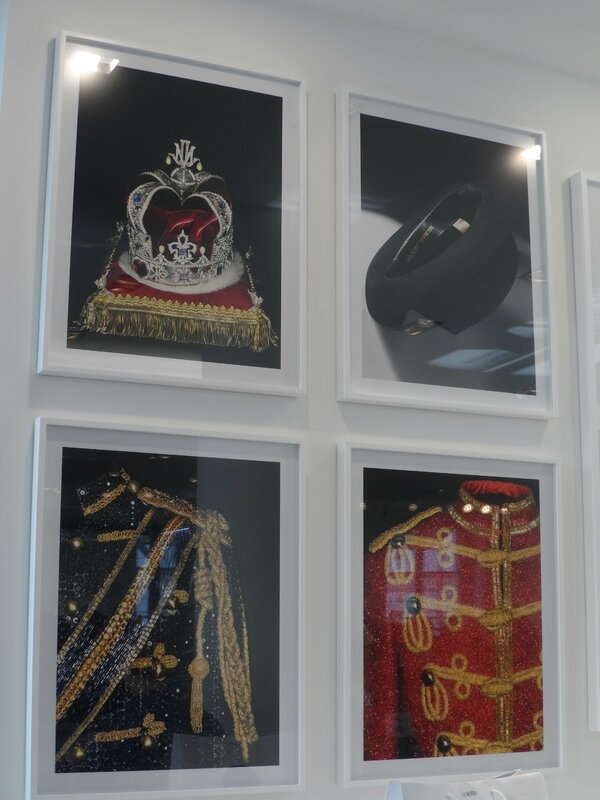 Triumph Tour Shirt Bowtie 1981
Early Performance Black Shirt, la même photo qui sert de couverture au livre de Henry Leutwyler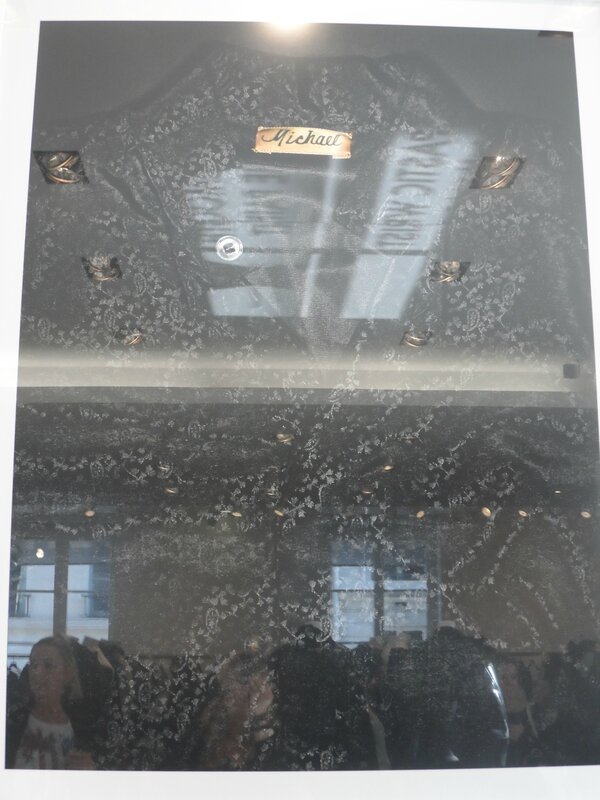 Michael Jackson, Crown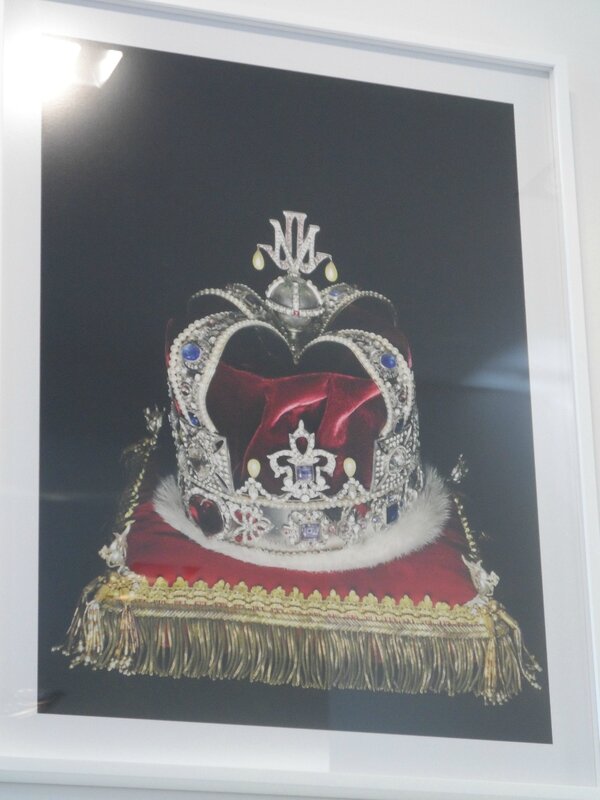 Black Fedora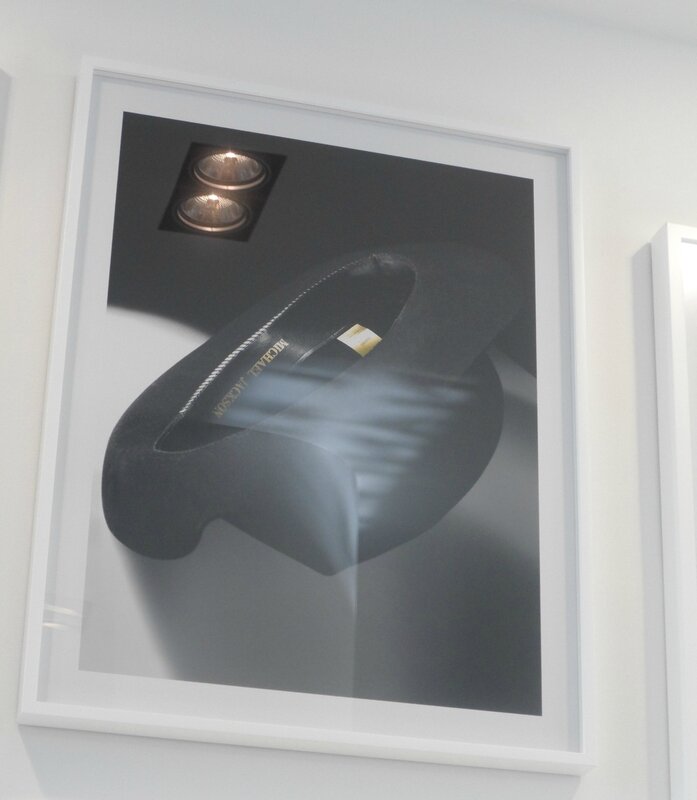 Hollywood Walk of Fame Jacket 1984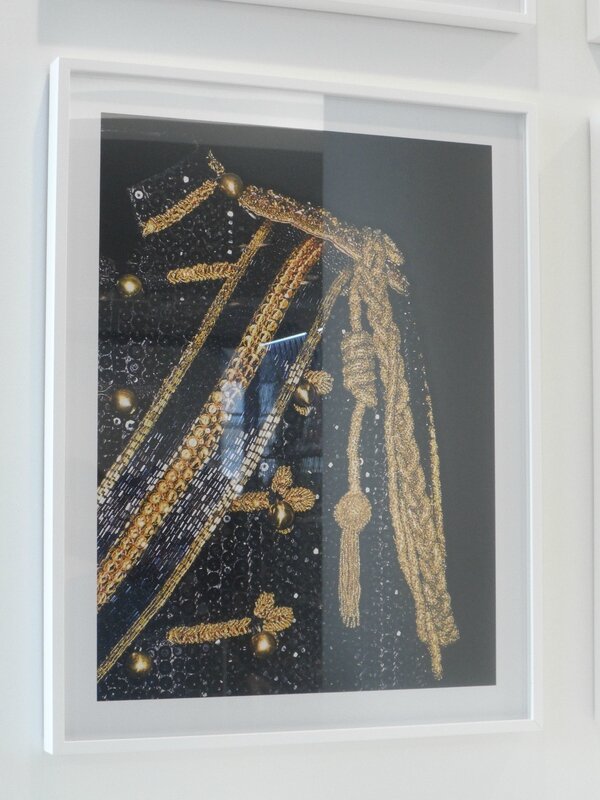 American Awards Red Jacket 1984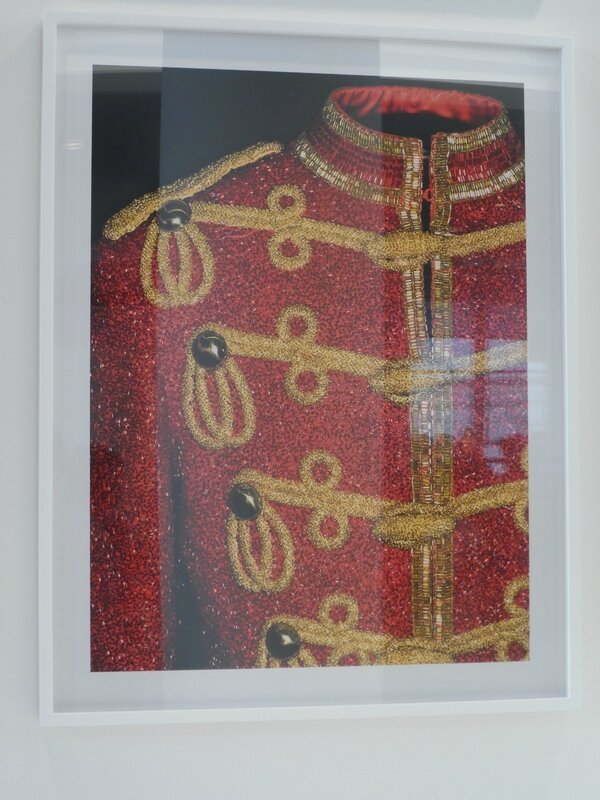 L'expo se poursuit au fond du magasin, dans un endroit réservé, un peu moins passager et plus calme. On aperçoit d'ailleurs de loin la série de photos des gants Swarovski.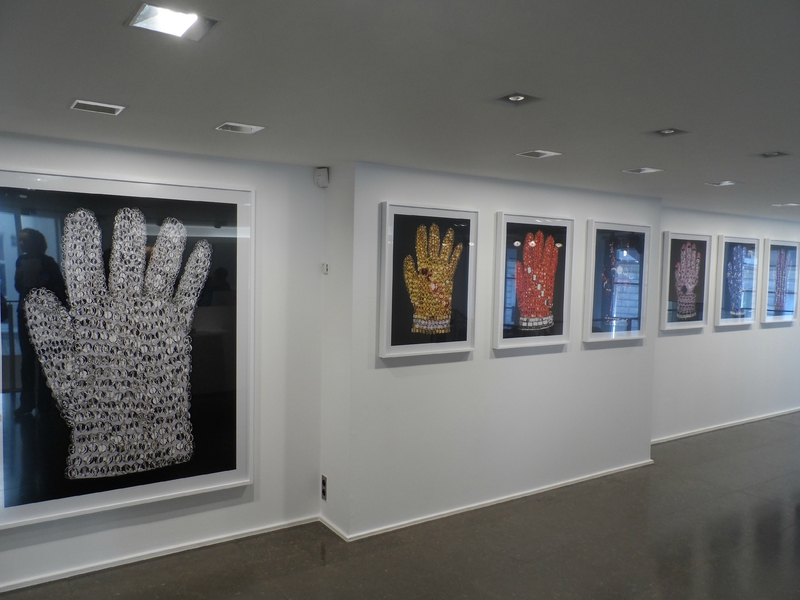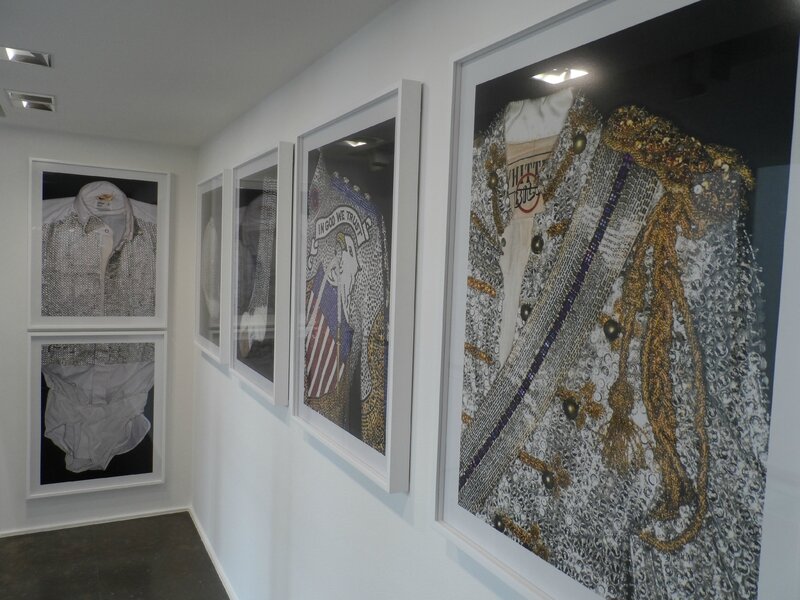 Triumph Tour shirt 1981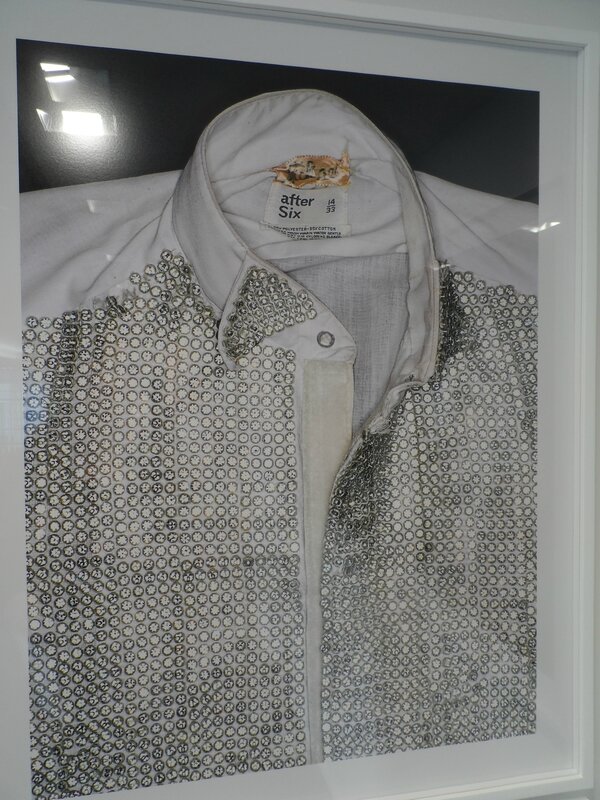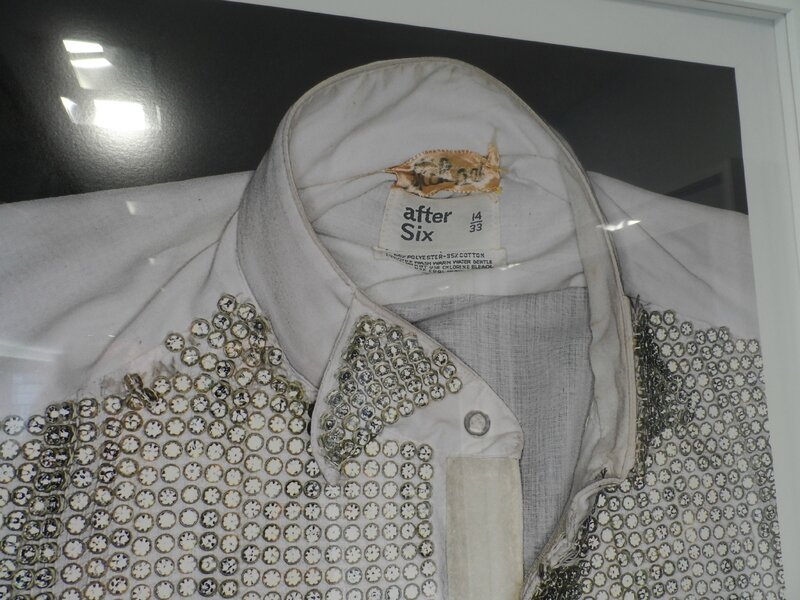 Triumph Tour shirt bottom 1981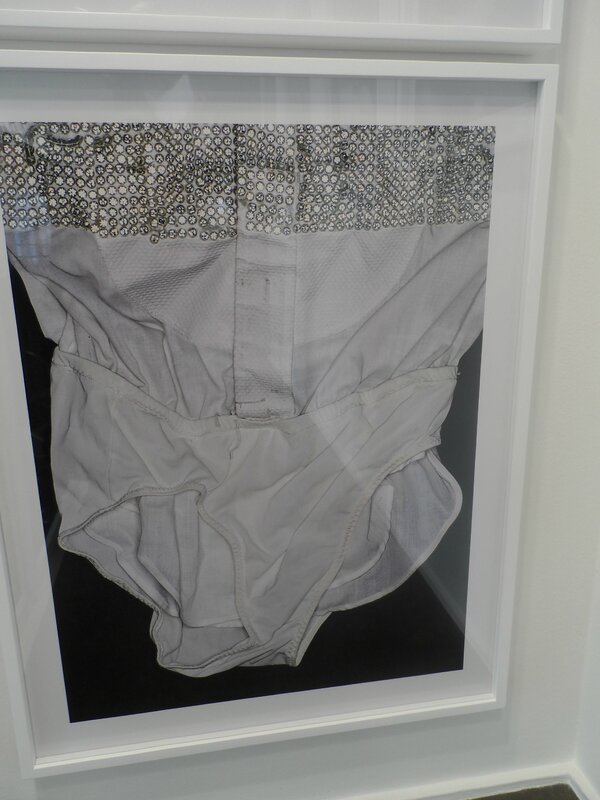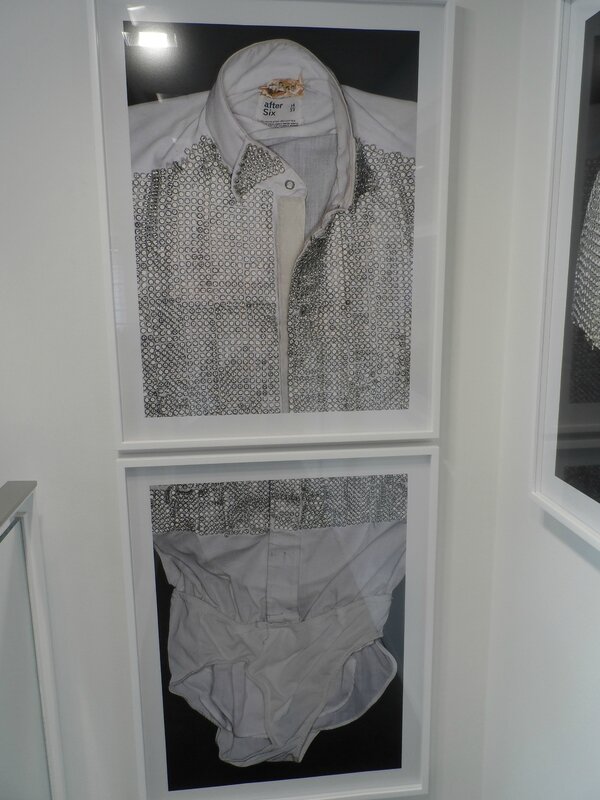 Michael Jackson, Helmet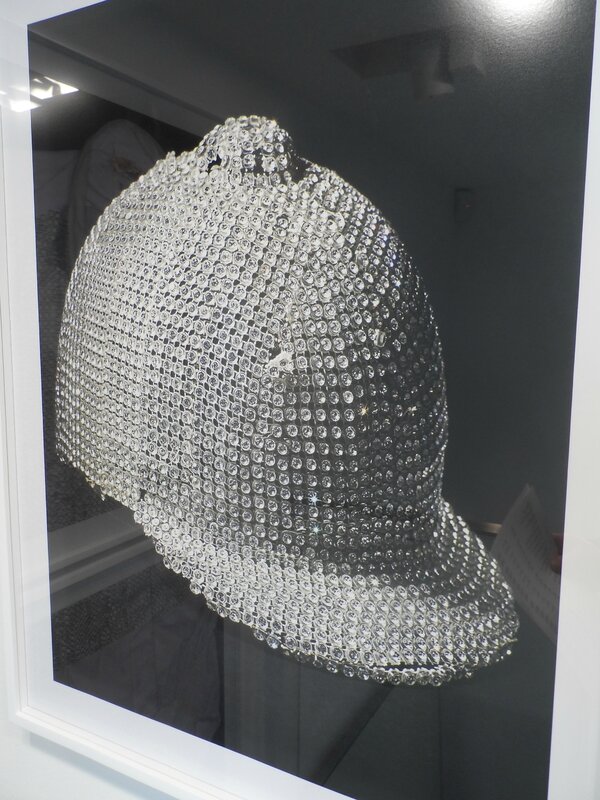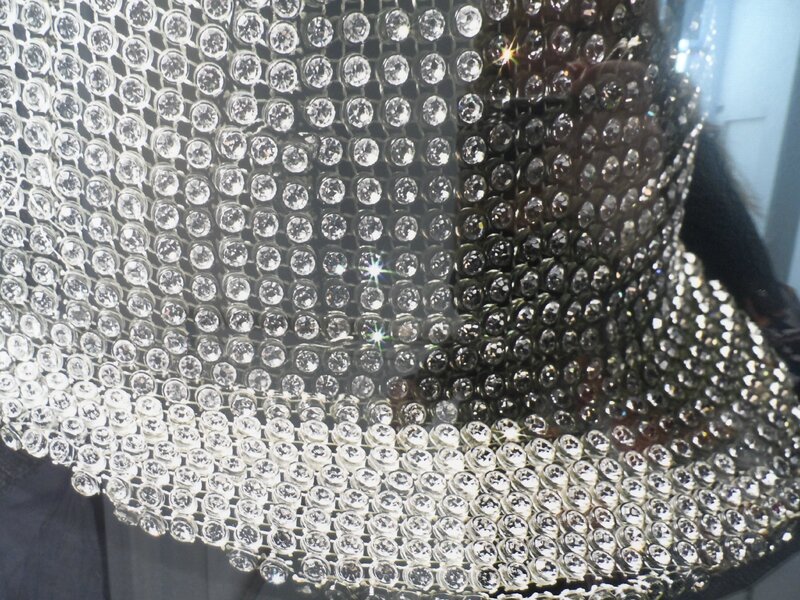 Triumph Tour Sock 1981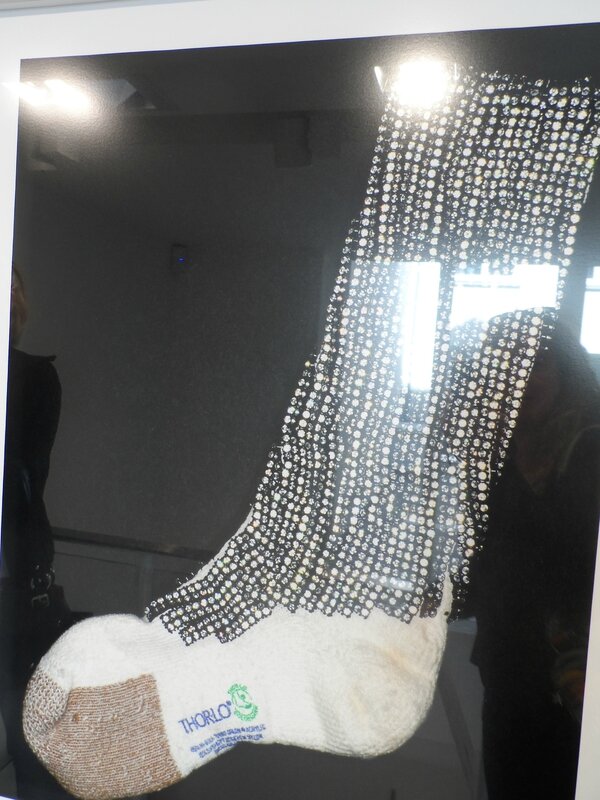 In God we Trust Jacket 2001 (Concert What More Can I Give)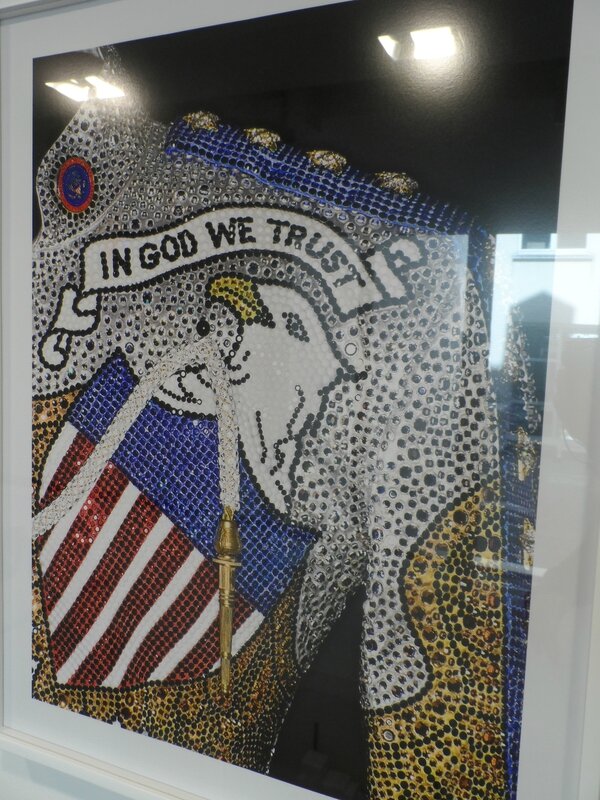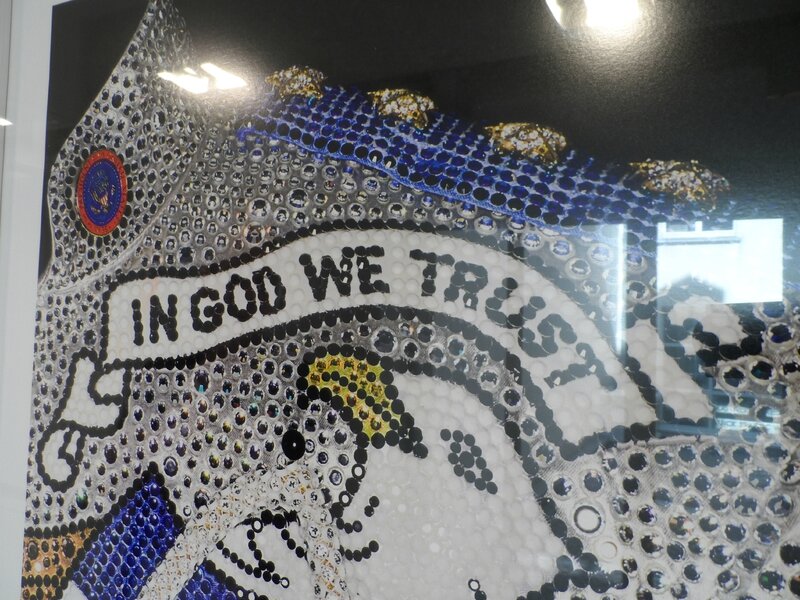 Victory Tour Jacket 1984
Triumph Tour Capezio Shoe Top 1981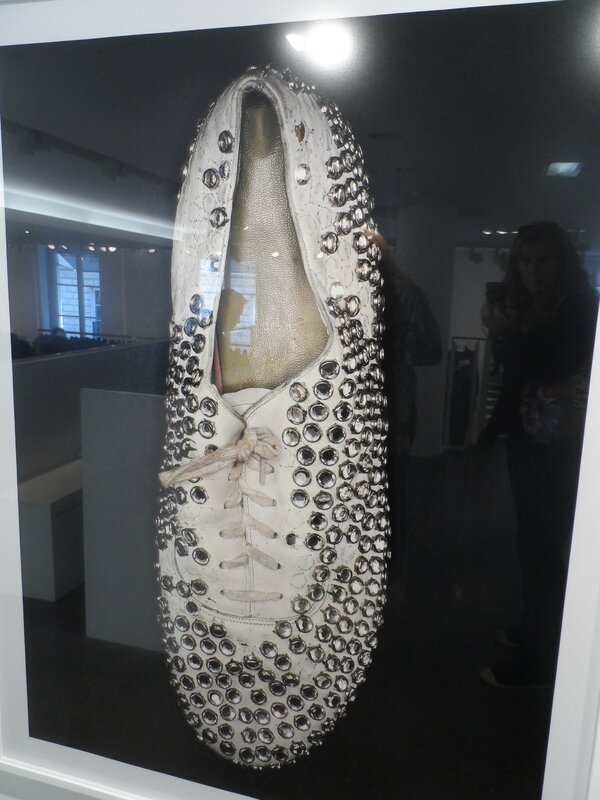 Triumph Tour Capezio Shoe Sole 1981
Et la série des gants swarovski
White Swarovski Crystal Glove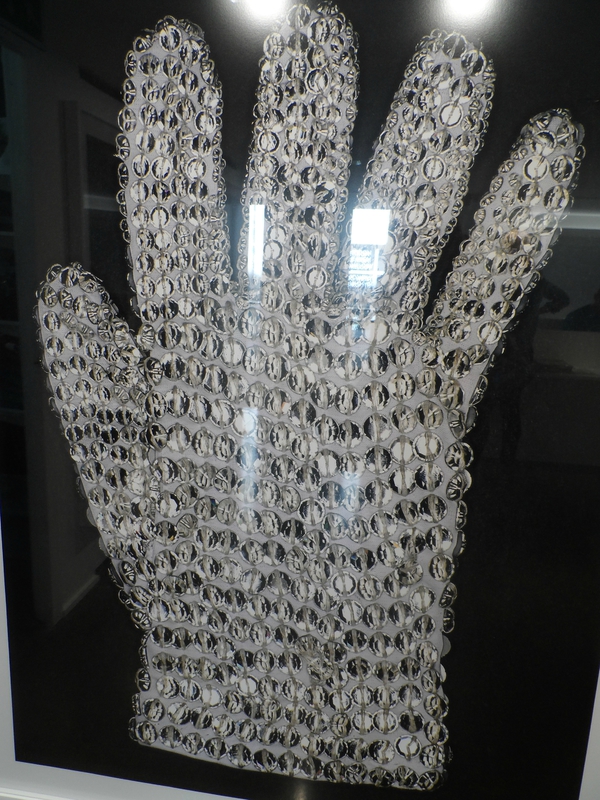 Yellow Swarovski Glove
Orange Swarovski Glove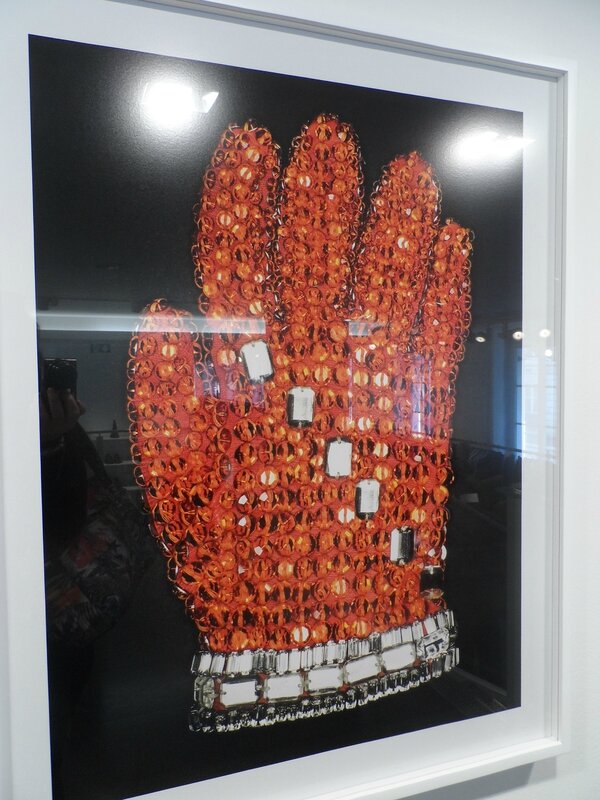 Red Swarovski Glove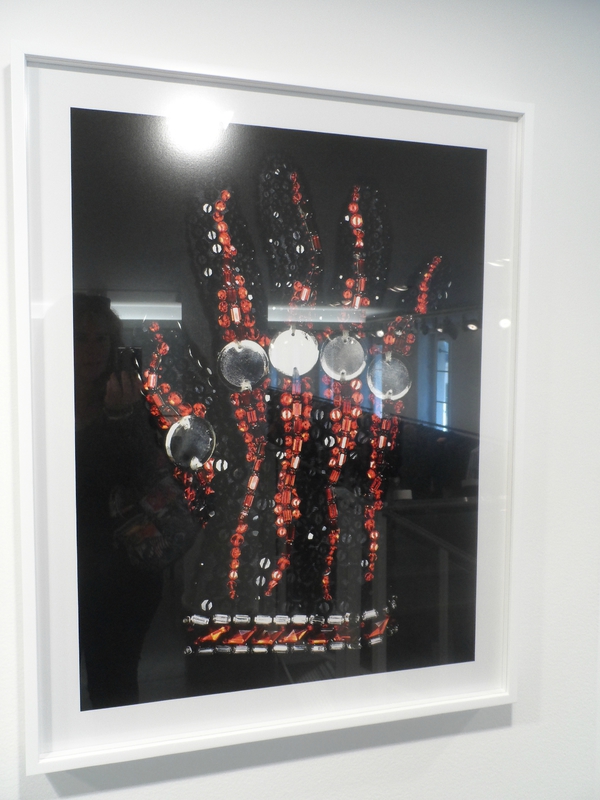 Lavender Swarovski Glove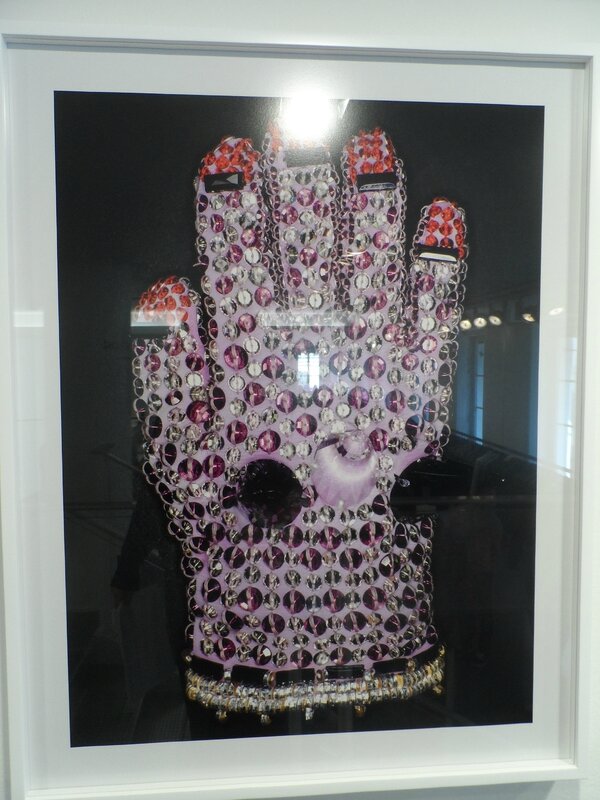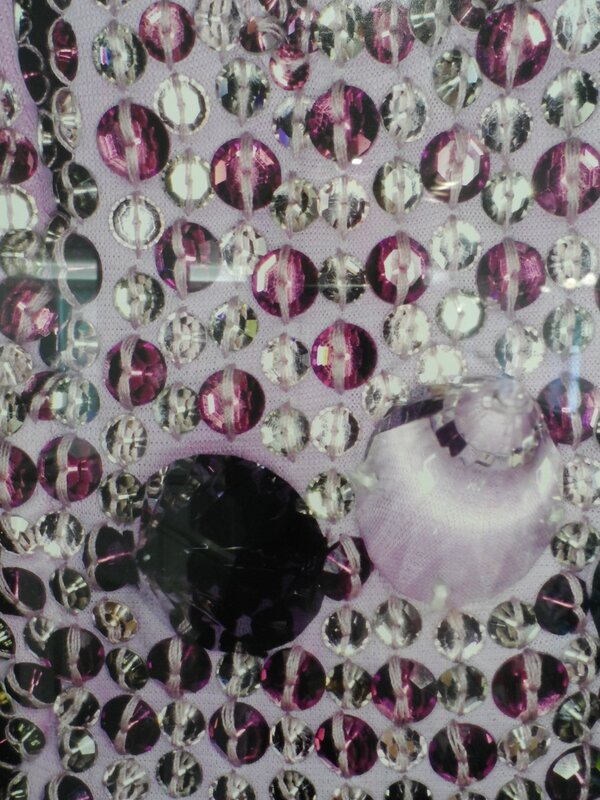 Blue Stars Swarovski Glove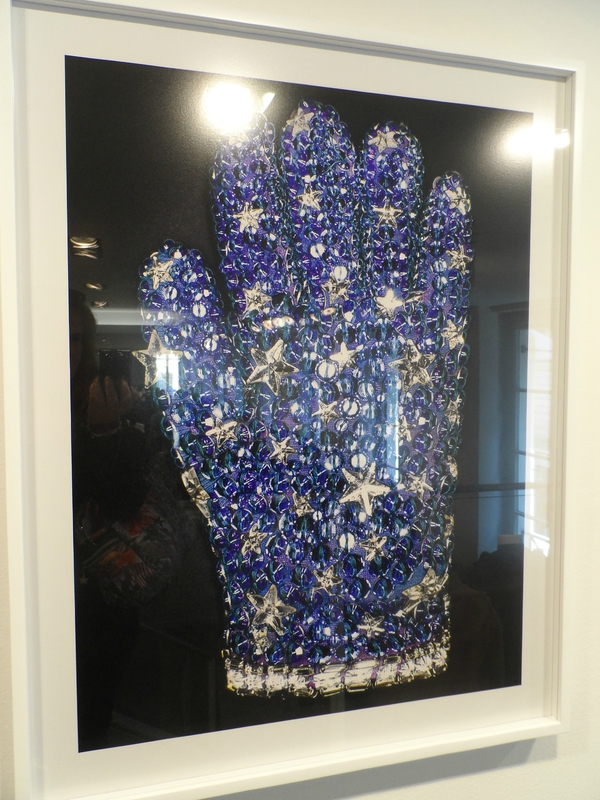 Purple Swarovski Glove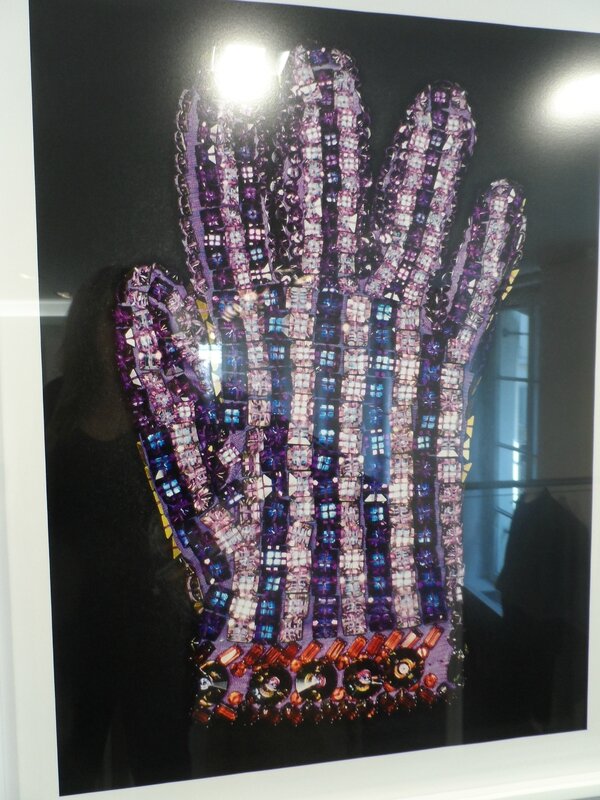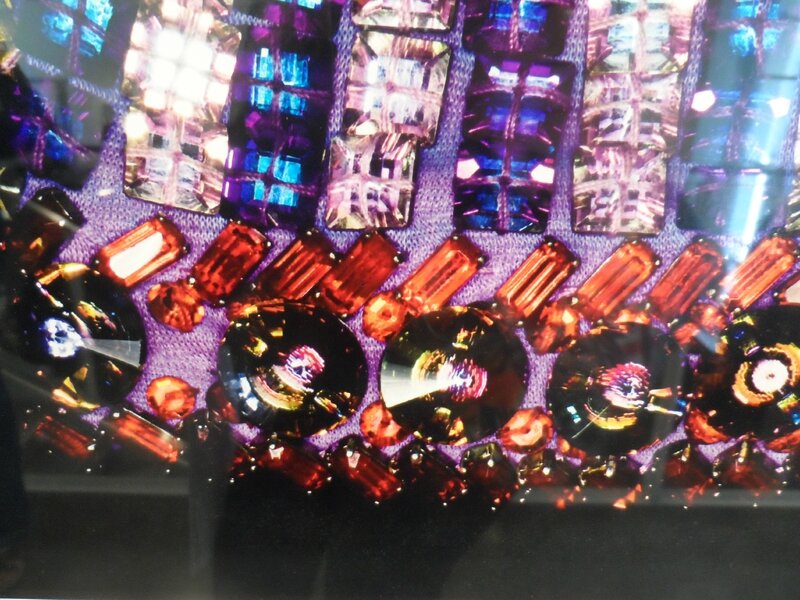 Blue Gold Swarovski Glove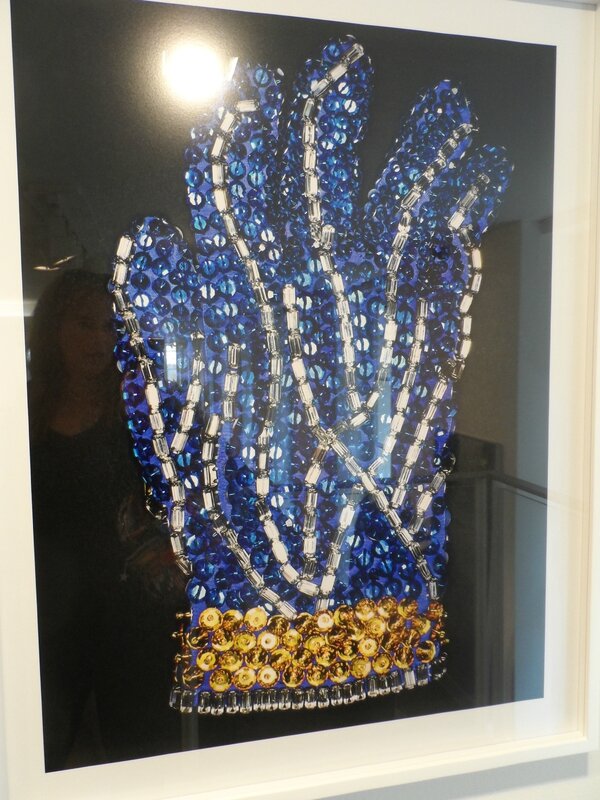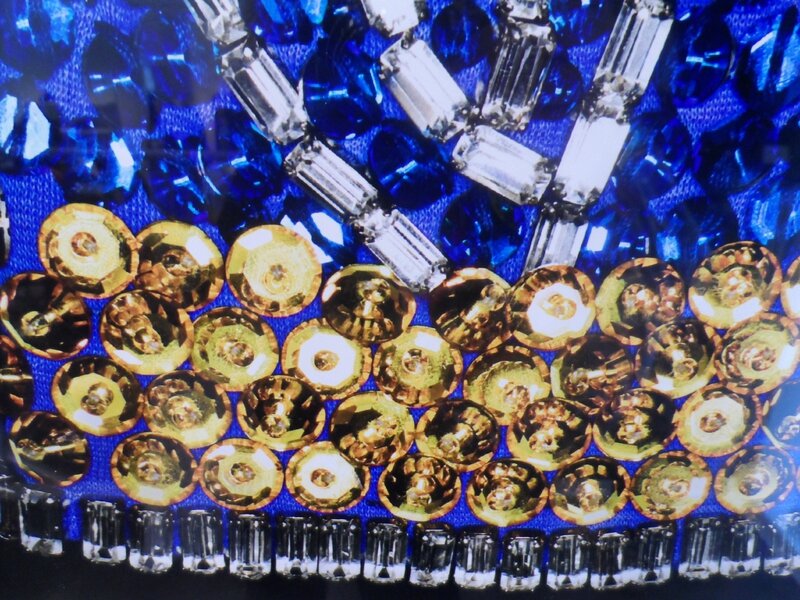 24 clichés superbes et pourtant cette impression de rester sur sa faim. Je ressors frustrée de cette expo, avec l'envie d'en voir plus, et surtout je suis surprise de voir une expo au beau milieu d'un magasin. Bousculée par les clients, il est un peu difficile d'apprécier les clichés à leur juste valeur, surtout quand certains sont exposés en hauteur, dans un endroit où l'on ne peut réellement s'approcher.
J'aurais eu envie également de voir plus de photos des objets de Neverland (après tout l'exposition s'appelle Neverland Lost!) mais un des employés du magasin nous explique qu'ils ont, à dessein, choisit de mettre plus de photos concernant les vêtements car nous sommes chez Colette, qui est en priorité un magasin de prêt à porter !!!
Toutes les photos du livre ne sont pas exposées. Il semble que dans certaines villes où l'expo est déjà passée il y en ait eu plus.
En tant que fan, je pense que nous avons tous envie d'appréhender, de comprendre et d'en connaître davantage sur la vie de Michael….nous en avons eu ce jour-là un aperçu. Que de trésors, je l'espère pas tout à fait perdus, qui mériteraient leur place dans un musée, plutôt que de rester dans des cartons à être photographiés.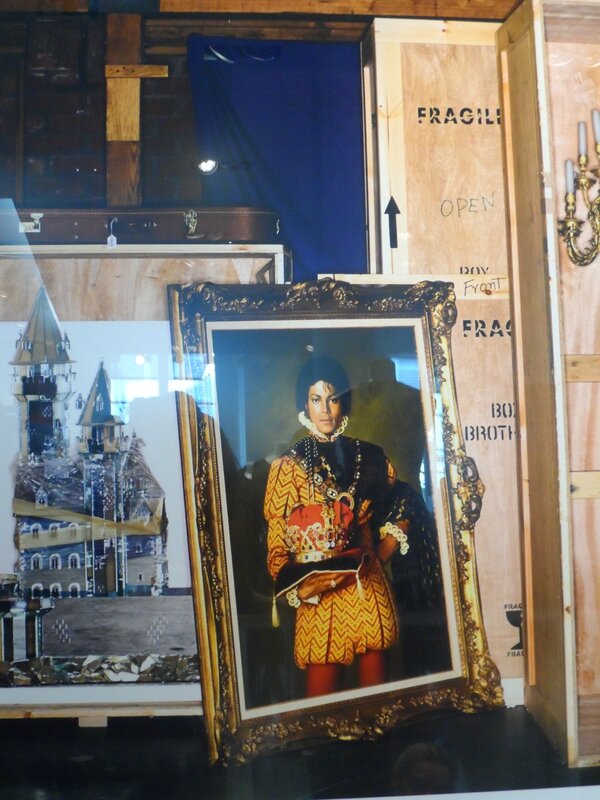 Il est possible d'acheter un exemplaire des photos...les prix vont de 2 500 à 8 000 euros!
Colette, 213 Rue Saint Honoré à Paris, 75001. Ouvert du landi au samedi de 11h à 19h, entrée libre.