Le 10 février 1992, Michael Jackson s'envole de Los Angeles pour retrouver le continent de ses racines, l'Afrique. Le Roi de la Pop ne s'est rendu qu'une seule fois sur le continent africain, en 1974, avec ses frères et son père, pour un voyage initiatique au Sénégal qui l'avait fortement marqué.
Le 10 février 1992. C'est également ce jour là que disparaît l'un des plus grands auteurs noirs américains, Alex Haley, qui a fait de ses origines africaines un célèbre roman, Roots (Racines). Un signe ? Car pour Michael Jackson, ce voyage c'est "Mon retour à l'Afrique, le retour au Paradis". Le Come Back to Eden Tour, comme il a souhaité appeler ce déplacement, du nom d'un documentaire qui ne verra finalement pas le jour, n'a cependant rien d'une tournée de concerts.
Michael, accompagné de Brett Barnes, est attendu pour un séjour de huit jours au Gabon, en Côte d'Ivoire et en Tanzanie, au cours desquels il va aller à la rencontre d'officiels et visiter des hôpitaux, des orphelinats, des écoles ou des missions.
Son départ de Los Angeles, auprès de Ali Bongo, fils du président gabonais, ne passe pas inaperçu...
Mais son arrivée au Gabon sera encore plus acclamée.
Le 11 février 1992, Michael Jackson atterrit donc à l'aéroport Léon-Mba de Libreville, au Gabon. Il est accueilli par des milliers de fans (certains évoquent le chiffre de 100 000 personnes) qu'il salue à bord de sa voiture au toit ouvrant. L'auteur français Gonzague Saint Bris a partagé avec le chanteur ces quelques jours en Afrique. Il livre son témoignage, dans le livre Au paradis avec Michael Jackson, paru en 2010.(voir aussi ici)
"Dès le parking de l'aéroport, l'accueil est délirant. Juché sur la Cadillac couleur cacao à toit ouvrant qui nous arrache à l'aéroport, Michael irradie d'une joie sans pareille. Une foule noire poursuit sa limousine prise d'assaut par une nuée d'adolescents sur le boulevard du bord de mer. Des milliers de gamins courent après la limousine de Michael Jackson qui, debout, en blouson à l'effigie de Mickey sur le dos [il s'agit en fait de Peter Pan] gratifie les uns les autres d'un sourire irrésistible (…) Les noces avec l'Afrique retrouvée ne font que commencer. Jamais, depuis la venue de Nelson Mandela, un invité n'avait rassemblé une telle foule ni soulevé une telle ferveur. La visite est organisée comme celle d'un chef d'Etat." (1)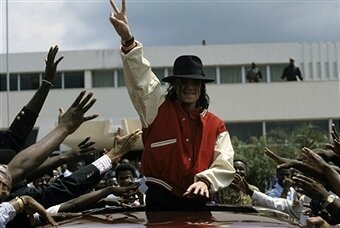 Lors de son séjour à Libreville, Michael occupe la suite saumon du 8ème étage de L'Okoumé Palace (appelé aujourd'hui le Radisson Blu Okoumé Palace) dans laquelle Gonzague Saint Bris explique avoir eu de longues conversations, notamment sur l'Art, avec lui.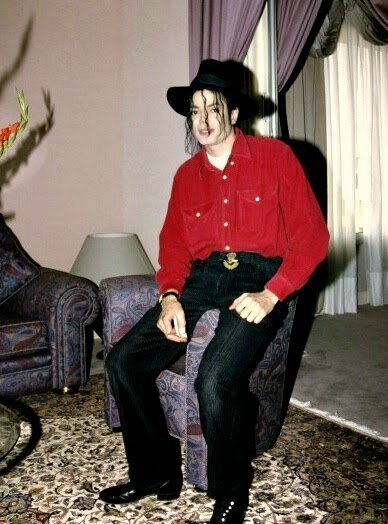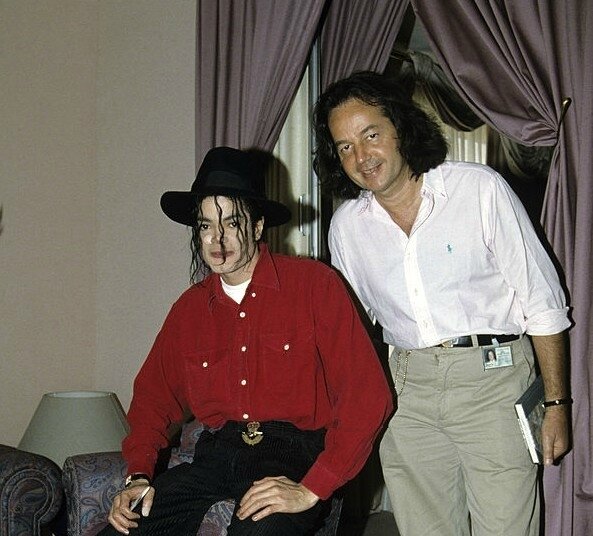 "Mais avant les rencontres officielles (…), Michael a voulu une rencontre avec ce peuple d'enfants qui est le sien. A l'Okoumé Palace (…), c'est un goûter de mille enfants qui a été organisé pour lui. Et, dans la salle des fêtes, l'idole (…) va y découvrir la fièvre locale et les danses des ethnies." (1)
La visite à Libreville de Michael est aussi, comme souvent au cours des déplacements de la star, ponctuée par une visite à des hôpitaux pour enfants, notamment ce jour-là celle à l'hôptial Owendo.
Michael se serait également rendu dans la réserve présidentielle de Wonga Wongué. Situés au sud de Libreville, dans les savanes s'étendant le long de la côte entre Libreville et Port-Gentil, les 500 hectares de cette aire naturelle protégée abritent une biodiversité exceptionnelle. Amoureux des animaux, Michael Jackson repart avec un jeune chimpanzé que lui aurait offert le président gabonais.
Le lendemain, le 12 février, Michael se rend à Oyem, au nord du pays pour visiter la paroisse Sainte-Thérèse d'Angone, une mission chrétienne fondée par des pères blancs. C'est avec une banderole Welcome Home Michael qu'il est accueilli à l'aéroport.
"Nous nous enfonçons dans le pays profond de cette province Woleu-N'tem qui est forestière en pays Fang. Je suis ému par son choix : une visite à une mission chrétienne, la paroisse Sainte-Thérèse d'Angone, fondée par les pères blancs dans les années vingt. Dans cette église, dans ce collège, dans ce petit séminaire de Saint-Kisito, toujours les enfants portant des fleurs et des banderoles : Welcome Home Michael." (1)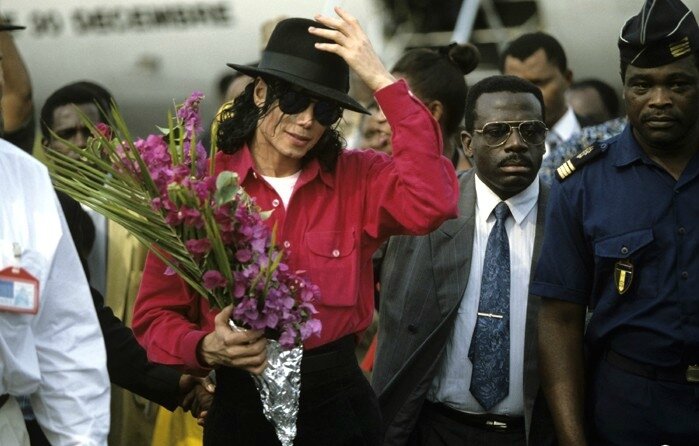 Il se rend ensuite directement à Franceville, dans le sud du Gabon, et découvre "la majestueuse vallée de l'Ogooué. Nous sommes tous les deux fascinés par la beauté sereine de ce bassin fluvial qui constitue une gigantesque réserve d'eau (…..) Les pygmées se sont déplacés pour le voir, eux qui d'habitude ne quittent jamais leur hutte ronde. Jamais ils n'ont vu autant de monde sur la place de l'Indépendance. Alors qu'un groupe de danseurs fascine la star, surtout à travers son batteur à tambour exceptionnel, la nature africaine reprend ses droits : une pluie tropicale tombe sur l'assistance, précédée de la foudre et du tonnerre. C'est comme un signal pour le délire de la danse. Les Pygmées se mettent à s'agiter en cadence devant lui, tandis que la mégastar, posée sur un tabouret dans la jungle, tel un chef de tribu, danse en les regardant mais en restant assis." (1)
Il loge dans une des suites de l'hôtel Leconi Palace International. Subjugué par la beauté du par la vallée de Franceville (d'autres avanceront qu'il s'agit d'un contretemps lié à l'indisponibilité de l'avion), Michael décide de passer la nuit sur place.
Le 13 février, de retour à Libreville, le chanteur est reçu, le matin, par le président Omar Bongo dans le salon des ambassadeurs du palais présidentiel, le président étant à l'origine de la venue du chanteur en Afrique. Bongo lui remet la Médaille d'Honneur des nations d'Afrique de l'Ouest : "Vous êtes le premier artiste de variétés à recevoir cette médaille qui, jusqu'à aujourd'hui, n'a été donnée qu'à des chefs d'Etat et à des dignitaires de haut rang, notamment à Nelson Mandela", dit le Président à Michael.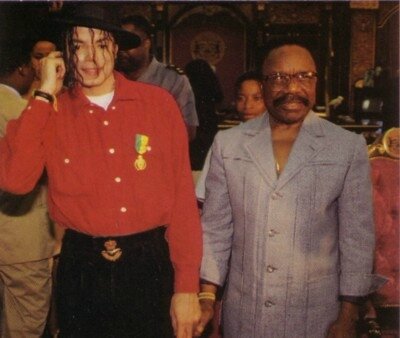 Michael pose avec les différents membres de la famille du Président, notamment, sa fille, Pascaline, alors Ministre des Affaires Etrangères et son fils Ali, député et ancien ministre. C'est d'ailleurs ce dernier qui a organisé la tournée du chanteur en Afrique.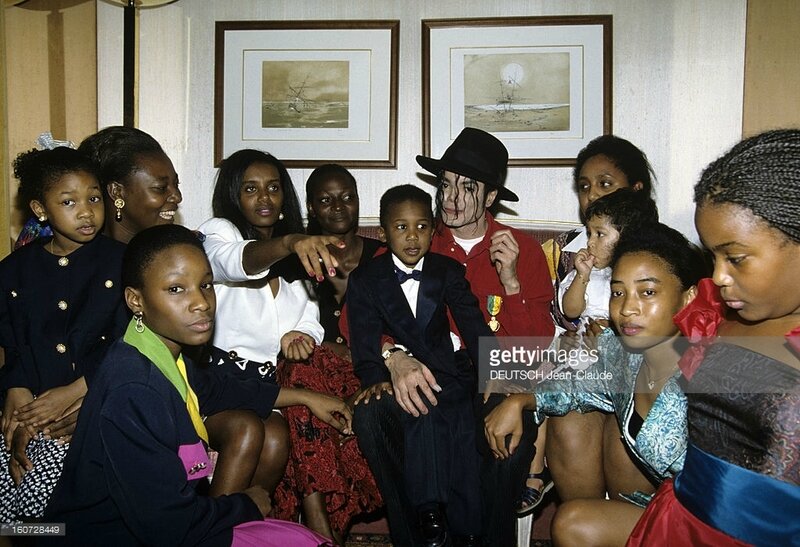 Une des petites filles du Président, Nesta, présente ce jour-là évoque ses souvenirs : "Je l'ai rencontré en Afrique quand il est venu passer trois jours dans mon pays et qu'il a séjourné dans la maison de famille quand il a visité notre village. J'avais 7 ou 8 ans. Nous l'avons rencontré parce que mon oncle et ma grand - mère, une chanteuse africaine, étaient amis avec son frère Jermaine. Quand il est venu au Gabon, mon grand-père était le Président du pays et il l'a invité à faire un spectacle. Il a séjourné à l'Okoumé Palace quand il était à Libreville (la capitale) et dans la maison familiale quand il est venu dans mon village. Michael voulait voir un village et mon grand-père l'a invité dans notre maison à Franceville.
Mon meilleur souvenir c'est quand mes cousins et moi avons essayé de lui apprendre notre langue africaine (c'était si drôle). Il a vraiment aimé tout ce qui concerne l'Afrique (sauf la nourriture) et voulait tout connaître. Michael Jackson aimait sa race et aimait l'Afrique, il était passionné d'Arts africains, les masque tribaux et les pygmées, et il était obsédé par les danses traditionnelles africaines. (…)
Pour la nourriture ... dans mon pays, et surtout mon ethnie, nous mangeons beaucoup de viandes comme du crocodile, du gibier, du porc-épic, de sanglier, du serpent, donc si vous n'êtes pas habitué à cela , ça peut sembler bizarre. Mais il aimait les légumes et la façon dont nous cuisinons le poulet.
Il a essayé cependant d'y goûter, et il ne voulait pas que les gens qui préparaient les repas lui disent ce qu'il essayait de manger (…) Je me souviendrai toujours de son visage quand nous mangions du singe! C'était tellement drôle."(2)
En début d'après-midi, à 14h30, Michael Jackson s'envole pour la Côte d'Ivoire, deuxième pays africain à l'accueillir avec les honneurs.
A son arrivée dans la capitale économique ivoirienne, à 17h30, il est reçu à la Primature d'Abidjan, située dans la palais Présidentiel, par le Premier Ministre Ivoirien, Alassane Dramane Ouattara.
A 19h30, il est accueilli par le Maire, à l'Hôtel de ville où Michael est fait chef coutumier (dirigeant) et laisse son autographe dans le livre d'or de la Mairie.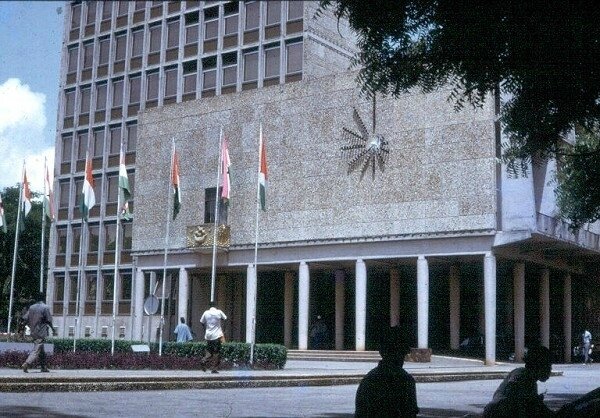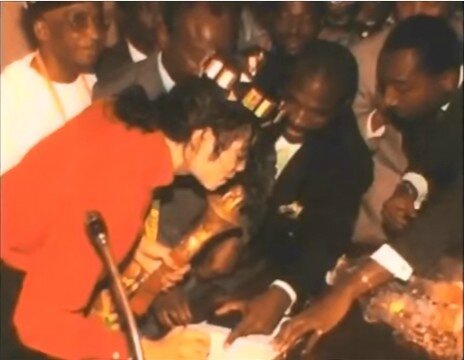 Michael loge à l'Hôtel Intercontinetal Ivoire, unique hôtel cinq étoiles d'Abidjan, une tour de 25 étages, immanquable dans le paysage de la ville. C'est dans cet hôtel que Marie Claude André Coulibaly Camara, une jeune fille de 17 ans, aura la chance de rencontrer et côtoyer son idole durant son séjour en Côte d'Ivoire. Elle a révélé son histoire peu après la disparition de la star en 2009 :
"J'ai rencontré Michael le 13 février 1992, à l'occasion de son arrivée ici en Côte d'Ivoire. Cet événement était organisé par des Gabonais, piloté par Mr Ali Bongo, fils de feu le président Oumar Bongo. J'apprenais alors à faire la pâtisserie à l'hôtel Ivoire. Il faut dire que toute petite, j'aimais Michael Jackson. J'imitais ses chansons, sa manière de danser… tout ce qui le concernait m'intéressait. C'est ainsi qu'à cette date, j'ai demandé à mon patron de nous libérer un peu plus tôt, pour que j'aille aussi accueillir mon idole. Il m'a demandé de faire mon boulot avant. J'ai plaisanté avec lui en disant qu'il fallait obligatoirement que j'y aille, parce que Michael Jackson était un ami. Il m'a dit ceci : "Michael, il te connaît d'où ?". Et je lui ai répondu au hasard comme ça, avec assurance, que Michael est un ami et qu'on doit se rencontrer ! Il nous a libérés par la suite et je suis descendue. Nous sommes allés le voir aussi, comme il était logé à l'Ivoire. Mais il y avait du monde. Nous avons insisté et avons pu avoir accès à la grande tour où il était logé. Nous étions là, et une dame est descendue et a demandé à un jeune plongeur juste à côté de moi s'il pouvait la suivre. Ce dernier a dit qu'il n'avait pas encore fini son travail. Je me suis donc proposée aussitôt à accomplir cette tâche, sans même savoir ce qui m'attendait. C'est après que je lui ai demandé de quoi il s'agissait. Car, moi, je cherchais simplement un passage pour avoir accès à Michael Jackson. La dame a accepté et m'a fait savoir que c'était madame Cissé, la chargée des affaires étrangères de l'hôtel Ivoire qui demandait à voir quelqu'un. Nous sommes allées voir Mme Cissé qui m'a conduite vers une autre personne qui 'était l'un des membres du staff de Michael Jackson. C'est là qu'on m'a fait savoir que c'était pour garder le singe de Michael Jackson (celui que le Président gabonais lui avait offert). C'est à cet instant précis que je me suis rendue compte que j'avais bien fait de me proposer volontaire. Nous avons, par la suite, pris l'ascenseur jusqu'au 22e étage où il logeait. Arrivés dans le hall du 22e, nous avons vu beaucoup de monde constitué du staff de l'artiste et de Gabonais. C'était comme dans un film. Je réalisais cela en voyant des gens avec des caméras. On m'a demandé si je n'avais pas peur de garder le singe de Michael. Le manager m'a conduite devant la porte de la star et lui a fait savoir qu'il avait quelqu'un pour garder son singe, mais que c'était une fille. Il a ouvert la porte et je l'ai vu, comme je vous vois en ce moment. Tout blanc, tout jeune, les lèvres fines. Tous les traits biens faits comme à la télé. Stupéfaite, je le regardais. Comme plongée dans un rêve, le singe a sauté et s'est agrippé à moi, comme s'il voulait me faire des accolades. Mais je ne m'occupais pas du singe, car c'était plutôt ma star qui m'intéressait. J'étais en train de voir mon rêve se réaliser. Michael Jackson m'a souri, je l'ai regardé et j'ai attrapé le singe. Il m'a fait savoir qu'il descendait pour aller saluer notre Premier ministre et donc je devais garder son singe juste pour un moment. J'étais très contente de garder le singe. Ils sont partis et sont revenus après. Il voulait reprendre, son singe, mais l'animal ne voulait plus repartir. Il s'est donc accroché à moi. C'est dès cet instant que mon histoire a commencé. C'est ainsi qu'il a demandé qu'on me trouve une chambre juste à côté de la sienne, pour que je reste avec son singe. Il a insisté pour qu'on me donne tout ce dont j'avais besoin. Ils ont, par la suite, appelé mes parents pour les informer. Ceux-ci n'y croyaient pas. Ma mère était tellement hésitante, qu'elle a fini par appeler l'Ivoire. Le réceptionniste à l'accueil lui a dit ceci : "Ah madame, c'est votre fille ? Vous avez de la chance !". C'est ainsi que je suis restée avec eux pendant tout leur séjour, jusqu'au 17 février. Je passais la journée comme si je la passais avec ma famille. Vous savez, on raconte beaucoup de choses sur les artistes, mais il est mieux de les connaître en réalité. C'est vrai que c'est une grosse star mondiale, mais il n'était pas compliqué. Je rentrais dans sa chambre et je m'asseyais sur son lit. Il avait un miroir dans lequel il se regardait pour s'entraîner. Il le faisait à tout moment et on entendait les murmures, les claquements de doigts. Il était relaxe, en débardeur, pantalon et chaussettes. Lorsqu'il allait voir son cuisinier avec lequel il était arrivé, je le suivais comme un véritable ami." (3)
Le 14 février, Michael se rend à Krindjabo, au Royaume du Sanwi, à une centaine de kilomètres à l'Est d'Abidjan. Peuple de la tribu Agni, le village exploitait des mines d'or. A la recherche de ses origines, le Roi de la Pop pensait avoir trouvé des preuves rattachant sa filiation à ce village.
Krindjabo signifie en langue agni "sous le Krindja", un gros arbre situé au centre du village. Et c'est précisément sous cet arbre sacré qu'au cours d'une cérémonie de trente minutes, Michael est intronisé Prince du Royaume.
Vêtu d'un pagne multicolore, il ôte son fédora habituel et une couronne en or est placée sur la tête de celui qui est déjà considéré comme un King, par Amon N'Djafolk, le chef tribal traditionnel de Krindjabo.
"Puis il a rejoint les doyens de la cour du roi, a signé les documents officiels et s'est assis sur un trône en or alors que des danseuses, vêtues de robes blanches, accomplissaient de flamboyantes danses rituelles. Ces femmes âgées sont les gardiennes du village, et leurs danses cérémoniales avaient pour but de donner leur bénédiction au couronnement du "Roi Sani" et de demander à Dieu sa protection pour l'arbre symbolisant l'essence du pouvoir." (4)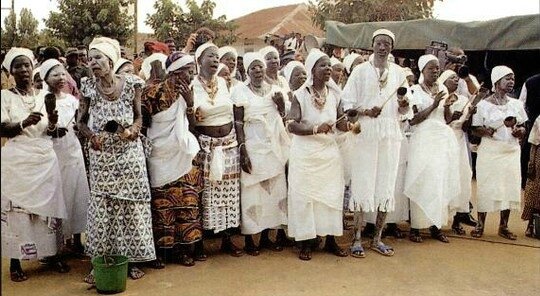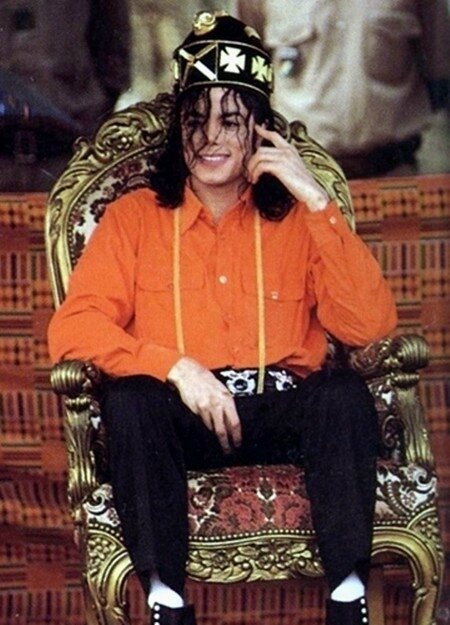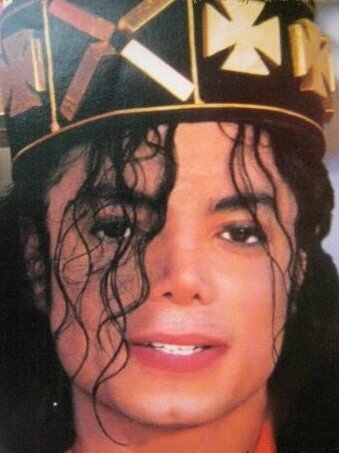 "Il a été couronné Amalaman Anoh, du nom d'un ancien prince du royaume, sous l'arbre à palabres" se souvient Tano Koutoua, un planteur octogénaire. Michael Jackson répond simplement "Merci beaucoup" (en français). Une fois la cérémonie terminée, il restera un court moment dans le village pour adresser ses respects au chef. A la réponse du reporter d'Ebony sur ses sentiments concernant le fait d'être désormais un vrai roi, Michael explique en toute humilité "j'essaie de ne pas trop y penser, je ne veux pas prendre la grosse tête. Mais c'est un grand honneur." (5)
Le 15 février, en début d'après-midi, Michael se rend à Yamoussoukro, la capitale administrative et politique du pays, à 240 kilomètres d'Abidjan. Il est accueilli à l'aéroport par le ministre Adama Coulibaly et le préfet de la ville.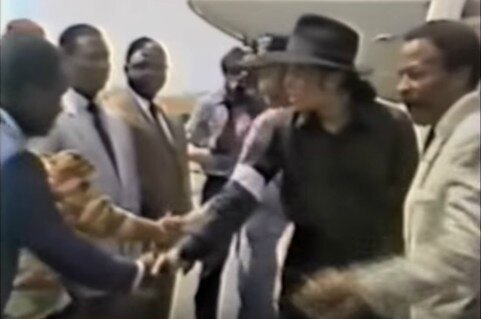 Peu après son arrivée, il visite la basilique Notre Dame de la Paix, un des édifices religieux catholiques les plus grands au monde. L'un des plus beaux également. Elle a été consacrée par le Pape Jean-Paul II le 10 septembre 1990.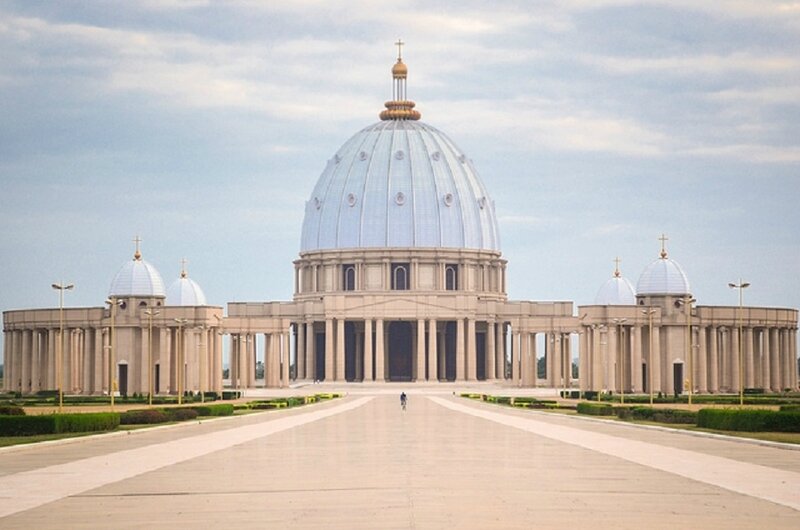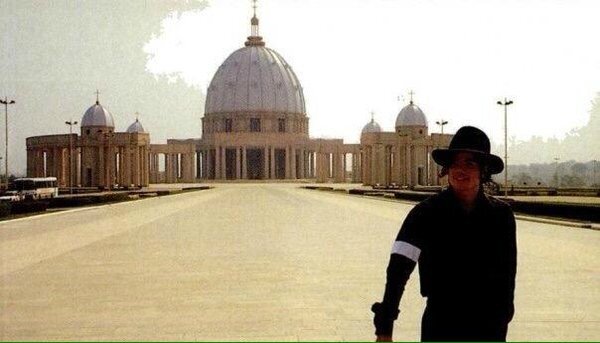 Il y lit la prière de Saint François d'Assise :
Seigneur, fais de moi un instrument de ta paix.
Là où il y a de la haine, que je mette l'amour.
Là où il y a l'offense, que je mette le pardon.
Là où il y a la discorde, que je mette l'union.
Là où il y a l'erreur, que je mette la vérité.
Là où il y a le doute, que je mette la foi.
Là où il y a le désespoir, que je mette l'espérance.
Là où il y a les ténèbres, que je mette votre lumière.
Là où il y a la tristesse, que je mette la joie.
Ô Maître, que je ne cherche pas tant à être consolé qu'à consoler,
à être compris qu'à comprendre,
à être aimé qu'à aimer,
car c'est en donnant qu'on reçoit,
c'est en s'oubliant qu'on trouve,
c'est en pardonnant qu'on est pardonné,
c'est en mourant qu'on ressuscite à l'éternelle vie.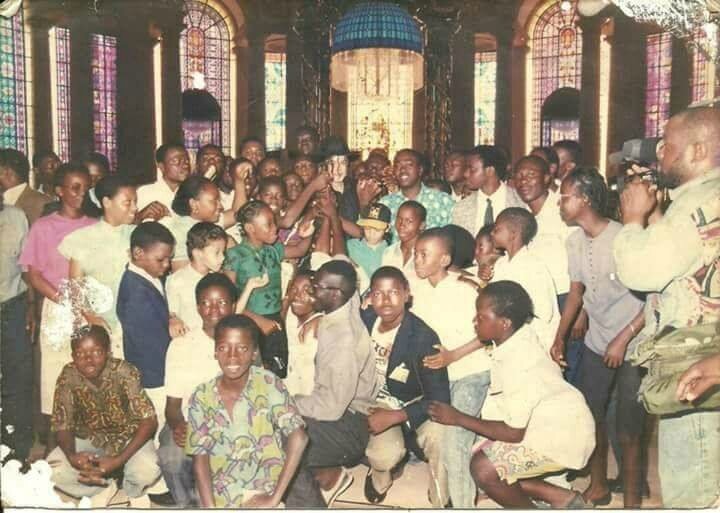 Michael (au centre sur la photo) dans la basilique. Merci à Gilles Florent Oulaye sur facebook pour cette photo.
Sur le toit de la Basilique, où il est emmené par le Père Alexander, il exhibe quelques pas de danse et pose pour des photos qui ont désormais fait le tour du monde.
A 15h30, il se rend à la Fondation Félix-Houphouët-Boigny pour la recherche pour la paix…
…puis au Lac aux caïmans qui jouxte le Palais Présidentiel de Yamoussoukro. Il ne résiste pas à l'envie de nourrir les bêtes sauvages.
En fin d'après-midi, il est reçu à l'hôtel de Ville de Yamoussoukro par le maire. Il salue le public du haut d'une fenêtre du bâtiment et apprécie le folklore ivoirien.
Le 16 février, de retour à Abidjan, Michael consacre un peu de son temps aux enfants orphelins et abandonnés qu'il fait venir à son hôtel.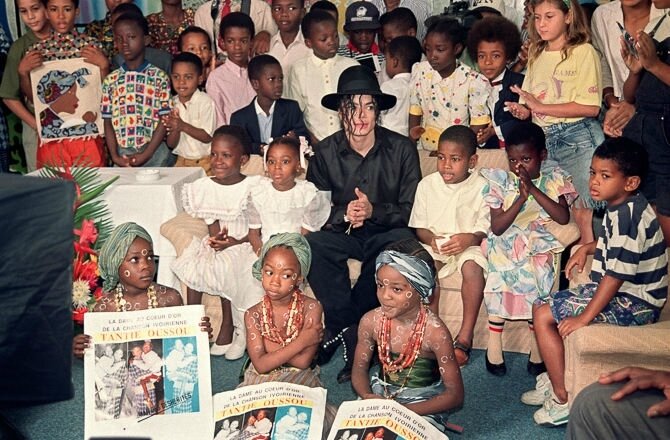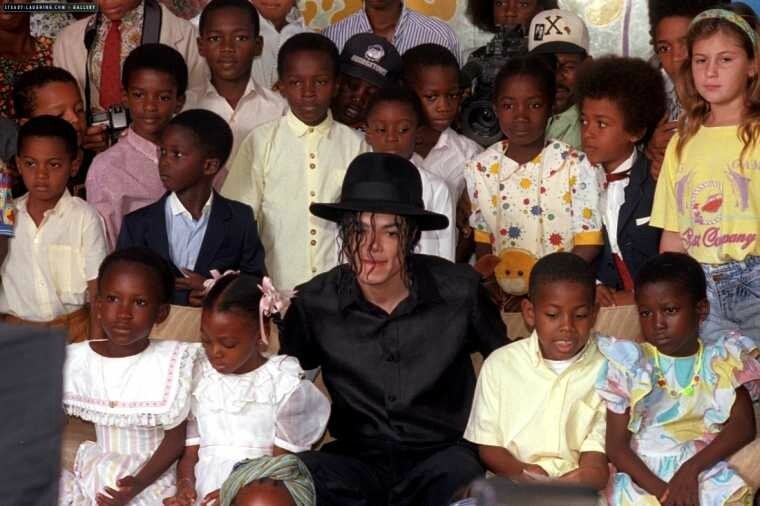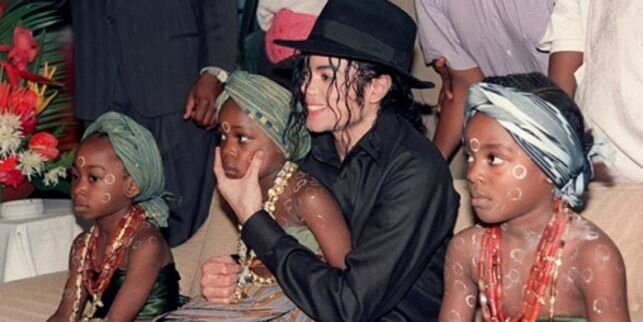 Le 17 février, Michael quitte la Côte d'Ivoire pour s'envoler vers la Tanzanie. Il atterrit à l'aéroport de Dar es Salaam, à l'époque capitale du pays, où il est accueilli par le ministre d'alors Hassan Diria.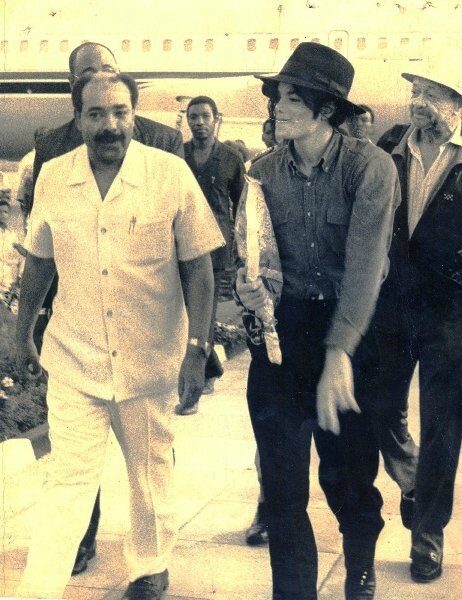 Il est amené à son hôtel, l'actuel Hyatt Regency Dar Es Salaam,The Kilimanjaro, et est reçu par le président Ali Hassan Mwinyi.
Michael et son staff sont très étonnés de constater que les policiers tanzaniens ne portent pas d'arme sur eux. Le président lui explique que le pays est considéré comme "Un havre de paix" et que les policiers n'ont pas besoin d'arme pour maintenir la tranquilité.
Au cours de ces deux jours dans le pays, Michael va à la rencontre du peuple tanzanien, aussi enthousiaste de voir le King of Pop que l'ont été les populations du Gabon et de la Côte d'Ivoire. Il est acclamé lors de ses déplacements, notamment lorsqu'il visite une école pour handicapés mentaux (enfants atteints de paralysie cérébrale).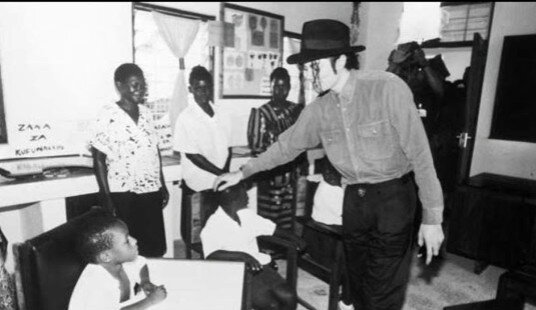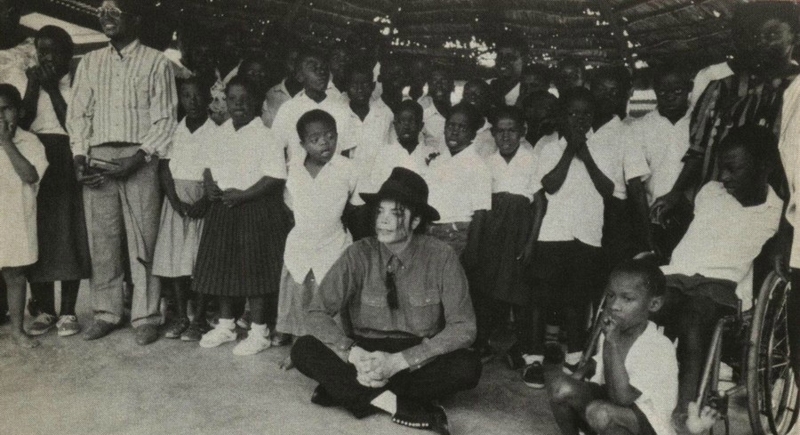 Michael Jackson devait poursuivre son périple africain par une visite au Kénya puis en Egypte. Il est cependant appelé pour des affaires urgentes à Londres et doit suspendre la suite de son séjour. Il s'envole donc pour la capitale anglaise dès le 19 février.
Il aura, au cours de ces huit jours, parcouru des milliers de kilomètres à la recherche de ses racines mais aussi et surtout visiter des hôpitaux, des écoles, des orphelinats, des églises et consacrer une partie de son temps aux enfants. Ce que les médias auront retenu de ce voyage ce sont des rumeurs et des mensonges propagés par eux-mêmes sur le comportement de Michael face aux Africains.
Non, ce voyage n'a pas été un désastre, juste un acte de plus de la générosité et de la philanthropie d'une star au grand cœur !
Sources : (1) Au paradis avec Michael Jackson, Gonzague Saint Bris/ (2) alchrista.tumblr.com/ (3) panafricain.com/ (4) Jet Magazine, 16 mars 1992 / (5) Ebony Magazine , mai 1992
Retrouvez également les articles de Johana Alam, consacrés à Michael et l'Afrique, dans les numéros 4 et 5 des magazines Invincible