Il était le King of Pop, elle était la Princesse de Galles. Il n'y a eu qu'une seule rencontre, mais une amitié profonde est née.
Lady Diana, née Diana Frances Spencer, est une aristocrate britannique, qui devient le 29 juillet 1981, à tout juste 20 ans, Son Altesse Royale la Princesse de Galles grâce à son union avec le Prince Charles, fils aîné de la reine Elizabeth II d'Angleterre et héritier du trône Britannique. Mariage arrangé et malheureux, le couple aura deux enfants, William, en 1982 et Harry en 1984, avant de divorcer en août 1996. La disparition tragique de la jeune femme, le 31 août 1997, dans un accident de voiture à Paris, provoque une profonde émotion dans le monde entier. Figure emblématique de la famille royale anglaise, personnalité appréciée pour son empathie et sa compassion envers les malades et les plus démunis, ce qui lui a valu son surnom Queen of Hearts, Lady Diana a trop souvent été la proie des paparazzi, qui l'ont menée à sa disparition. Vingt ans après sa mort, devenue une icône, son souvenir reste intact.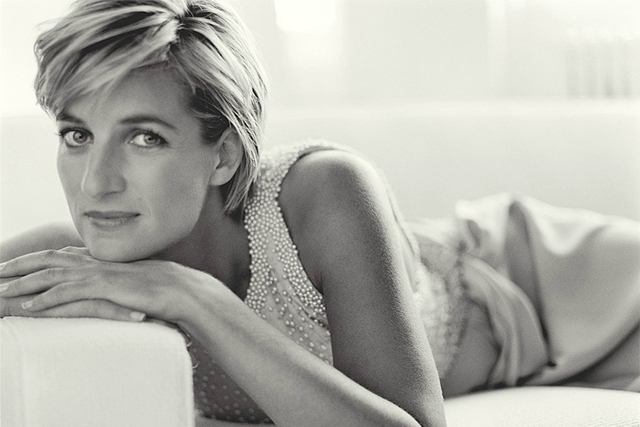 Le Roi de la Pop et la princesse du Peuple ne se sont rencontrés officiellement qu'une seule fois, sous l'œil des caméras, le 16 juillet 1988.
Ce jour-là Michael Jackson donne une série de concerts dans le cadre de son Bad Tour à Wembley. Avant le show, Michael et son équipe sont présentés au Prince Charles et à la Princesse Diana. Comme le veut le protocole, tous sont en ligne, Michael le dernier, et attendent que le couple royal vienne leur serrer la main. Michael déclare aux journalistes présents qu'il trouve "très excitant" de rencontrer le prince et la princesse.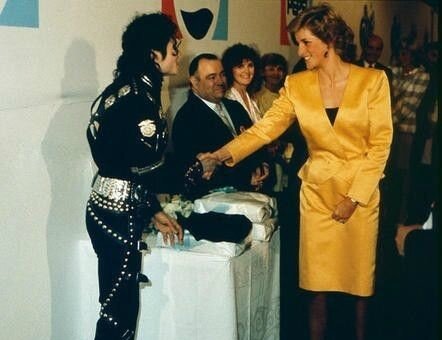 Michael échange quelques mots avec le prince Charles et lorsque Diana arrive devant le chanteur, une conversation s'engage entre eux deux. Michael évoque cette rencontre dans les Private Home Movies, diffusés en 2003, et révèle que cela a été le début d'une relation amicale.
"Elle est venue à l'un de mes concerts au Stade de Wembley à Londres. Et comme le veut le protocole, on s'est tous mis en rang pour rencontrer la famille royale. A un moment, elle m'a pris à part, et je voyais le prince Charles qui me regardait et je me suis dit 'Oh Boy'.
Elle m'a dit : 'J'aimerais vous parler' et j'ai dit 'Oui, que se passe t-il ?'
Alors elle m'a demandé : 'Est-ce que vous allez chanter Dirty Diana ce soir ?'
Je lui ai dit : 'Non, non. Je l'ai retirée du spectacle par respect pour vous.'
Elle a dit : 'Mais c'est ma chanson préférée.'
Je l'ai lui répondu : 'Vous êtes sérieuse ? Je l'ai retiré par respect, parce que vous êtes dans le public.'
A ce moment-là, je ne pouvais pas la remettre car on n'était trop près du début du concert. Je me rappelle que le prince Charles, a interrompu ses salutations, est venu nous voir et il a demandé : 'De quoi parlez-vous ?' Elle a répondu : 'De rien.'
Voilà donc l'histoire, il y en a eu d'autres mais je ne veux pas en dire plus."
(En 2012, à l'occasion des 25 ans de l'album Bad, un coffret contenant, entre autre, le DVD du concert de Wembley de ce 16 juillet 1988, montre que Dirty Diana a finalement été chantée par Michael ce jour-là).
Toujours généreux, Michael Jackson, en collaboration avec Pepsi, remet un chèque de 450 000 livres pour le Prince's Trust, une organisation caritative fondée par le Prince Charles en 1976 et qui apporte du soutien dans l'éducation des jeunes de 11 à 30 ans et les aide à trouver du travail. Une partie de ce don ira aussi au Grand Ormond Street Hospital, que Michael visite quatre jours plus tard et dont Diana sera la présidente dès 1989.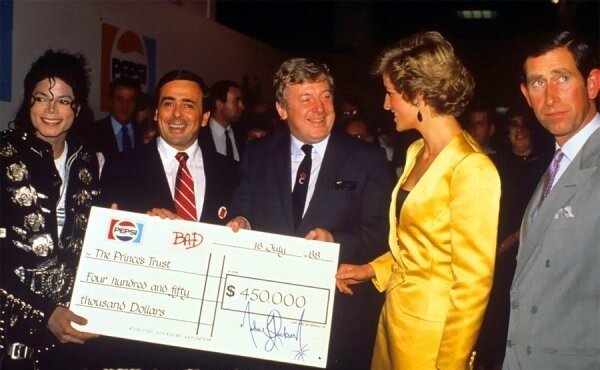 Il offre également au couple les disques d'or de ses trois premiers albums en solo (Off The Wall, Thriller et Bad), ainsi qu'une veste du Bad Tour pour chacun de leur deux enfants, alors âgés de 3 et 6 ans, qui "sont au lit", explique Diana à Michael. "Ils vont adorer", rajoute-t-elle.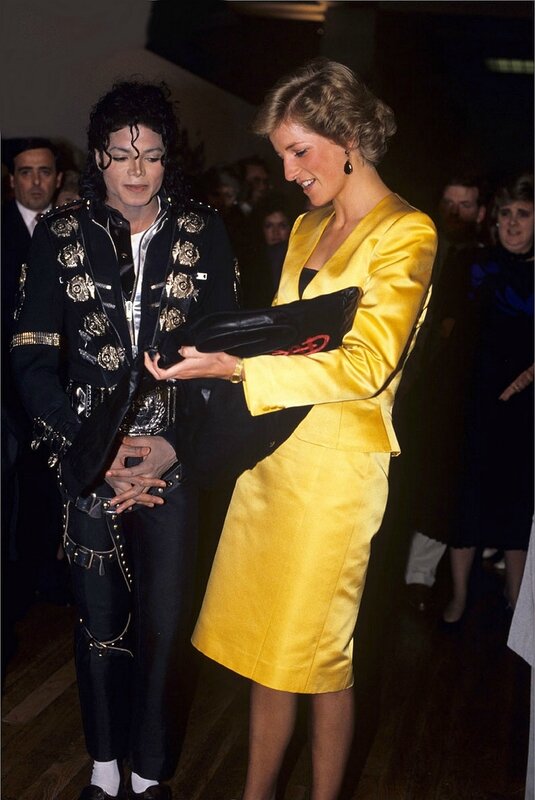 "Je suis très heureux qu'ils soient venus me voir chanter. La princesse est merveilleuse", a ensuite déclaré Michael aux médias.
De son côté, Diana confiera plus tard à des proches que sa rencontre avec le chanteur avait été une des plus impressionnantes qu'elle ait eue et qu'elle avait toujours été une grande admiratrice de la star.
Katherine Jackson écrit dans son livre en 1990 (1) qu' "un de ses moments préférés en dehors de la scène avait été sa rencontre avec le Prince Charles et le princesse Diana, qui étaient venus le voir au concert du 16 juillet à Wembley. Michael offrit au couple royal un chèque de 450 000 dollars pour l'œuvre de charité du prince, ce qui représentait ses gains pour le concert. Cette donation fût reversée pour l'hôpital des enfants de Ormond Street, les enfants étant les principaux bénéficiaires des œuvres de charité de Michael."
Le prince et la princesse se retrouvent donc, peu après cette rencontre, parmi les 72 000 personnes venues assister au concert. Ce sera l'unique rencontre (connue) entre Michael et Diana.
Quatre ans plus tard, quand Michael est à nouveau devant le prince Charles pour lui remettre une donation pour son Prince's Trust, lors du passage du Dangerous Tour à Wembley, la princesse est absente.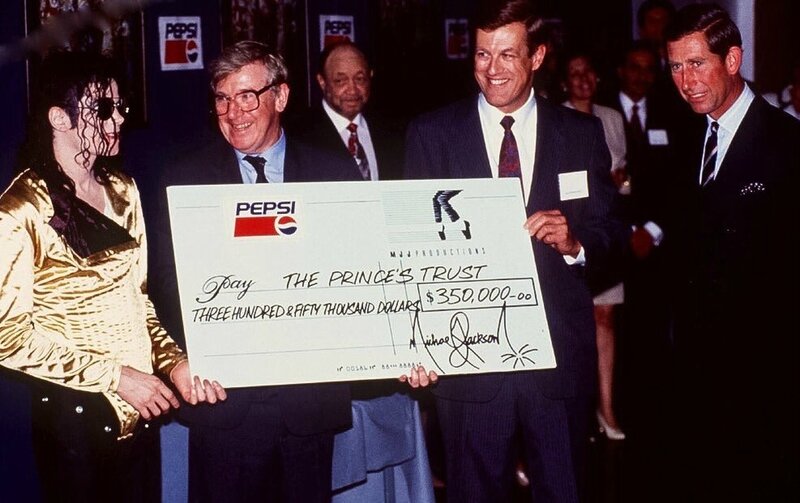 Pourtant leur relation ne s'arrêtera pas là. Dans les Private Home Movies, Michael évoque la princesse avec beaucoup d'affection, laissant entendre qu'une amitié s'était nouée entre eux : "Lady Diana, et sans aucune exagération, était l'une des personnes les plus adorables que j'aie jamais connues parce qu'on se comprenait, on avait vécu les mêmes problèmes avec la presse. Je pense qu'elle et moi sommes les deux personnes qu'ils ont le plus traquées. On était de très bons amis. On s'appelait très tard la nuit, enfin pour moi, et on parlait, on se consolait. On parlait de ces difficultés, de la méchanceté des tabloïds, des mensonges qu'ils racontent et de leur façon de déformer la réalité. (…) C'était quelqu'un de merveilleux, chaleureux, elle était pleine de compassion. Elle se préoccupait réellement des gens. C'était sincère, ce n'était pas pour faire de la publicité. Je ressens la même chose qu'elle sur les enfants, elle adorait les enfants, sur l'avenir des enfants et du monde."
Dès 1999, il parle cette amitié dans les médias : "En 1994, nous étions très proches, particulièrement au téléphone. J'étais alors marié à Lisa Marie. Diana avait l'habitude de me réveiller au milieu de la nuit en m'appelant. Il était à peu près trois heures du matin à Los Angeles quand le téléphone sonnait. Elle parlait principalement des enfants et de la presse. Lisa Marie était tellement jalouse qu'elle allait dans une autre pièce, décrochait un autre téléphone et nous écoutait. Je lui disais : 'Diana, ces appels au milieu de la nuit … tu vas ruiner mon mariage !'" (2)
Entre août 2000 et avril 2001, Michael se confie au rabbin Shmuley Boteach (SB), avec qui il avait sympathisé. Leurs conversations portent sur différents sujets concernant la vie privée de Michael, sa carrière, ses relations personnelles, la religion et son enfance et seront publiées sous forme de livre en 2009 (3). Michael y parle de Lady Diana comme de la femme idéale.
"MJ : Une femme que j'aimais beaucoup et respectais était la Princesse Diana.
SB : Pourquoi ?
MJ : Parce qu'elle avait beaucoup de classe et se préoccupait sincèrement des autres, des enfants et de ce qui se passait dans le monde. Elle ne le faisait pas pour le spectacle. (….)
SB : Peut-on dire qu'il y avait une attirance romantique innocente? C'est ce que tu veux dire? Ou simplement que tu trouves que c'était une femme très spéciale?
MJ : C'était quelqu'un de très spécial
SB : Le genre de femme très féminine?
MJ: Très féminine et chic. C'est le genre de femme que j'aime, et je n'aime pas toutes les filles. Il y en a très peu que j'aime et qui entrent dans le moule. Il me faut un moule très spécial pour me rendre heureux et elle en faisait partie.
SB: Car elle aimait les enfants?
MJ: Cela prend du temps de trouver son image dans le miroir, quelqu'un qui nous ressemble. Les gens disent toujours que les contraires s'attirent et je pense que c'est vrai aussi. Mais je veux quelqu'un qui me ressemble beaucoup, qui a les mêmes intérêts, et qui accepte d'aider et d'aller dans les hôpitaux avec moi. (...)
SB: As-tu déjà envisagé de demander à la princesse Diana de sortir avec toi?
MJ: Absolument
SB: Alors, pourquoi n'as-tu jamais osé le faire?
MJ: Je n'ai jamais demandé à une fille de sortir avec moi. Ce sont elles qui le font.
SB: vraiment?
MJ: Je n'y arrive pas.
SB: Et si Diana te l'avait proposé?
MJ : J'aurais accepté.
(….)
MJ : Je pense qu'elle se souciait véritablement des sentiments des gens et qu'elle essayait vraiment de rendre le monde meilleur. Je pense sincèrement que son cœur était destiné aux autres. On peut le voir sur certaines photos où elle touche le visage de ces enfants, assis sur ses genoux ou qu'elle tient dans ses bras. Ce n'est pas feint.
(…)
Pourquoi n'y a-t-il pas plus de gens comme Lady Diana ?"
Le 31 août 1997, Michael est en tournée avec son HIStory Tour en Belgique lorsqu'il apprend la mort brutale de la princesse Diana dans un accident de voiture alors qu'elle était pourchassée par des paparazzi. Trop ému, il annule son concert prévu à Ostende le soir même.
"J'avais un concert le jour où la nouvelle est tombée", explique Michael au Daily Mirror en avril 1999. "Mon médecin m'a réveillé et m'a appris que Diana était décédée. Je me suis littéralement évanoui. On a du me faire sentir des sels pour me réanimer et j'ai annulé mon concert car je ne pouvais tout simplement pas me produire. J'étais anéanti. J'ai pleuré pendant des semaines." (4)
Le 1er septembre, Michael fait lire un communiqué qu'il a rédigé : "La disparition soudaine de Diana, Princesse de Galles, est une des plus grande tragédie du millénaire. Elle était une amie du monde. Ayant été moi-même sous le feu des projecteurs une bonne partie de ma vie, je parle très sérieusement quand je dis que je suis horrifié que les paparazzi, supportés par l'attitude animale des tabloïds, puissent être approuvés par le public. C'est totalement injustifié dans une société civilisée. L'acceptation de ces pratiques par le monde, si elles continuent, accélèreront des tragédies de cette ampleur."
Le show d'Ostende sera reporté le 3 septembre. Le chanteur rendra alors hommage à son amie et introduira jusqu'à la fin de sa tournée européenne les chansons Smile et Gone Too Soon, dédiées à la princesse. Ce soir-là, quelques minutes avant le début du concert puis au cours de la chanson Heal The World, une photo de Lady Diana est diffusée sur un écran géant.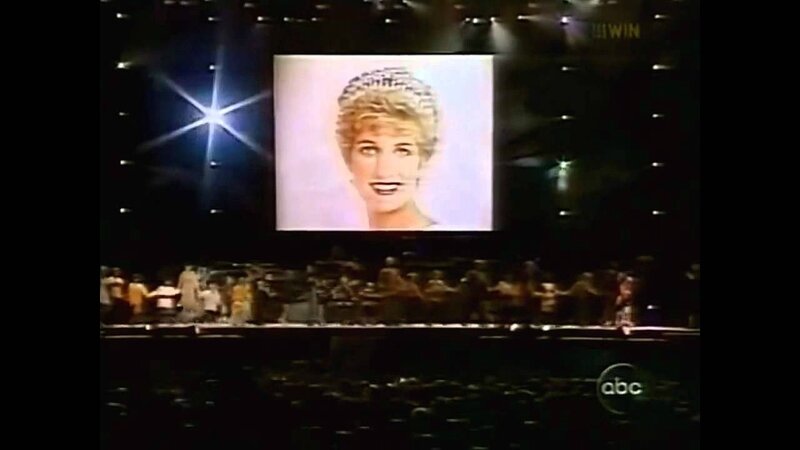 Quelques jours plus tard, au cours de son interview avec Barbara Walters (BW), le 7 septembre 1997, à Paris, Michael revient sur les évènements qui ont mené à la disparition de Lady Diana :
"BW : La presse doit parfois traiter les choses en profondeur. Elle ne peut pas toujours être gentille…
MJ (rit avec amertume et ironie) : Vous avez vu ce qui est arrivé à Lady Diana, à vous de me dire quel rôle doit tenir la presse … Il devrait y avoir des limites à ne pas dépasser, d'une manière ou d'une autre. Les célébrités ont besoin d'un peu d'espace. Laissez-leur une chance de se détendre. Elles ont un cœur, elles sont humaines
BW : Vous avez annulé le concert que vous étiez sur le point de donner lorsque vous avez appris la mort de Diana
MJ : Oui
BW : Puis, lorsque vous avez finalement donné ce concert, vous le lui avez dédié. Qu'avez-vous dit ?
MJ : Dans mon cœur, je me disais 'Je t'aime Diana. Continue de briller, brille pour toujours car tu es la véritable Princesse du Peuple.' Je n'ai pas prononcé ces paroles, mais j'ai transmis ce message en montrant pendant trois minutes une grande photo de Diana sur les écrans géants de la scène. Et son portrait était là, brillant de mille feux. Et la foule exultait. J'ai également diffusé les chansons Smile et Gone Too Soon."
Le 13 septembre 1997, de retour à Los Angeles, Michael assiste à un office funèbre en hommage à Lady Diana à l'église St. James Episcopal de Los Angeles. Il ne prononce que quelques mots au micro des journalistes expliquant qu'il était présent "en honneur à mon amie qui n'est plus là. Je l'aime."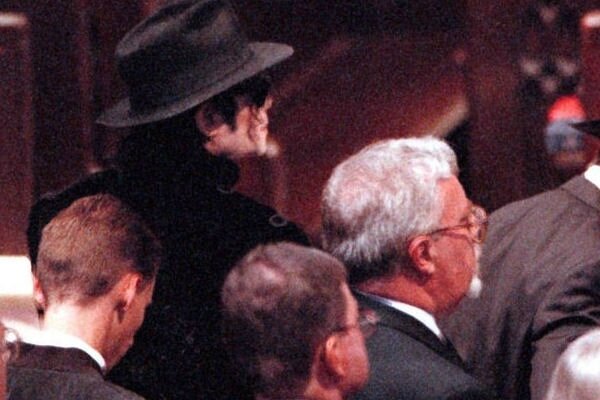 En 2001, Michael sort son album Invincible sur lequel se trouve la chanson Privacy. Si par le passé, Michael dénonçait les tabloïds et les rumeurs qu'ils diffusaient dans certains de ses morceaux, avec ce titre, il demande aux paparazzi de le laisser tranquille ("I need my privacy, so paparazzi get away from me" - "J'ai besoin d'intimité, les paparazzi, restez loin de moi"). Michael fait allusion à Lady Diana au cours de la chanson, faisant passer le message que sa mort devrait servir de leçon aux journalistes.
" Some of you still wonder why, one of my friends had to die
To get a message across, that yet you haven't heard
My friend was chased and confused, like many others I knew
(..)
Now she get no second chance, she just ridiculed and harassed
Please tell me why
Now there's a lesson to learn, respect's not given, it's earned »
( "Beaucoup d'entre vous continuent de se demander pourquoi, une de mes amies a du mourir
Pour transmettre un message, que vous n'avez toujours pas compris.
Mon amie était pourchassée et désorientée, comme beaucoup d'autres personnes que j'ai connues
(…)
Elle n'a pas eu de seconde chance, elle a été ridiculisée et harcelée
S'il vous plaît dîtes-moi pourquoi
Il y a une leçon à en tirer, le respect ne se donne pas, il se mérite.")
En 2003, lors de sa longue interview au Daily Mirror, Michael en dit un peu plus sur les relations qu'il entretenait avec la princesse : "Elle se confiait à moi. Elle m'appelait et nous parlions de ce qui lui arrivait dans la vie. La presse était dure avec elle, autant qu'avec moi, et elle avait besoin de parler à quelqu'un qui comprenait ce qu'elle ressentait. Elle se sentait traquée, tout comme moi. Piégée même. C'est difficile de parler de cela à un voisin parce qu'il ne peut pas comprendre. Aucune personne normale ne peut vraiment comprendre. J'ai eu l'attention braquée sur moi depuis que je suis enfant alors que Diana a découvert ce que c'était à l'âge de 19 ans. J'ai vécu ça toute ma vie et j'avais donc l'expérience pour lui dire de s'accrocher. Je lui disais 'Passe au dessus de tout ça'. Je lui racontais que je montais parfois sur scène avec de terribles douleurs, émotionnelles ou physiques, comme un mal de dents, mais je faisais sortir tout ça de mon esprit et je chantais. Je lui disais 'Sois forte et déterminée et personne ne pourra t'atteindre. Il n'y a que toi qui puisses te blesser, alors à toi de jouer'. Je crois qu'elle appréciait et qu'elle retirait quelque chose de mes paroles. Je pense que j'arrivais à la réconforter. J'adorais Diana. Nous avons parlé tant de fois ensemble, beaucoup plus que les gens l'imaginent. Quand j'ai appris que c'était parce que les paparazzi la pourchassaient, je me suis dit que j'avais de la chance que cela [l un accident] ne me soit jamais arrivé parce qu'ils me suivaient de la même manière et on se demande toujours ce qui peut arriver. La mort de Diana a été la plus triste que j'ai eu à vivre. Cela me rappelle quand Kennedy est mort. Cela m'a brisé le cœur. J'ai pleuré. (…) Diana voulait à tout prix que je rencontre ses enfants et nous avons discuté de cela plusieurs fois, mais je n'ai jamais eu cette chance. (…) Ce serait sympa si je pouvais les voir un jour." (4)
Les paparazzi et les tabloïds ont permis à Michael Jackson et Lady Diana de se rapprocher mais ils avaient bien plus en commun : leur amour pour les autres et leur dévouement aux enfants malades ou démunis. Dès la fin des années 80, la princesse a apporté son soutien et son aide aux victimes du SIDA ou à la lutte contre l'emploi des mines antipersonnel. Elle a souvent été vue aux côtés des enfants pauvres d'Afrique et son nom a été associé à des personnalités comme Nelson Mandela ou Mère Teresa. Les dons de Michael Jackson à de nombreuses associations caritatives et souvent en faveur des enfants sont nombreux et de plus en plus reconnus. Chaque étape de ses tournées était l'occasion pour lui de se rendre au chevet d'enfants hospitalisés, ou dans des orphelinats, les bras chargés de cadeaux. Sa fondation Heal The World, créée en 1992, a permis à des enfants de bénéficier de soins et de lutter contre la pauvreté.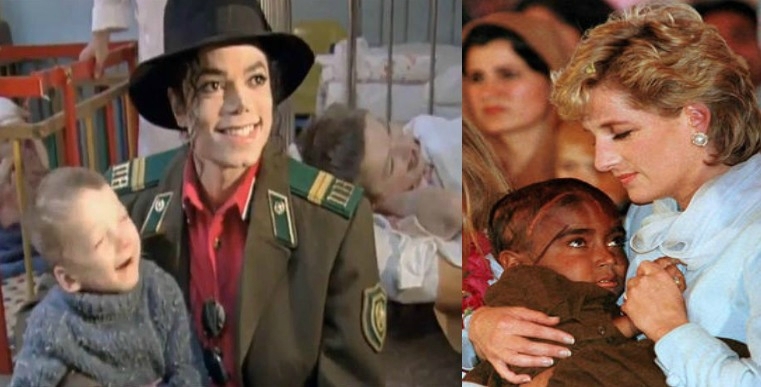 Le Roi de la Pop et la Princesse ont mis leur renommée au service d'un engagement humanitaire sincère. Humbles, simples, dévouées et généreuses, ces deux belles âmes se sont sans doute retrouvées là-haut. Elles savaient apporter un peu de lumière et manquent tellement aujourd'hui à un monde qui souffre toujours autant.
Sources : (1) Jackson & Jackson, Histoire d'un rêve, Katherine Jackson/ (2)The Express, 24 septembre 1999/ (3) The Michael Jackson Tapes, Rabbi Shmuley Boteach/ (4) allmichaeljackson.com