Le 18 novembre 2017 aura lieu à Lille (France) le MJ Music Day au cours duquel les fans de Michael Jackson auront l'occasion de rencontrer deux grands noms qui ont travaillé avec le King of Pop : Brad Buxer et Michael Prince.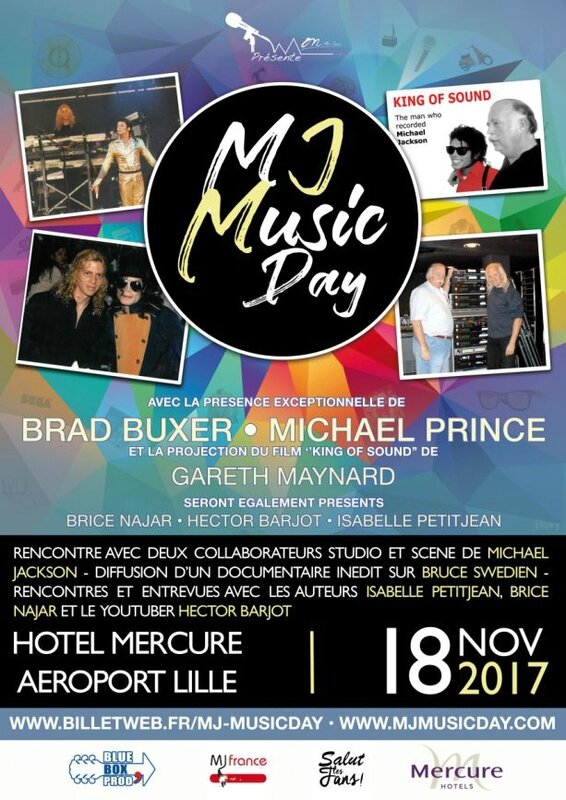 Michael Durham Prince a été un des ingénieurs du son de Michael Jackson au cours des années 2000. De Invincible à This Is It, il a travaillé avec la star pendant une période plus difficile de sa vie mais au cours de laquelle elle n'a jamais cessé de créer. Michael Prince déclarait même à la presse française en 2015 qu'il avait en sa possession une vingtaine d'inédits de Michael Jackson.
Brad Buxer est l'un des collaborateurs le plus présent aux côtés de Michael Jackson entre 1989 et 2008. Musicien, arrangeur sur les albums du chanteur de Dangerous à Invincible, et directeur musical de ses deux dernières tournées, Brad Buxer connaissait très bien l'artiste mais également l'homme. "Michael est le meilleur ami que j'ai jamais eu. (…) Dans ma vie d'adulte, je n'ai jamais connu d'amitié plus proche qu'avec Michael. (…) J'ai passé vingt ans de ma vie avec cette personne", déclare Brad Buxer à Brice Najar dans son livre Let's Make HIStory, publié en 2016 (que je conseille vivement).
La visite des deux hommes en France est exceptionnelle. Organisée par l'association On The Line, à l'hôtel Mercure de l'aéroport de Lille, cette journée s'annonce riche en émotions. On The Line nous promet des anecdotes uniques sur les chansons de Michael, ses tournées, sa personnalité et sa vie.
En avant-première, sera également diffusé le film King of Sound, de Gareth Maynard, dédié à Bruce Swedien, que l'on ne présente plus, qui permettra de découvrir les secrets du son Jackson.
Le programme de la journée s'articulera de la manière suivante, en fonction des options choisies :
Ouverture des portes et accès aux stands : 13h
- À partir de 14h :
Rencontre et interview des auteurs présents : Brice Najar, Hector Barjot et Isabelle Petitjean.
Rencontre et interview de Gareth Maynard et diffusion, en avant-première, de son film King of sound (traduction live puis sous-titres français)
Rencontre et interview de Brad Buxer et de Michael Prince : anecdotes de studio et personnelles, écoutes inédites
- À partir de 19h30 environ
Meet & Greet avec Brad Buxer & Michael Prince
Apéritif privé avec Brad Buxer & Michael Prince
Repas dansant en présence de Brad Buxer et Michael Prince
Sur place : stands d'exposants jacksoniens, boissons et collations durant l'après-midi, souvenirs de la journée.
Toutes les formules de tickets (de 61 € à 181 €) sont sur le site de l'évènement mjmusicday.com (une promotion est actuellement en cours si vous prévoyez de venir en groupe, minimum quatre personnes), avec une option d'hébergement.
A défaut d'acheter un futur album, certes officiel, mais sans grand intérêt (#scream) , offrez-vous une journée entière au cœur du processus créatif de Michael Jackson en compagnie de ses plus proches collaborateurs...
Le teaser de l'évènement avec Brad Buxer.
La page facebook de l'évènement: facebook.com/events
Il n'y a que les fans qui savent ce que les fans attendent vraiment ! See you there 😊