Michael Jackson a participé, au cours de sa carrière, à quelques publicités, plus ou moins connues. Si celles pour la marque pepsi (au cours des années 80 et 90) sont les premières qui viennent à l'esprit, il en a également tournées quelques unes au cours des années 70 avec les Jackson 5, puis seul, à l'époque des Jacksons. Parmi elles, se trouve une publicité peu connue pour une station de radio locale de Los Angeles, 1580 KDAY AM, en 1978.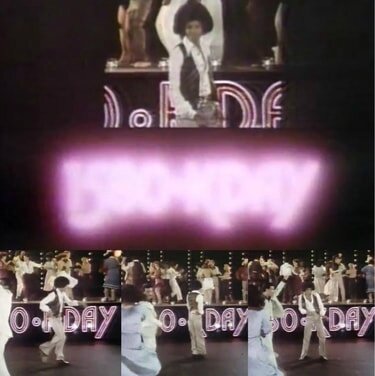 Créée en 1973, 1580 KDAY AM (aujourd'hui 93.5 KDAY) est à l'époque une station de radio diffusant des titres R&B, dance, pop et Hip-Hop.
Destinée à promouvoir la station de radio, la publicité est tournée pour la télévision. Michael n'apparait que quelques secondes, à la fin du spot commercial, parmi les couples qui dansent au son de la musique diffusée par la radio, esquissant quelques uns de ses pas de danses qui font qu'on le reconnait immédiatement.
Michael Glover a fait partie des danseurs qui ont eu la chance de partager ces quelques secondes, immortalisées sur le petit écran, avec Michael Jackson. Glover et sa famille était des grands fans des Jackson 5. Avec ses frères, il avait formé un petit groupe, the Glover Brothers et ils réalisaient quelques concerts. Michael Glover participait également à des castings à Hollywood, en tant que danseur. Au cours d'une de leur tournée, en 1978, Glover reçoit un coup de téléphone de Central Casting qui lui propose de participer à une audition de danse. Il s'y rend et est sélectionné pour tourner la publicité pour 1580 KDAY AM. Il raconte le tournage et sa rencontre imprévue avec Michael Jackson sur le site michaeljacksonreel.weebly.com:
"La publicité a été tournée à Culver City, la station de radio de KDay avait loué un studio et la scène était prête pour le tournage. Tous les danseurs y sont entrés, quelques personnes étaient déjà là. C'était une grande salle avec deux plateaux, regardez la publicité, vous verrez ce que je veux dire. Le premier plateau était une scène destinée à faire croire que nous étions en train de danser dans le salon d'une maison, l'autre était conçu comme une piste de danse de discothèque. L'équipe de tournage nous a dit: 'Vous avez déjà vos partenaires. Vous êtes en couple avec celui avec qui vous avez fini la sélection hier'. J'ai oublié combien il y avait de couples, mais ils nous ont dit: 'Nous allons jouer de la musique pour que vous puissiez danser', et la musique que l'on entend dans la vidéo est celle sur laquelle nous avons dansé. Ils nous ont dit: 'Rejoignez votre partenaire, faites semblant d'être à une fête, vous avez juste à danser.' Ils ont fait plusieurs prises vidéo de cette partie de la publicité. Nous avons terminé une séquence de danse, et ils nous ont dit: 'D'accord, on la refait' et nous avons fait plusieurs prises.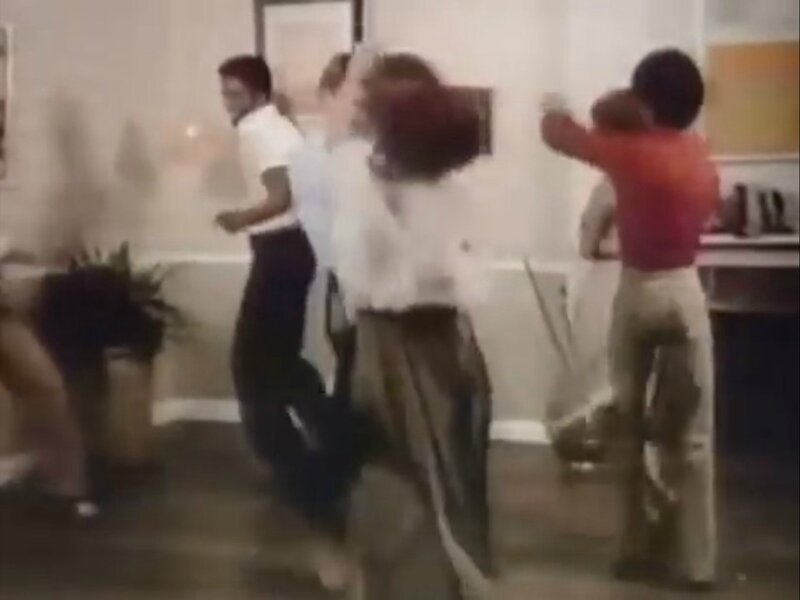 Michael Glover (Tshirt blanc) dans la scène du salon
Après avoir tournée la première partie de la publicité, l'équipe nous a dit 'les gars, nous allons continuer après une pause déjeuner. Mettez votre deuxième tenue après le déjeuner (on nous avait demandé d'apporter deux tenues et Angel Flights Clothing était l'endroit où je louais toutes mes tenues disco). Lorsque vous serez prêts, nous tournerons la scène suivante sur le plateau disco. J'ai pris mon déjeuner rapidement et pendant la pause, j'ai commencé à entendre des petites rumeurs. Les gens disaient que Michael Jackson allait venir sur le plateau. Je me disais 'Mais oui, bien sûr'. Mais, les gens continuaient d'en parler et c'est devenu un vrai sujet de conversation. Nous ne savions pas si c'était vrai ou pas, mais on en parlait.
Nous étions tous en train de parler et de rire au sujet de la possible venue de Michael Jackson. Nous étions très excités, mais personnellement je ne me faisais pas trop d'illusions parce que j'étais un si grand fan. Soudain, une Bentley blanche s'est arrêtée près du studio. Il y avait un chauffeur, et sur le siège arrière se tenaient Joe et Michael Jackson. Nous avons tout simplement regardé cette voiture s'arrêter. Vous vous imaginez, je suis un grand fan et je l'ai toujours été depuis que les Jackson 5 ont chanté au Ed Sullivan Show en 1969. Mes frères et moi, on se prenait pour les Jackson 5! (Rires) ...
Nous regardions donc cette voiture arriver tout doucement et c'était presque surréaliste. On se disait 'est-ce que c'est vraiment Michael Jackson?' Ils n'avaient rien dit à personne, même pas aux danseurs, que Michael Jackson serait dans la publicité sinon il y aurait eu une véritable pagaille. L'apparition de Michael dans la publicité était top secret parce qu'ils savaient que nous en aurions parlé à des amis et que le studio aurait été inondé de fans essayant de l'apercevoir. Nous ne savions absolument pas que cette publicité avait quelque chose à voir avec Michael Jackson.
A l'intérieur du studio d'enregistrement où se situaient les deux plateaux, il y avait une caravane. Michael et son père sont sortis de la voiture et sont immédiatement entrés dans la caravane. Le réalisateur et les producteurs les ont suivis pour leur parler.
Pendant qu'ils étaient dans le trailer, tous les danseurs attendaient, et on nous a demandés de changer nos tenues, d'être prêts pour la scène de la discothèque. Nous attendions pour la reprise du tournage quand les producteurs sont sortis avec Michael et discutaient avec lui pour lui indiquer ce qu'ils voulaient qu'il fasse. Michael leur disait aussi ce que lui voulait faire, et la décision qui se profilait allait concerner ma participation à la publicité.
Les producteurs voulaient me sortir de la publicité pour que Michael danse avec ma partenaire. J'ai fait 'OK' mais j'étais nerveux au sujet de la décision finale parce que je voulais être dans cette publicité avec Michael, mon héros. C'est alors que la chose la plus cool s'est produite. Michael a dit 'Non, laissez-le'. Et je suis resté! Michael a dit 'Je ferai quelque chose par moi-même'. Et il a simplement improvisé des pas de danse.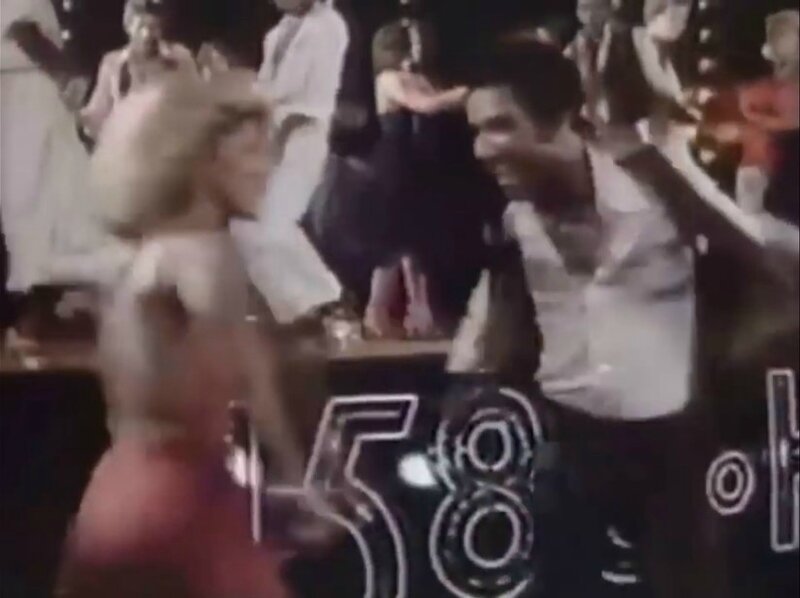 Michael Glover et sa partenaire de danse dans la scène de la discothèque
Lorsque nous avons fait la scène de la discothèque, la caméra a fait un zoom arrière quand Michael dansait sur la scène pour avoir une vue d'ensemble de tous les danseurs, mais en se focalisant sur lui, au centre. Il a fait un tour sur lui-même, a regardé la caméra, et ils ont fait un arrêt sur image sur lui, et c'est la fin de la publicité. Ils ont tourné cette partie avec Michael à plusieurs reprises. Son apparition dans la publicité est rapide, mais il du faire et refaire la scène, et il a simplement improvisé des pas à chaque fois.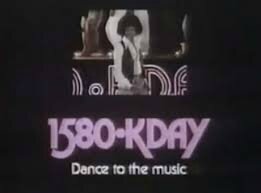 Entre les prises, on arrêtait d'enregistrer pendant un moment. On s'arrêtait et on attendait tous de refaire la prise. Durant ces moments, Michael se rendait dans un coin et dansait un peu. On pouvait l'entendre chanter tout doucement 'Doo-bop! Doo-bop! Bop bee-bop !'. Je le regardais et je me disais: 'Je serai damné à rester assis là toute la journée pendant que mon idole, Michael Jackson, est à quelques mètres de moi. Je dois aller dire quelque chose à cet homme. J'ai pris mon courage à deux mains et je suis allé vers lui. J'étais vraiment très nerveux.
Michael Glover: 'Euh, Mike? Bonjour, je m'appelle Michael aussi'.
Michael Jackson: 'Salut, comment ça va?'
Il était si gentil. Tellement humble. Il m'a regardé droit dans les yeux et m'a serré la main en souriant.
Nous avons parlé de choses et d'autres. Je le revoyais tourner sur lui-même à l'écran encore et encore et je lui ai dit: 'Mike, tu sais que je me briserais le cou si j'essayais de le faire!' (Rires) ... Il m'a dit: "Oh, alors, je tourne sur mes talons, tu vois?" Il a tourné pour me montrer, et pendant qu'il le faisait on pouvait voir qu'il était sur ses talons. J'étais là à regarder ses talons, puis je me suis mis à essayer de le faire. Je suis tombé et je lui ai dit: 'Je n'essaierai plus jamais ça!' (Rires) ... Il était tellement humble, si gentil et si doux ... un gars vraiment gentil.
Après cela, nous avons parlé un peu de musique, de la vie en général et de ce que je faisais dans la vie. Il m'a dit: 'Oh, c'est cool!'
Il était très respectueux et aimable avec nous tous, et timide en même temps. Très attentionné et décontracté
A la fin du tournage, le producteur et l'équipe nous ont laissés partir, alors que Michael était toujours là. Je suis sorti et j'étais simplement étonné de ce qui s'était passé ce jour-là. Nous avions été avec Michael depuis l'heure du déjeuner jusqu'à 18 ou 19 heures, et je me souviens que j'étais au septième ciel pendant que je rentrais chez moi au volant de ma Pinto Station Wagon.
Après l'enregistrement de la publicité, je suis parti en tournée et j'ai commencé à la voir sans arrêt à la télé. Elle était souvent diffusée pendant les émissions en prime time et surtout après les films de fin de soirée. Elle a aussi été diffusée durant The Midnight Special.
Par la suite je racontais aux gens qu'en 1978, j'avais travaillé avec Michael Jackson. Personne ne me croyait. Quelques années plus tard, 1580-KDay a ressorti la publicité, mais ce n'était qu'une version de 30 secondes. J'ai la version complète, qui dure environ une minute. Je me souviendrai de ce jour le reste de ma vie."
Source: michaeljacksonreel.weebly.com (traduction: onmjfootsteps.com)