Lundi 16 octobre 2017, le Grand Rex de Paris s'est mis aux couleurs de Scream, le nouvel album de Michael Jackson sorti fin septembre 2017. Si c'est album (enfin plutôt compilation) n'a absolument aucun intérêt pour moi et pour bon nombre de fans, j'attendais cette soirée qui célébrait le lancement de ce projet avec impatience surtout parce qu'elle nous permettait d'assister pour la première (et unique?) fois à la diffusion de Thriller en 3D.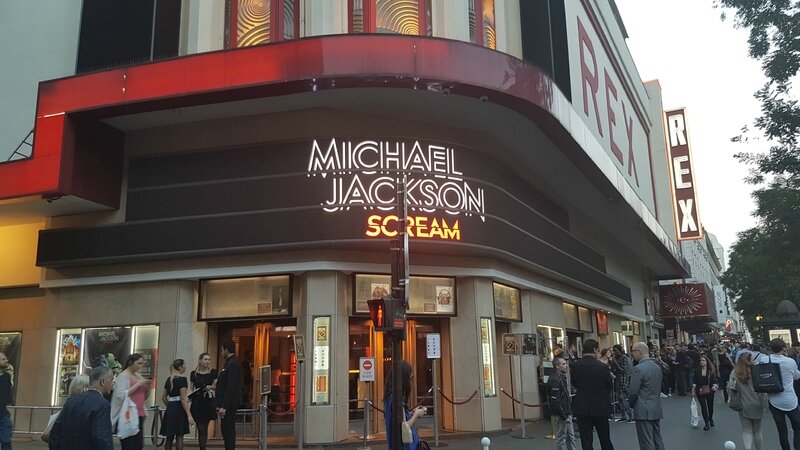 Thriller est diffusé pour la première fois sur MTV le 2 décembre 1983, un an après la sortie de l'album du même nom. Cet album est déjà un grand succès et le short film de 14 minutes, réalisé par John Landis, devenu depuis une référence en matière de clip vidéo, révolutionne alors le monde de la musique.
Trente quatre ans plus tard, John Landis toujours aux commandes, le mini film a été remasterisé et rendu compatible avec la 3D. Il a été projeté en avant première à la Mostra de Venise le 4 septembre dernier et Paris faisait partie des villes à travers le monde (avec Berlin, Londres, Toronto, Los Angeles, ..) a bénéficier d'une projection.
Uniquement sur invitation, la soirée a tenu ses promesses. Je laisse mon ami Seb témoigner, il a très bien résumé le grand moment que nous avons vécu :
"La 1ère partie de l'événement comprenait la diffusion de six short films en 2D après un discours d'Olivier Cachin ; Dirty Diana, Scream, Leave Me Alone, Torture des Jacksons, Blood On The Dance Floor et Ghosts (version longue).
Toujours sympa de revoir ces vidéos sur grand écran. Qualité d'image assez satisfaisante dans l'ensemble mais problème de sous mixage du son notamment sur Blood. Les gens l'ont bien fait remarquer en hurlant dans la salle pour faire augmenter un minimum le son...
Le moment qui a fait un peu désordre fut la diffusion de Torture des Jacksons que je voyais pour la toute première fois sur grand écran...
Pourquoi un peu désordre me direz-vous?... Je vous invite à la visionner pour ceux qui ne le connaissent pas et vous comprendrez... Le fossé est large... (Rien de méchant dans ma remarque mais Can you feel It aurait été plus adapté... Je sais, il fallait rester coller à la thématique de la soirée et donc à leur compilation de….)
La 2e partie fut consacrée à la diffusion de Thriller 3D, la raison de ma venue... Je dois avouer que j'ai pris une mega claque dans la tronche dès les premières secondes. L'apparition de la police "Michael Jackson's Thriller" vous met directement dans le bain. L'effet est superbe. Mais quand les premières images d'Ola Ray et Mike arrivent... INCROYABLE!!!
Plus ce grain typique pellicule 80's, image plus lumineuse, couleurs plus vives, détails du décor hallucinants et ce dans toute la diffusion du short film. Nous redécouvrons littéralement cette vidéo iconique que nous avons pourtant vu et revu un million de fois. Je ne me remets toujours pas des détails et des couleurs des blousons de Michael. L'effet 3D est magnifique sur tous les plans. Sur son visage. Wow! Je remarque même des éléments du décor que je n'avais jamais remarqué pendant la chorégraphie. Époustouflant!"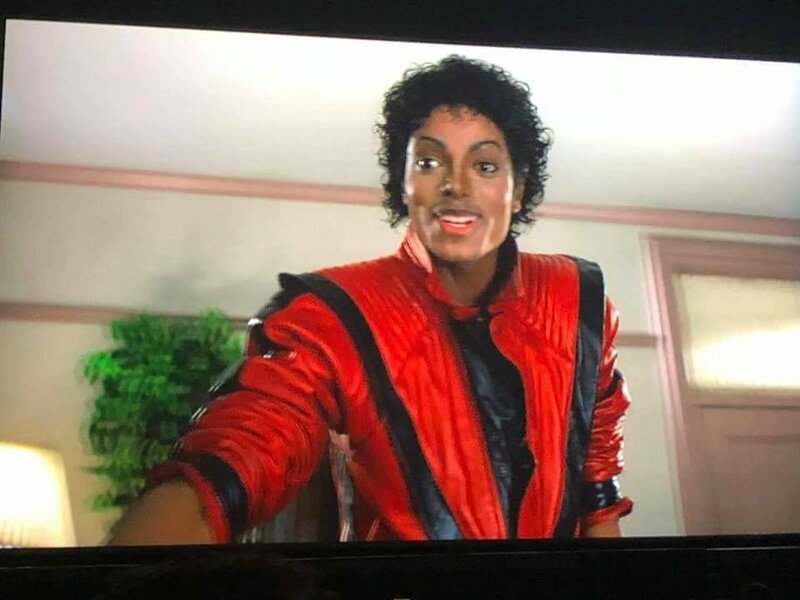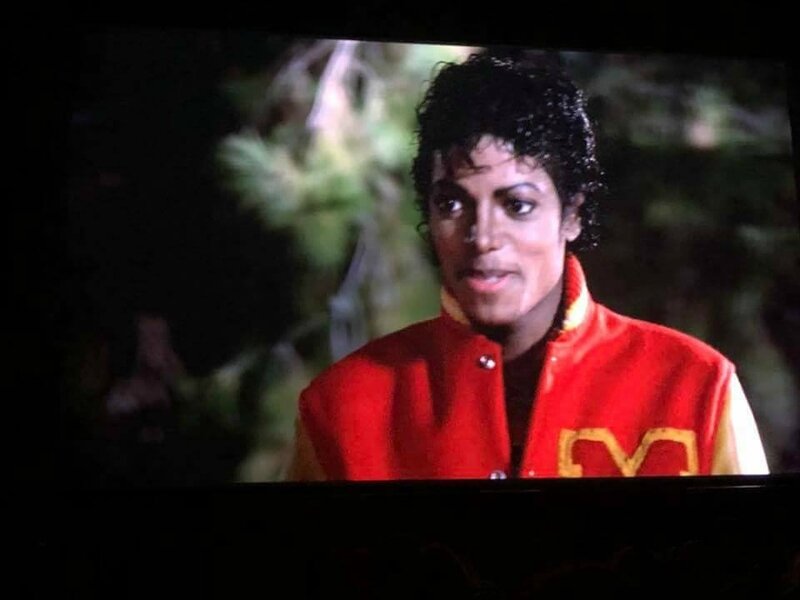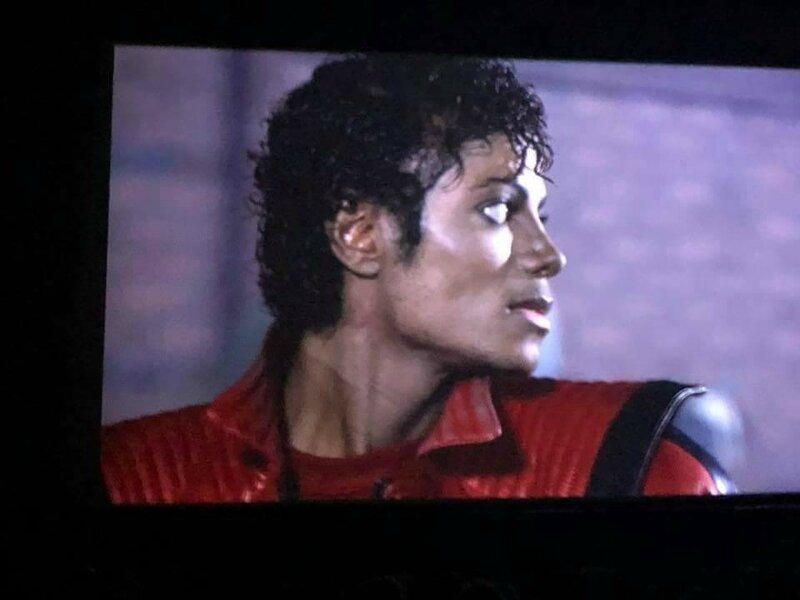 Photos: page facebook Michael Jackson Unreleased
"Parlons bande son maintenant... Il est donc clair que la source n'est pas celle d'origine ce qui est quelque part dérangeant compte tenu qu'elle est ancrée en nous et indissociable de la vidéo. Pourquoi ne pas avoir gardée la bande son de maître Swedien?
Plus de basses, les claps sont plus mis en avant, lyrics de Michael parfois légèrement édités, bref, ça m'a dérangé personnellement. (Sans compter que le fait d'être au fond de la salle sous les enceintes, m'a procuré une sensation de décalage du son par rapport au beat de base ce que n'ont pas perçu ceux placés au milieu de la salle par exemple).
Une seconde diffusion aurait été la bienvenue vue l'ambiance.
Redécouvrir une vidéo que l'on regarde sans cesse depuis 34 ans, c'est juste incroyable."
Les avis sont unanimes à la sortie du Grand Rex. Thriller en 3D est simplement magnifique et on aurait tous souhaité, c'est vrai, une deuxième diffusion. Pour ma part ma réaction a été : "pourquoi ne font-ils pas la même chose avec Ghosts ?" Et il semble que l'Estate m'ait entendue (!!!) car dans une nouvelle rubrique ouverte le 20 octobre sur le site officiel michaeljackson.com, où ils répondent aux questions les plus fréquentes posées par les fans, ils évoquent une sortie en 3D de Ghosts, avec Thriller 3D, au cinéma pour Halloween 2018 ("And next year, we intend to add a release of "Thriller 3D" or "Ghosts 3D" in movie theaters around the world as part of the annual celebration"). Croisons les doigts !

La diffusion au Grand Rex a ensuite été suivie d'un after au Grand Rex Club, une soirée animée par le DJ Reverend P.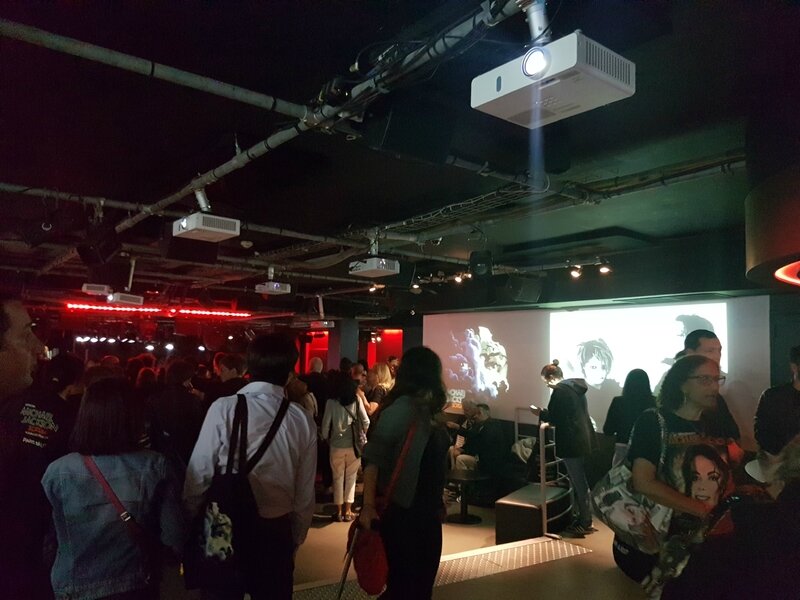 Une belle soirée, entourée d'amis, et des images de Michael si près de moi (merci l'effet 3D !) avec un short film, qui plus de trois décennies plus tard, n'a toujours pas fini de nous étonner!
L'émission de TF1 50' inside a diffusé le 21 octobre un sujet sur Thriller. Il y était bien entendu évoquée la soirée à Paris ainsi que la genèse du clip original, avec des interviewes de Rick Baker, qui a maquillé Michael pour le clip, le photographe Douglas Kirkland, l'auteur du livre Michael Jackson ; The Making of Thriller 4Days/1983, Nancy Griffin, journaliste au magazine LIFE ou Carolyn Baker, co-fondatrice de MTV.
Un bon reportage dont on peut lire un résumé sur le site mjlegend.com
Merci à mon ami Sébastien de m'avoir permis d'utiliser son témoignage ♥♥♥. See you soon ;) et un grand merci à my friend Richard Lecocq ... tu gères comme un chef ♥♥♥
Mise à jour du 22 octobre 2017
---
Le 16 octobre prochain, pour fêter la sortie du CD Scream de Michael Jackson, Sony Music France et l'Estate of Michael Jackson organisent au Grand Rex de Paris une soirée spéciale au cours de laquelle sera diffusé le short film Thriller 3D.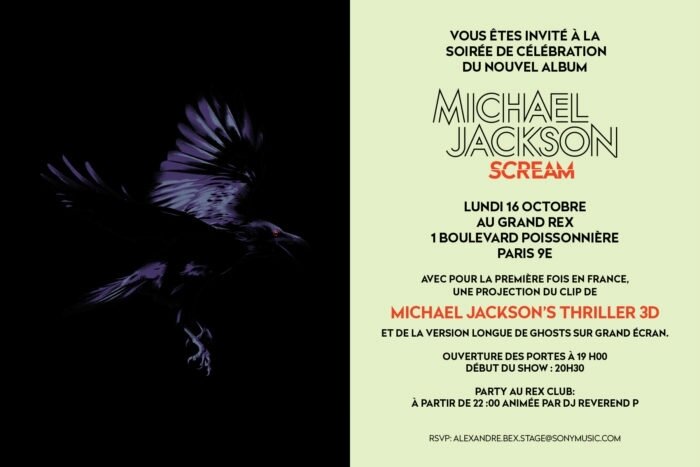 Sony Music, Legacy Recordings France, le Grand Rex et le Magazine Invincible vous offrent la possibilité d'assister à cette soirée.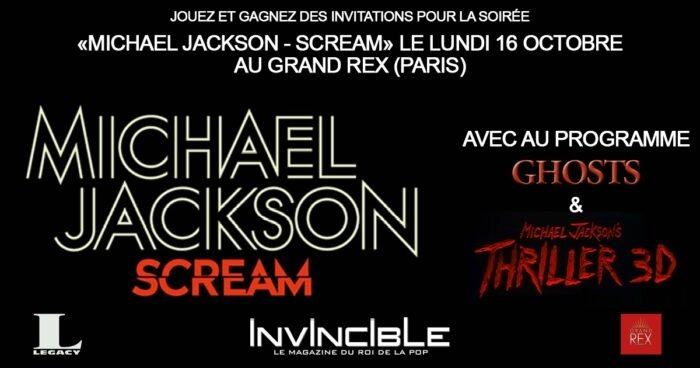 Pour cela, envoyez-moi un mail avec vos nom et prénom (utilisant la fonction "contacter l'auteur", en haut à gauche du blog) avant le jeudi 12 octobre, 20h.
Mise à jour du 13 octobre 2017
Les gagnants ont été avertis par mail et ont reçu leurs invitations ce jour. Bonne soirée MJScream à tous!