Deer Lake est une petite ville de Pennsylvanie, sur la côte est des Etats-Unis, à environ une heure trente de voiture à l'ouest de Philadelphie. C'est là, qu'en 1972, le boxeur Mohamed Ali décide d'installer son camp d'entraînement. Au milieu des collines boisées, il achète la propriété de plus de deux hectares à un ami et y fait construire dix-huit cottages en rondin de bois destinés à accueillir sa famille, ses employés et tout le nécessaire pour ses entraînements. Il y restera jusqu'à son dernier combat, en 1981, avant de vendre son camp à un ami en 1997.
Le champion du monde poids lourd s'y préparera pour tous ses matches pendant presque une décennie. Le nom des boxeurs qu'Ali admirait a été peint par son père sur d'énormes rochers, que le champion avait fait livrer et poser sur le chemin qui mène à l'entrée. L'un deux revêt également la devise du boxeur, "Float Like a Butterfly, Sting Like a Bee".
Photo de gauche, credit: Michael Gaffney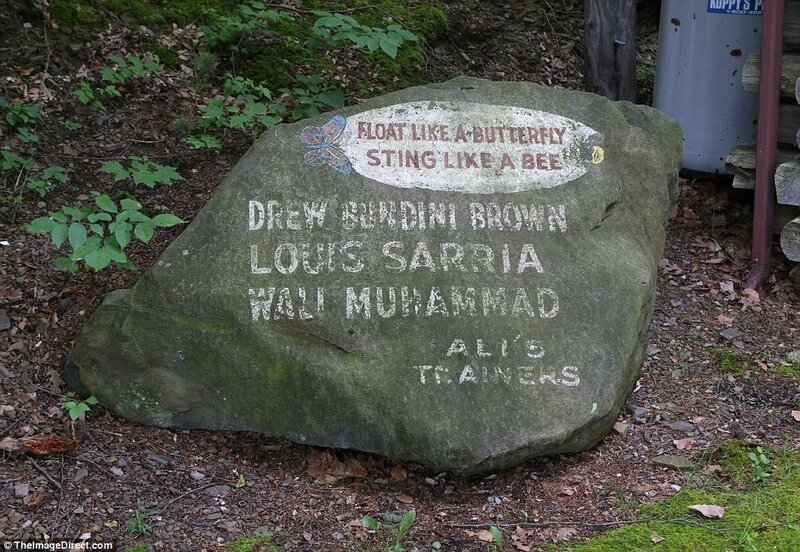 Bien que surnommé The Greatest, Mohamed Ali était quelqu'un d'humble, accueillant et facilement approchable. Il aimait recevoir dans son camp des gens, des anonymes, de la région. De nombreuses personnalités viennent également le voir à Deer Lake, notamment son ami Elvis Presley, en 1975, complètement incognito.
En avril 1977, The Jacksons sont également accueillis au camp de Deer Lake. L'amitié entre la famille Jackson et le champion de boxe date de plusieurs mois (voir ici)
A cette époque, les cinq frères sont à Philadelphie, en plein travail sur leur deuxième album, Goin' Places (qui sortira en octobre 1977) avec les producteurs Kenny Gamble and Leon Huff, les créateurs du Philadelphia Sound avec leur label Philadelphia International Records.
Tito, Michael, Marlon et Randy Jackson (sans Jackie) se rendent donc pour une journée au Deer Lake Training center de Mohamed Ali, accompagnés par les deux artistes de Philadelphie, et du frère de Gamble, Carl, alors chef de la sécurité du label de Philly. Joe Tarsia, l'ingénieur du son de l'album The Jacksons et fondateur des Sigma Sound Studios, où a été enregistré ce dernier album et où le sera Goin' Places, est également présent. C'est d'ailleurs lui qui prend les photos ce jour-là.
On voit ainsi les frères Jackson, dans la salle de gym du camp, sur le ring d'entraînement d'Ali, faisant semblant de combattre le boxeur et le mettant à terre.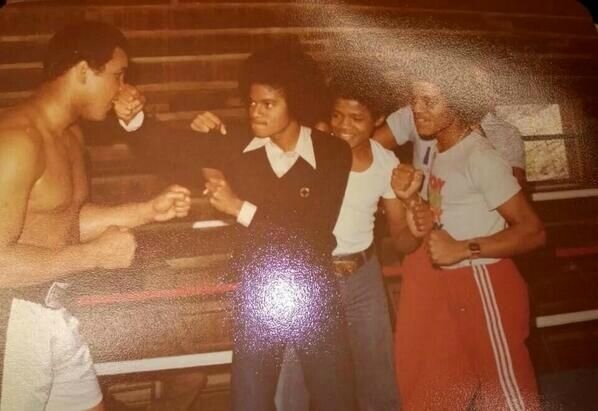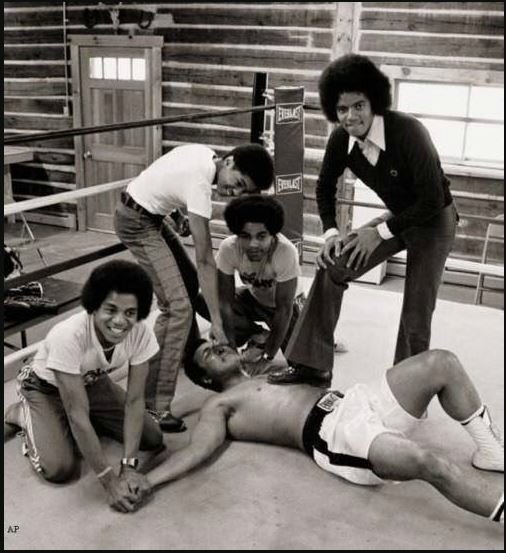 M.Ali dans sa salle de gym, aujourd'hui devenue un lieu où sont exposées de nombreuses photos souvenirs (dont celle de Michael Jackson ci-dessus, partagée sur instagram par Laila Ali, la fille du boxeur, en 2014)
Michael et Randy posent avec les employés du centre…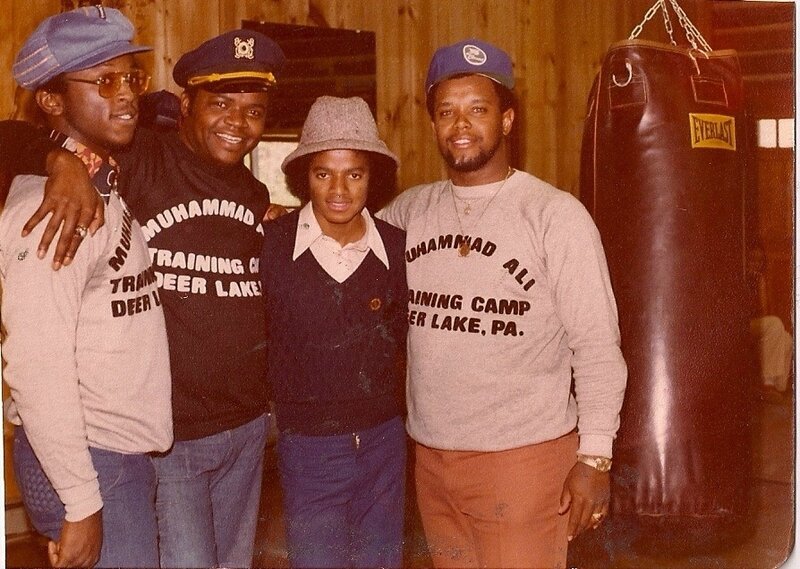 .... et quelques photos seront prises à l'extérieur, auprès du boxeur.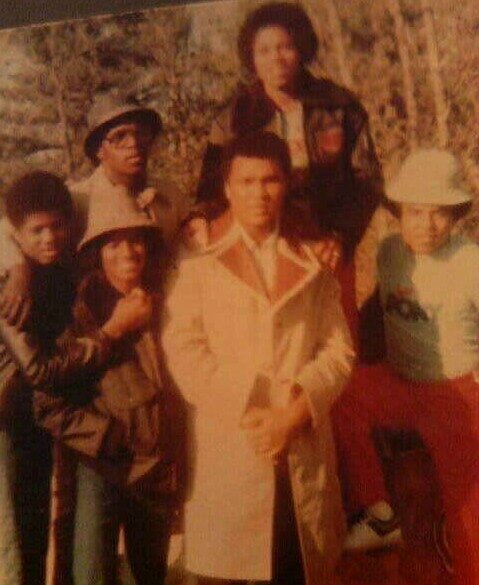 En 2016, la page facebook Midley Grange Recording a diffusé une photo inédite de cette journée.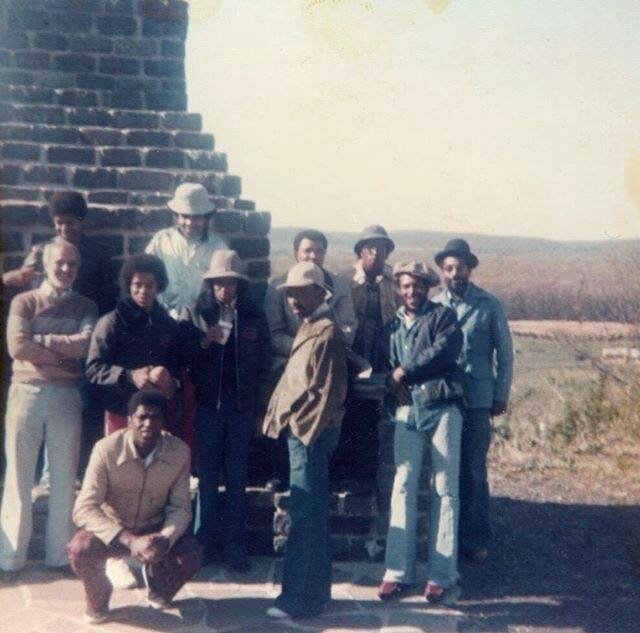 De gauche à droite: rang du haut: Randy Jackson, Tito Jackson. Rang du milieu: Joe Tarsia, Marlon Jackson, Michael Jackson, Mohamed Ali, Kenny Gamble et son frère Carl. Devant: inconnu, Leon Huff, inconnu
Une photo de groupe, reprise par le compte instagram jackson.rare, où l'on voit Mohamed Ali, entouré de ses illustres visiteurs, posant près de la cheminée extérieure du camp, un lieu de rassemblement qui existe d'ailleurs toujours aujourd'hui.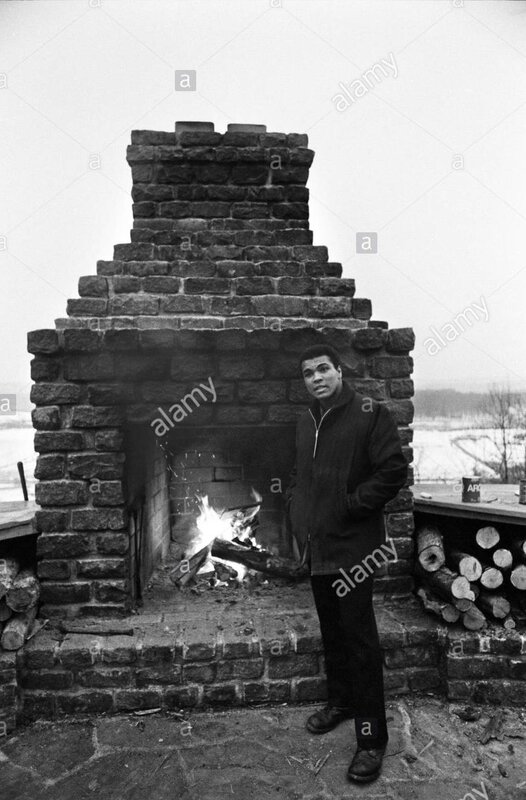 Mohamed Ali devant la cheminée extérieure en 1974
Le camp, devenu en 1997 un Bed and Breakfast et occupé par une école de karaté, a été racheté après la disparition de Mohamed Ali en juin 2016. Le nouveau propriétaire, Mike Madden, un entrepreneur immobilier californien, fils du légendaire entraîneur de football américain John Madden et grand fan du boxeur, souhaite préserver et perpétuer l'histoire de ce lieu, qui est gardé en l'état actuellement. Il pourrait prochainement devenir un musée.
Sources : Page facebook Midley Grange Recording/dailymail.co.uk/instagram jackson.rare/standardspeaker.com