A moins de vivre dans un monde parallèle, plus personne ne peut malheureusement dire qu'il n'a pas entendu parler du documentaire mensonger Leaving Neverland, réalisé par Dan Reed.
Présenté le 25 janvier 2019 lors du Festival Sundance, il a été diffusé en deux parties sur à la télévision américaine, par HBO (qui le produit), les 3 et 4 mars dernier, suivi d'un débat animé par Oprah Winfrey, les 6 et 7 mars en Angleterre sur Channel 4 et le 8 mars aux Pays-Bas.
En France, M6 a acheté les droits de ce documentaire et le diffusera le 21 mars (une version écourtée d'environ une heure) suivi quelques jours plus tard, le 29 mars, par la chaîne belge RTL-TVI.
Dès le mois de janvier, les fans ont affiché leur colère face à ce document complètement à charge contre Michael Jackson qui revient sur ses prétendues relations avec deux enfants dans les années 80 et 90. La colère n'a fait qu'enfler à l'annonce d'une diffusion télé et les fans ont commencé à s'organiser pour dénoncer les mensonges calomnieux qui inondent ce film.
Le projet de M6 était initialement de le diffuser dans un nouveau concept d'émission appelé "Contre-Enquête", même si, dès le départ, il semblait évident qu'aucune contre enquête n'allait être menée. Plusieurs sites, associations et chaînes youtube se sont alors unis pour dénoncer cette diffusion et, ont envoyé une lettre conjointe à la chaîne pour leur faire connaître les points que les médias ont tendance à occulter lorsqu'ils abordent les affaires qui ont terni la carrière de Michael Jackson.
Quelques jours plus tard (suite à la lettre ?) on apprend que M6 a pris la décision de ne pas diffuser ce film dans "Contre-Enquête" mais au cours d'une soirée spéciale, avec un débat enregistré qui suivra la diffusion, à 00h30 (!!!), du document renommé Leaving Neverland : la parole des victimes, laissant ainsi entendre que le chanteur était coupable de ce qu'on l'accuse. Devant le tollé provoqué par ce titre, M6 redonne finalement à ce film son nom d'origine.
Aux Etats-Unis, l'Estate de Michael Jackson a porté plainte contre HBO, peu avant le passage télé du film. Dénonçant les faussent accusations contre Michael Jackson, lancées contre un intérêt financier, sa succession accuse également la chaîne câblée de violer un accord de "non-dénigrement" signé en 1992 afin de pouvoir diffuser Michael Jackson in Concert in Bucharest: The Dangerous Tour et réclament au moins 100 millions de dollars de dommages-intérêts. HBO a maintenu la diffusion et a jusqu'au 23 mars pour répondre à l'Estate.
Sur les réseaux sociaux, la colère des fans s'est organisée rapidement. La communauté francophone a lancé MJFactuel, une plateforme d'informations créés par MJStreet, MJFrance, MJBackstage, MJLegend, l'Association On The Line, Salut Les Fans, Hector Barjot et On MJFootsteps, destinée à fournir aux médias, au grand public et aux fans des informations 100% factuelles et décrypter les news (et les mensonges) concernant la sortie de Leaving Neverland.
Une des premières répliques de MJFactuel a été d'envoyer plusieurs documents aux médias, parmi lesquels la lettre destinée à M6, la lettre envoyée le 7 février par Howard Weitzman, avocat de la succession Michael Jackson, au président de HBO, Richard Plepler, ou le témoignage de Robson en faveur de Michael Jackson lors du procès de 2005.
La création de la page facebook MJFactuel permet de publier des contenus objectifs qui analysent et remettent les informations et les témoignages dans leur contexte pour rétablir la vérité.
N'hésitez donc pas à suivre cette page sur Facebook et sur Twitter et à la partager (la version anglaise MJFactual et néerlandaise MJFeiten). Le travail de ce collectif est considérable et se base uniquement sur les faits. Car rappelons-le, les faits sont là et ont prouvé l'innocence de Michael Jackson. Nous le savons mais le grand public doit le savoir. "Facts Don't Lie, People Do !"
Deux semaines avant la diffusion de Leaving Neverland en France, le Conseil Supérieur de l'Audiovisuel (CSA) a commencé à recevoir plusieurs signalements concernant ce programme. Même si malheureusement le CSA ne veut peut (apparemment) rien faire avant la diffusion de ce film, il n'est pas interdit de continuer à leur envoyer des plaintes. (ici)

En Angleterre (devant les locaux de Channel 4), au Brésil et en Chine, les fans ont manifesté leur mécontentement.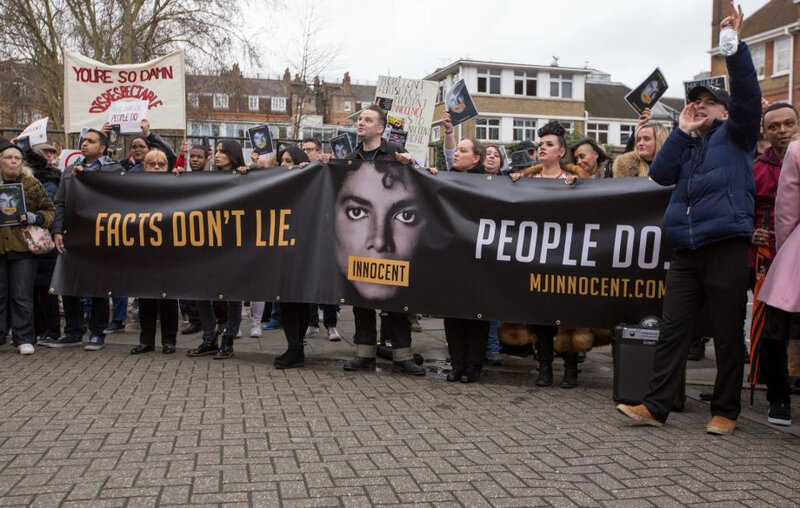 En France, il semble qu'un rassemblement soit prévu le dimanche 17 mars au Trocadéro de Paris, de 14h à 17h. La participation est encore timide mais un évènement facebook a été créé pour informer et rassembler les personnes intéressées.
En Angleterre également, une campagne d'affichage publicitaire a été mise en place grâce à un crowdfunding qui a rapporté plus de 14000¤£. Sur les célèbres bus anglais rouge, est désormais affichée la photo de Michael avec le tag INNOCENT.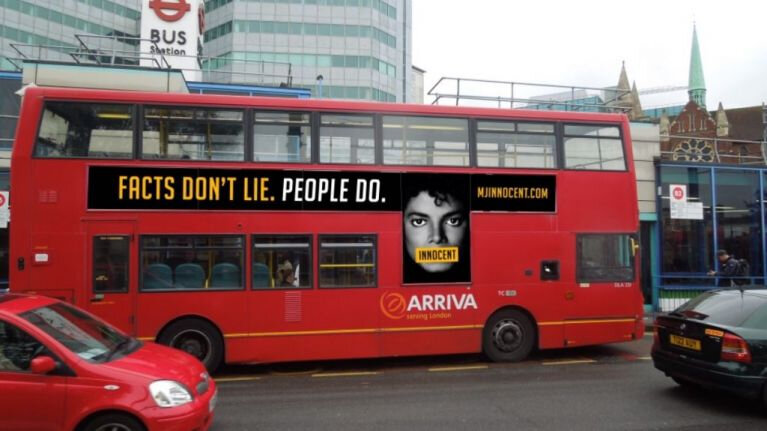 Les fans n'ont jamais eu de doute quant à l'innocence de Michael Jackson. C'était un être gentil, qui prenait plus soin des autres que de lui, et qui n'avait que pour objectif que de répandre l'amour. Malheureusement ce Michael Jackson là, le public et les médias n'ont jamais voulu le voir, car il ne fait pas vendre.
Cette chasse aux sorcières organisée contre lui, déjà de son vivant, doit enfin cesser. Ce film, avec ses deux mauvais acteurs, a déjà des répercussions intolérables : certaines radios canadiennes ont banni la musique de Michael Jackson de leurs ondes, une statue du chanteur a été enlevée d'un musée anglais dédié au football, le Musée Grévin de Montréal envisage de retirer aussi la statue de cire de la star et la série des Simpson a suspendu la diffusion de l'épisode où Michael avait prêté sa voix de ses plateformes.
Aujourd'hui, Michael Jackson n'est plus là et c'est à nous de nous battre pour que l'on reconnaisse enfin cet homme à sa juste valeur. Plus que jamais, il faut diffuser sa musique et faire taire les mensonges et surtout faire comprendre à tous que "Just because you read it in a magazine or see it on the TV screen don't make it factual" (Michael Jackson, Tabloïd Junkie, 1995)