Après un voyage en 2013 à Londres sur les traces de Michael Jackson, j'avais depuis trouvé d'autres lieux davantage liés aux Jackson 5 et aux Jackson et je souhaitais retourner dans la capitale anglaise pour aller les voir.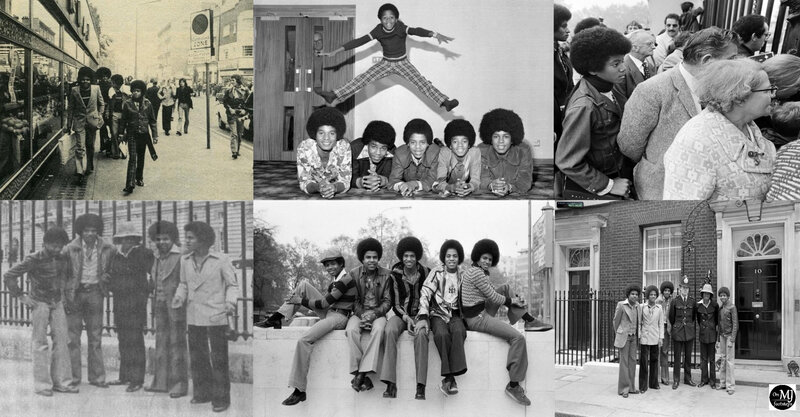 L'annonce du concert hommage de Quincy Jones le 23 juin dernier a donc été un excellent prétexte pour un week-end #onmjfootsteps et j'ai entraîné avec moi mes compagnons de voyages, fans également, mais qui découvraient ma façon de découvrir une ville.
Les Jackson 5 à Londres en octobre 1972
Le groupe qui déchaîne les foules aux Etats-Unis arrive à Londres, première date de leur première tournée européenne, le 29 octobre 1972. Un concert exceptionnel est prévu puisque les Jackson 5 doivent se produire devant la reine d'Angleterre. Un épisode de sa vie que Michael évoque dans son autobiographie Moonwalk : "Nous avions trois années de succès derrière nous quand nous avons fait notre première tournée en Europe, et c'était suffisant pour contenter, à la fois les jeunes qui aimaient notre musique, et la reine d'Angleterre que nous avons rencontrée lors d'un gala spécialement organisé pour la circonstance. C'était vraiment très excitant pour nous. J'avais vu, sur des photos, d'autres groupes, comme les Beatles, rencontrer la reine mais je n'aurais jamais rêvé avoir la chance de jouer pour elle." (1)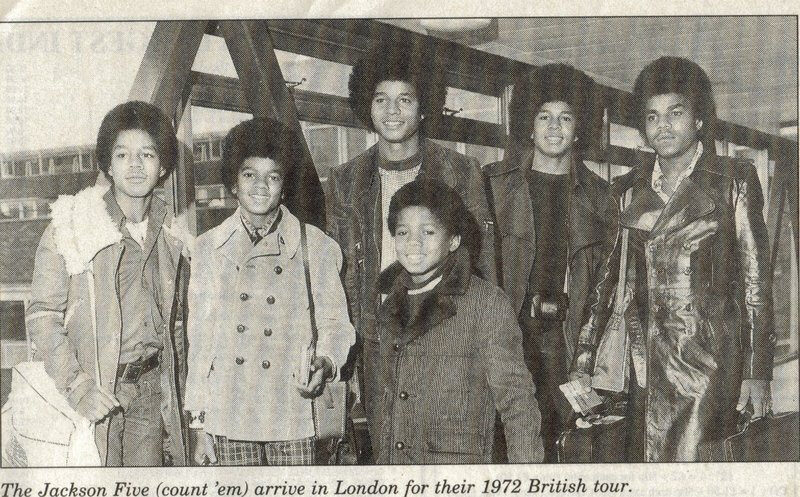 Après une arrivée très remarquée et bousculée à l'aéroport d'Heathrow, les Jackson 5 sont emmenés à l'hôtel Churchill, près de Hyde Park. La frénésie des fans ne s'arrête pas, d'autant plus que les Osmond Brothers, sont également dans l'hôtel pour un concert en ville. Les jeunes filles surveillent les apparitions des frères (Jackson et Osmond) et restent groupées en bas de l'hôtel. La rumeur veut que pour calmer les adolescentes, les Jackson 5 auraient donné un mini- concert sur le toit de l'hôtel.
Je n'ai pas eu l'occasion de me rendre au Churchill Hotel, appelé aussi le Hyatt Regency London. Plusieurs photos du groupe y sont prises, dans les couloirs ou avec leur tutrice, Rose Fine, à l'époque.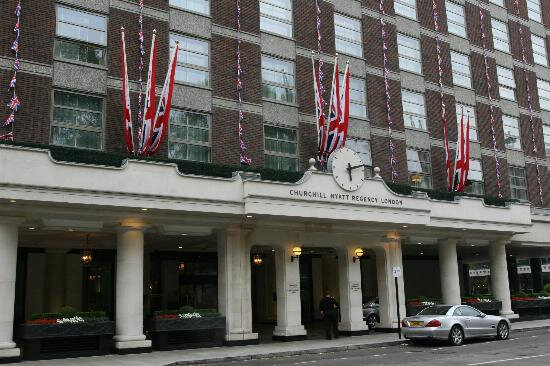 Le Churchill Hotel aujourd'hui
La Royal Variety Performance, une émission télévisée annuelle organisée afin de collecter des fonds pour le Royal Variety Charity, dont la reine est la marraine, a lieu au London Palladium, le théâtre le plus célèbre de la ville, le 30 octobre 1972.
Le London Palladium est situé dans le West End, le célèbre quartier où se jouent les comédies musicales. Plus que centenaire et propriété d'Andrew Lloyd Weber, c'est d'ailleurs principalement ce genre musical qu'il accueille sur sa scène depuis près de vingt ans.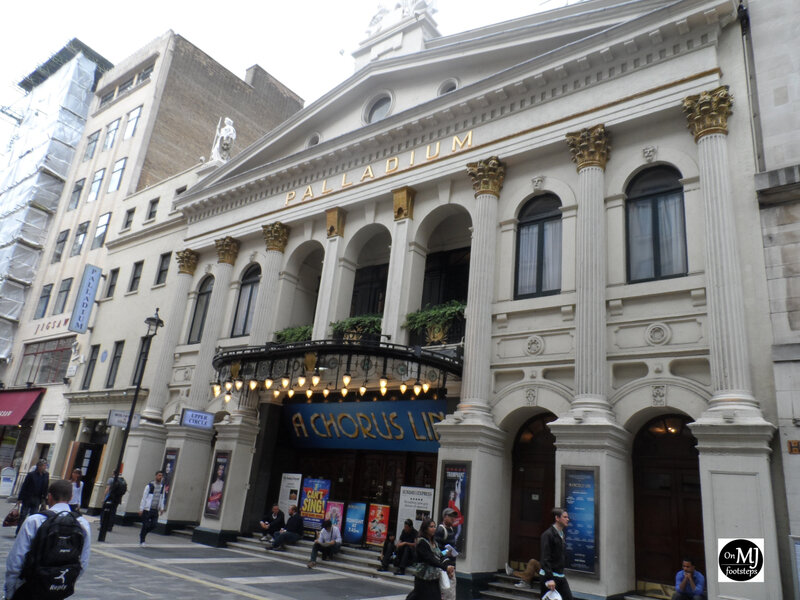 Le Palladium en 2013
Les Jackson 5 ouvrent le gala, sous les encouragements d'Elton John qui fait aussi partie des artistes présents, avec une performance d'une dizaine de minutes et sont présentés à Sa Majesté en coulisses.
Parmi les obligations artistiques du groupe figure également un "showcase" dans un nightclub de Leicester Square, the Talk of the Town, le 31 octobre 1972. La douzaine de journalistes et de disc-jockeys présente va tomber sous le charme du jeune Michael.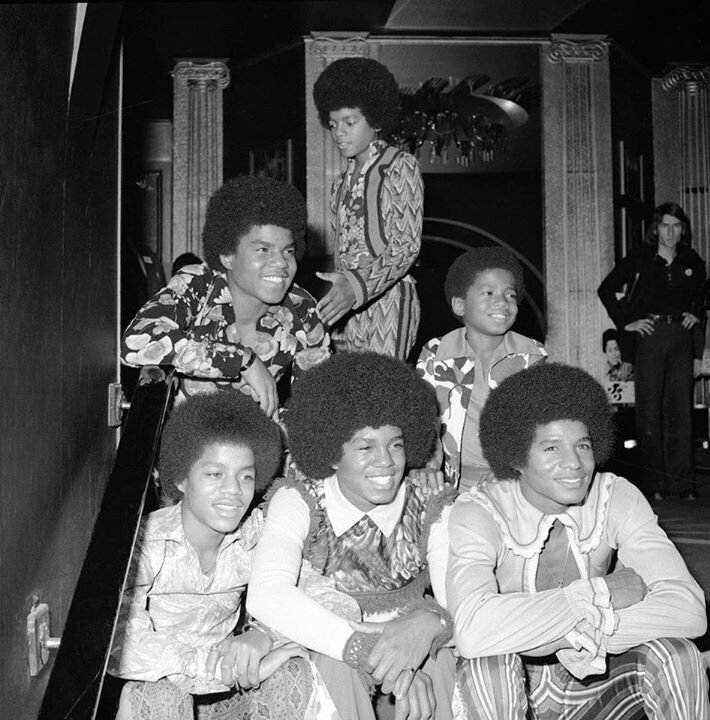 Ouvert à Leicester Square en 1900 sous le nom d'Hippodrome, c'est le cabaret où Charlie Chaplin a fait ses premiers pas. Jusque dans les années 50, il a été l'équivalent des Folies Bergères parisiennes avant d'être converti en nightclub de 1958 à 1983. The Talk of The Town retrouve ensuite son nom et est aujourd'hui appelé The Hippodrome Casino.
Le lendemain, une séance d'interviewes est organisée dans une salle de l'hôtel Churchill. Les questions des journalistes fusent et Michael se contentent de réponses toutes simples, comme on le lui a appris ! Aucun ne doutait alors que ce petit homme irait très loin mais personne ne s'imaginait à quel point !
Au cours de leur temps libre (mais pas libre des paparazzi !), les Jackson 5 découvrent la ville.
Ils se rendent ainsi devant Buckingham Palace, le palais officiel de la reine d'Angleterre situé au cœur de la capitale, chaperonnés par leur père Joe, Bill Bray, leur fidèle garde du corps et Rose Fine, leur tutrice. Les touristes affluent devant le palais à n'importe quelle heure de la journée mais encore plus au moment de la relève de la garde, en fin de matinée.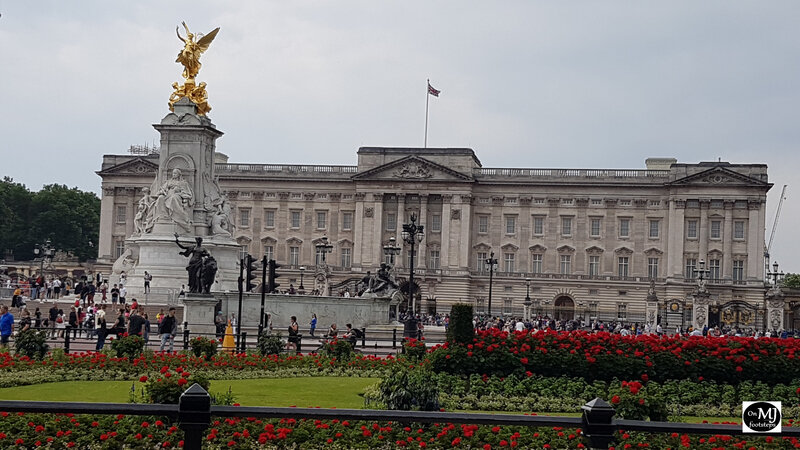 Sans créer d'émeutes, certains badauds les reconnaissent et ils signent des autographes.
Ils font aussi du shopping sur King's Road. Cette avenue est l'une des rues les plus fashion de Londres, dans le quartier de Chelsea, avec de nombreuses boutiques haut de gamme ou plus branchées. Dans les années 60 et 70, c'est sur King's Road que les nouvelles modes comme la mini-jupe ou les chemises à fleur ont été lancées. Il n'est pas rare d'y croiser des célébrités (Kate Middleton y a ses habitudes) qui viennent faire du shopping ou profiter des nombreux bars ou restaurants.
C'est devant le Chelsea Drugstore (au croisement de King's Road et Royal Avenue), aujourd'hui remplacé par un McDonald's, que les frères Jackson sont photographiés.
Le Chelsea Drugstore, grand magasin de trois étages, avec des points de ventes de journaux, de disques, de produits de beauté, d'épicerie fine, une pharmacie ou encore des bars et restaurants, était l'un des principaux magasins de la rue, restant ouvert seize heures par jour.
Les bras chargés de sacs, le groupe est aussi pris en photo dans la rue, au niveau du n°35 de la rue, où se trouve actuellement un magasin Reiss.
Quarante sept ans après, les magasins ne sont bien sûr plus les mêmes, mais les lieux sont finalement assez reconnaissables. Et pour le coup, on est vraiment sur les pas de Michael et de ses frères... car j'ai effectivement marché au même endroit qu'eux :)
The Jackson à Londres en mai 1977
Si leur séjour à Londres de 1972 est le premier pour les Jackson 5, celui de 1977 marque aussi leur premier déplacement dans la capitale anglaise sous le nouveau nom du groupe, The Jacksons.
En Mai 1977, The Jacksons entament une tournée européenne qui les mène notamment à Amsterdam, à se produire une nouvelle fois devant la reine à Glasgow ou encore à faire leur première apparition à la télévision française, dans l'émission Numéro 1 de Joe Dassin.
Petit aparté concernant leur venue en France en 1977: Vous vous souvenez de cette photo des Jackson prise dans une rue parisienne, non loin des studios parisiens où ils enregistrent leur passage dans l'émission ? Voici la rue aujourd'hui, elle se situe près du parc des Buttes-Chaumont
Lee 24 mai 1977, les frères Jackson donnent un concert au London Hammersmith Odeon. Arrivés quelques jours auparavant dans la capitale, les frères se soumettent à une série de photos promotionnelles pour la tournée dans des lieux touristiques de la ville.
On les retrouve ainsi à nouveau à Buckingham Palace, où ils prennent la pose avec un bobby anglais ….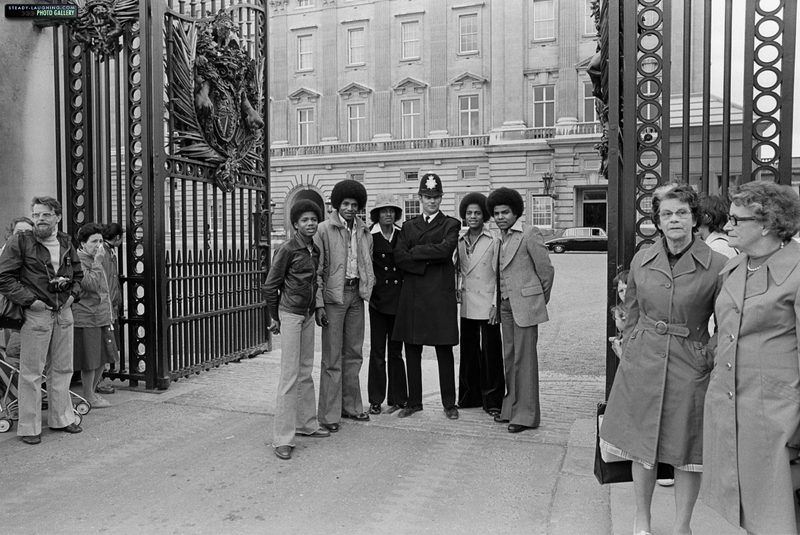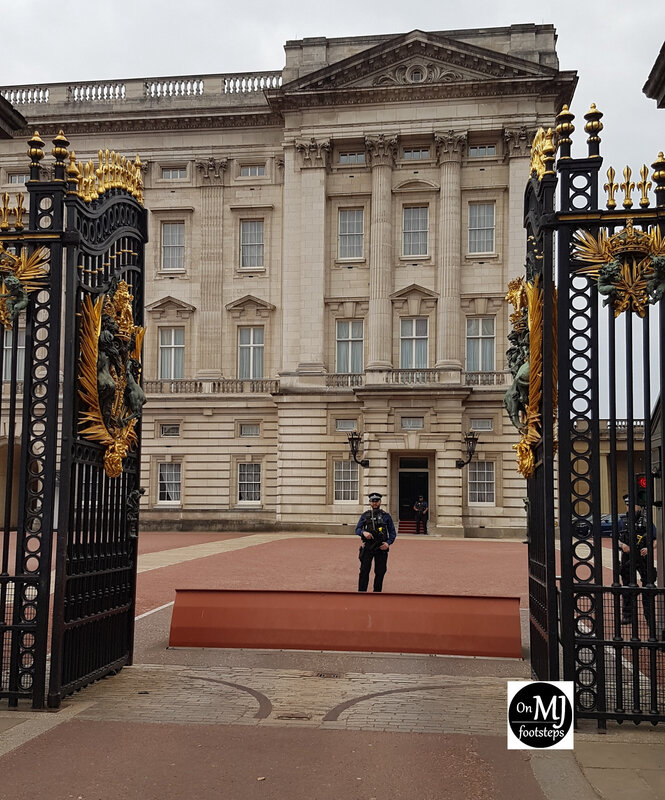 … ainsi que devant le 10 downing Street, la résidence officielle du premier ministre anglais. Il n'est plus possible aujourd'hui d'approcher la maison et de se photographier devant la célèbre porte comme l'ont fait les Jackson et beaucoup de touristes à l'époque. L'accès est barré et sécurisé par plusieurs policiers armés.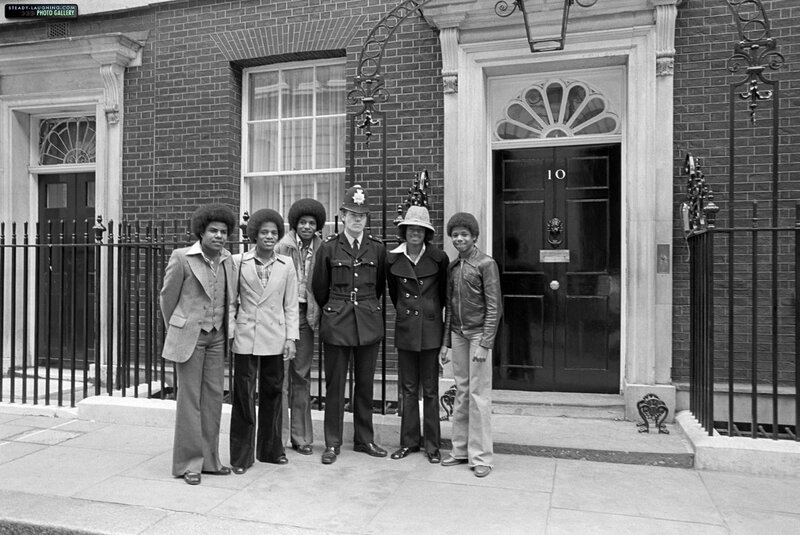 Plusieurs clichés sont pris sous l'objectif d'Allan Olley à Hype Park Corner, une des places les plus importantes de Londres. C'est un grand carrefour routier tout près de Hyde Park, avec au centre, un espace vert où se dressent l'arc de Wellington (dédié au duc de Wellington, vainqueur de la bataille de Waterloo) et une statue équestre du duc.
C'est précisément devant ces deux monuments que l'on retrouve les frères Jackson, ainsi qu'à l'entrée du passage souterrain qui relie le parc à l'autre côté de la rue.
Le dernier endroit pour ces photos promotionnelles sera bien sûr la salle où ils doivent jouer, l'Hammersmith Odeon, l'une des plus célèbres salles de concerts, qui porte désormais le nom de HMV Hammersmith Apollo.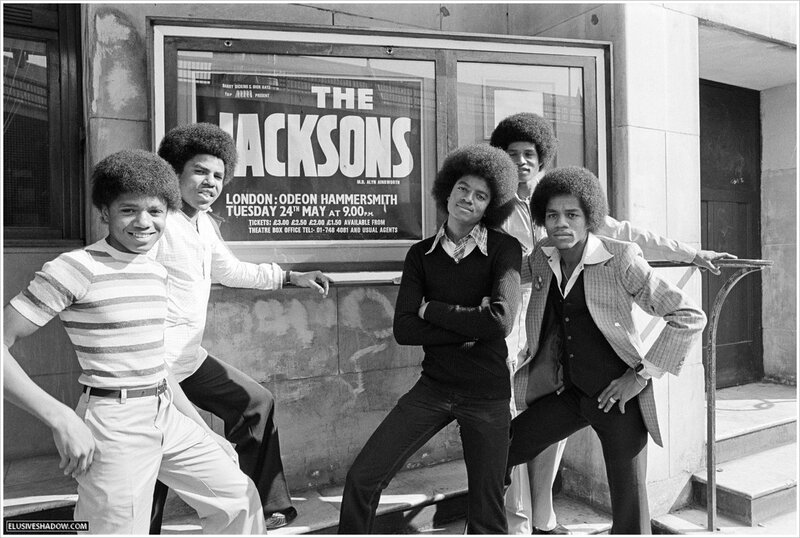 Ouvert en 1932, c'est à partir des années 60 que le lieu se fait un nom avec la venue de stars américaines comme Tony Bennett, Ella Fitzgerald ou Louis Armstrong. Au milieu des années 60, des concerts mémorables des Beatles et de Johnny Cash assoient sa popularité. Puis, dans le années 70, ce sont des noms comme David Bowie, Bruce Springsteen, Bob Marley ou Queen qui s'y produiront, ainsi donc que The Jacksons.
Je n'ai pas eu le temps de me rendre devant la salle de spectacle dont la façade n'a cependant pas beaucoup changé.
Un week end à Londres pour découvrir la ville et les lieux où Michael et ses frères sont passés peut être court, mais je tenais à remercier mes Spice Girls, Eva, Max, François et Willy, mes Jackson, Seb, Cédric, Max (encore !), Loïc, Arnaud et Sly de m'avoir suivie #onmjfootsteps, et permis de découvrir ces endroits que je ne connaissais pas. On a passé des moments très sympas !/ Many thanks also to Justin for your help, for letting me know some addresses and being our guide that afternoon in London. Love.
Adresses utiles :
- Churchill Hotel : 30 Portman Square, Marylebone, Londres (métro ligne Central, station Marble Arch)
- London Palladium : 8 Argyll St, Soho, Londres (métro lignes Victoria, Bakerloo, Central, station Oxford Circus)
- The Talk of The Town (The Hippodrome Casino) : Cranbourn Street, Leicester Square, Londres (métro lignes Northern ou Picadilly, station Leicester Square)
- Chelsea Drugstore (McDonald's) : 49 King's Rd, Chelsea, Londres (métro lignes Circle ou District, station Sloane Square)
- Buckingham Palace : (métro lignes Circle ou District, station Victoria ou St James Park)
- Résidence du premier ministre anglais : 10 Downing Street, Westminster, Londres (métro ligne Circle ou District, station Westminster)
- Hyde Park Corner (métro ligne Picadilly, station Hyde Park Corner)
- Hammersmith Odeon (HMV Hammersmith Apollo) : 45 Queen Caroline St, Hammersmith, Londres (métro ligne Hammersmith & City, station Hammersmith)
Sources : (1) Moonwalk, Michael Jackson, 1988 / Wikipedia/ newsmulti.com