The Soundflowers, le duo que forme Paris Jackson avec son boyfriend Gabriel Glenn, ont donné un concert à Paris vendredi 24 janvier.
L'annonce est tombée discrètement sur les réseaux sociaux jeudi 23 janvier. The Soundflowers doivent se produire le lendemain soir sur la péniche El Alamein, amarrée près de la Bibliothèque Nationale de France, sur les quais, rive gauche.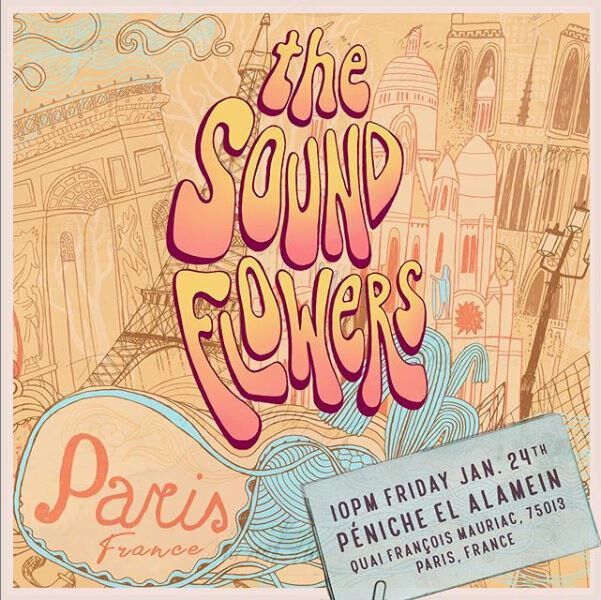 Paris Jackson était à Paris depuis deux jours pour participer au dernier défilé de Jean Paul Gauthier dans le cadre de la Fashion Week.
Car Paris Jackson possède plusieurs talents : mannequin et actrice, la fille de Michael Jackson de presque 22 ans est depuis plusieurs mois une jeune chanteuse. Une passion naturelle quand on a grandi auprès du plus grand artiste mais qui a vraiment pris forme après sa rencontre avec Gabriel Glenn, son partenaire dans la vie et sur scène depuis 2018.
Le duo a joué pour la première fois en public en mars 2019, à Los Angeles. Auteurs-compositeurs, les deux jeunes néo-hippies chic ont adopté un style musical du genre folk rock délicat, à l'image de leurs inspirations.
S'ils n'ont pas encore d'album à leur actif, The Soundflowers aiment se produire dans des petites salles pour des shows intimistes, comme ils l'ont fait le mois dernier, à Rome, au cours de leur voyage avec la famille Jackson à l'occasion des fêtes de fin d'année.
La péniche El Alamein est un lieu de café concerts. Six jours sur sept, dans un cadre convivial et une ambiance florale, le bateau accueille des groupes variés pour des performances plus ou moins longues.
Ce vendredi 24 janvier, une soirée Give me Four est organisée. Quatre groupes aux univers différents se succèderont sur scène dès 20h : Kristina Vaughan (pop indé), Jikaëlle (chanson pop), Jadallys (rock funk), La Bête Aveugle (punk poésie). The Soundflowers sont annoncés en supplément à partir de 22h.
Dans un premier temps indécise sur le fait de me rendre à Paris alors qu'une journée de grève est annoncée, je réserve finalement ma place pour pouvoir voir la fille de Michael.
Je ne suis pas spécialement fan de ce que fait Paris Jackson, je ne connais pas vraiment son univers musical, même si je la suis sur les réseaux sociaux. Mais l'occasion de voir la fille de Michael, peut être à l'aube d'une belle carrière, ne se représentera sans doute pas de sitôt. Je ne regretterai finalement pas cette décision.
Lorsque j'arrive sur la péniche vers 20h45, quelques fans que je connais sont déjà présents. On se retrouve avec plaisir. Le répertoire des artistes rende l'ambiance très sympa. Vers 22h, la rumeur commence à circuler que Paris Jackson a l'intention de venir s'installer dans le public pour assister à la performance de l'un des groupes. Et effectivement, quelques minutes plus tard, son staff fait évacuer une table pour que la belle et son entourage s'installent. Paris et Gabriel sont assis à seulement un mètre de moi et discutent tranquillement. Je l'observe discrètement (et j'en profite pour la photographier), elle est superbe et simple.
Ils ne resteront pas longtemps parmi nous. Ils repartent pour – on le comprendra peu après – aller se préparer pour leur show.
Vers 23h, contre toute attente – nous attendions le dernier groupe – The Soundflowers s'installent sur la scène. Ils prennent place sur un tabouret, face au micro, Paris tente une petite introduction en français, et se déchaussent. Et oui, c'est une habitude, PK, comme elle se présente, et Gabriel chantent pieds nus !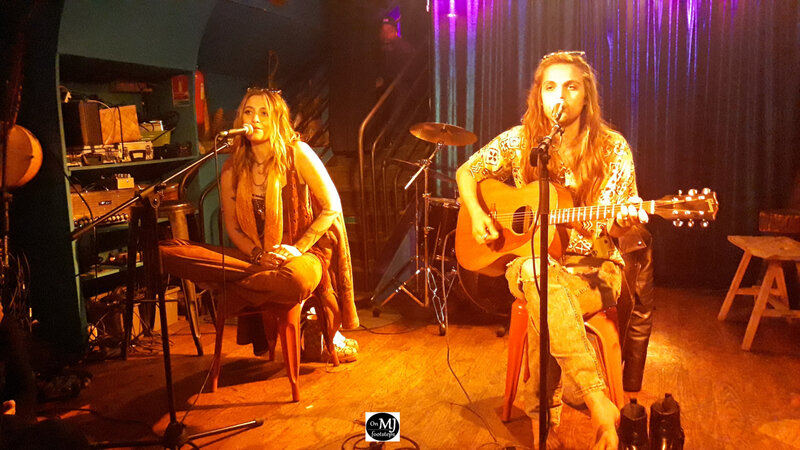 Le public est plus important qu'à mon arrivée. Le nom de Paris Jackson a attiré des curieux et des fans. Mais j'ai réussi à rester au premier rang que j'occupais depuis le départ. Lorsque le groupe arrive sur scène, une femme aux cheveux longs et noirs les suit et vient s'installer dans le public à côté de moi. Je la reconnais immédiatement : c'est Rushka Bergman, la styliste et amie de Michael (le photoshoot de 2007 pour l'Uomo Vogue, c'est elle !) qui suit Paris régulièrement, notamment sur ses défilés. Je n'en reviens pas. Je vais vers elle et je me présente alors même que Paris et Gabriel entament leur première chanson. Rushka Bergman restera auprès de moi durant le concert, me demandant régulièrement des conseils pour publier en direct sur instagram et me faisant même un "thumb up" en voyant Michael en fond d'écran de mon portable !
Durant une heure environ, The Soundflowers vont nous proposer leurs propres compositions (dont un titre qu'ils espèrent sortir en single) mais aussi des reprises. Des titres répétés et joués habituellement lors de leurs lives, ainsi que des improvisations pour lesquelles Paris sort son téléphone portable pour revoir les paroles.
Légèrement impressionnée au départ, la jeune femme se détend rapidement. Le couple communique régulièrement sur scène, Paris étant plus bavarde que Gabriel, sérieux et concentré sur sa guitare. Parfois c'est elle qui prend la guitare. Leurs voix s'assemblent et se complètent parfaitement, naturellement.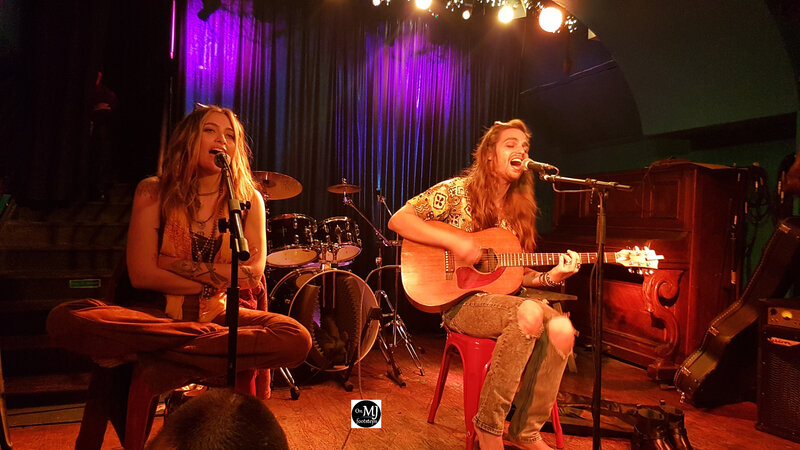 Je suis bluffée par leur voix, justement. Je ne connaissais pas celle de Gabriel mais j'avais déjà entendu celle Paris, sans vraiment m'y intéresser d'ailleurs. Même si on est loin de la puissance de son père, Paris a un joli timbre. Je découvre leur répertoire, très sympa, mais je ne pourrais pas pour autant en citer les titres !
Tout en écoutant le duo, focalisée principalement sur Paris, je l'avoue, je ne peux m'empêcher de me repasser des images d'elle petite fille auprès de son père. Comme la petite princesse de Michael a bien grandi !
Lorsque la prestation se termine, la chanteuse disparait rapidement de la scène, entourée de son staff qui ne laisse personne s'approcher. Gabriel est plus accessible et certains fans auront la possibilité de faire un selfie avant qu'il ne s'en aille lui aussi. Pour ma part, j'ose demander une photo avec Rushka Bergman qui me l'accorde gentiment et file aussitôt après.
Nous nous retrouvons sur le quai, dans le froid pour un debrief de la soirée. La voiture qui attend Paris et Gabriel est là, les paparazzi aussi. Quelques minutes plus tard, le couple sort de la péniche sous les flashes puissants des appareils photos et s'engouffre immédiatement dans la voiture aux vitres teintées.
Alors même que nous pensons que tout est terminé, Paris surgit soudain, tout sourire, par le toit ouvrant de la voiture et lance des cartes promos de son groupe. Les fans s'approchent pour lui serrer la main et lui demander des autographes, ce qu'elle fait avec plaisir. La scène ne dure que quelques secondes mais nous aurons droit à un "Thank you for coming, merci beaucoup" … un moment qui n'est pas sans nous rappeler son père, bien sûr, et qui nous montre à quel point la jeune femme a hérité du bel esprit de Michael.
Paris Jackson aime Paris ("c'est bon d'être à la maison" publiait-elle sur instagram lors de son arrivée en France il y a quelques jours) et ce soir là elle a pu constater que Paris aimait aussi Paris !
Hector Barjot, que les fans connaissent bien en tant que collectionneur, était présent au concert ce soir-là et a réalisé une vidéo avec des extraits plus longs de la prestation des Soundflowers. A visionner ici